News
USA Wrestling
College
USAW
Penn State, Iowa remain unbeaten and atop NWCA Division I Coaches Poll
by Gary Abbott, USA Wrestling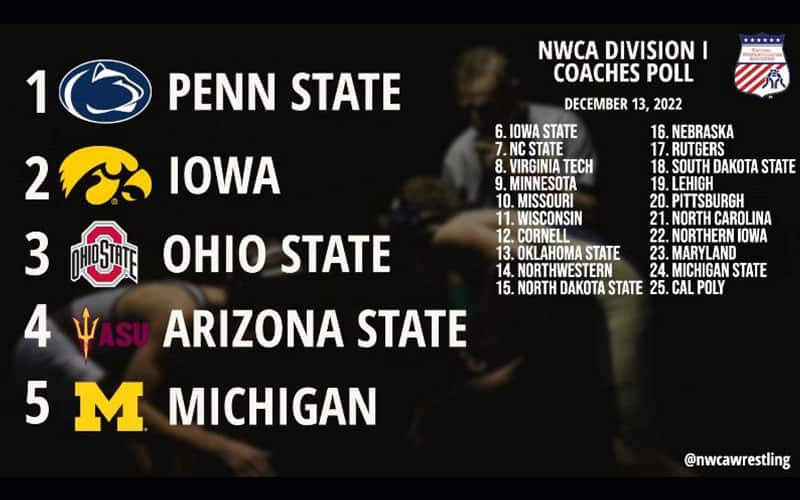 Manheim, Pennsylvania – The nation's top six remained unchanged and Virginia Tech's win over Missouri reshuffled the bottom half of the Top 10 as the most recent NWCA Division I Wrestling Coaches Poll was released on Tuesday.
Penn State
remained unbeaten after beating visiting Oregon State 31-3 before another sold-out Rec Hall crowd on Sunday.
Iowa
improved to 7-0 with a 27-12 victory on the road at Chattanooga and remained second in the poll. Penn State did pick up an additional first-place vote this week, giving the Nittany Lions 13 of the possible 14 first-place votes.
Third-ranked
Ohio State
improved to 4-0 with a 32-6 win against Kent State.
Virginia Tech
(1-1) moved up to No. 8 after the Hokies edged then-No. 7 Missouri 17-15 before 2,892 fans in Cassell Coliseum in Blacksburg, Virginia.
Missouri
(2-2) slid to No. 10, one spot behind unbeaten
Minnesota,
which won three duals over the weekend – including two over ranked teams. The Gophers beat No. 15 North Dakota State 24-9 in Fargo before heading west to top then-No. 24 Cal Poly 22-12 and Lindenwood 49-6.
No. 11 Wisconsin improved to 6-1 after beating Drexel 37-3. Oklahoma State (4-1) has the most dramatic victory of the weekend, coming from behind to beat rival Oklahoma in the first of two Bedlam duals this season. Luke Surber's fall at 197 pounds lifted the Cowboys to a 21-15 win in front of 3,150 fans in Norman.
North Dakota State (3-1) rebounded from its loss to Minnesota to beat Buffalo 30-6, giving head coach Roger Kish his 100th career dual meet victory as the Bison head coach. Rutgers edged Princeton 17-16 on criteria in a Garden State scrap in historic Jadwin Gym on the Princeton campus. Pittsburgh won a pair of duals on the road over Ivy League opponents. The Panthers edged Columbia 19-18 and blasted Brown 41-3. No. 23 Maryland edged in-state rival Navy 18-15. Cal Poly blanked Lindenwood 50-0 while Michigan State also beat Brown 38-3.
This Week: The week has limited ranked teams in action until the following Monday, with the Journeymen Collegiate Duals kick off in New Orleans. Sunday's ranked action sees No. 16 Nebraska head to No. 18 South Dakota State, No. 8 Virginia Tech heads west to Stanford to face the host Cardinal and Lindenwood, while No. 15 North Dakota State will visit Little Rock.
The aforementioned Collegiate Duals on Dec. 19-20 will feature No. 1 Penn State, No. 3 Ohio State, No. 6 Iowa State, No. 7 NC State, No. 12 Cornell, No. 19 Lehigh No. 21 North Carolina, No. 22 Northern Iowa and No. 25 Cal Poly. Also competing are Central Michigan, Lock Haven and Oregon State.
NOTE: Due to the number of ranked teams competing in the Collegiate Duals, next week's poll will be released on Wednesday, December 21.
Methodology: The NWCA Division I Wrestling Coaches Poll is voted on by two coaches from each Division I wrestling conference. Each first-place vote is worth 25 points, 24 points for a second-place vote, 23 for a third-place vote and so on through to one point for a 25th-place vote. The poll is based on dual meet results.
NWCA Division I Wrestling Coaches Poll
December 13, 2022
| | | | | | |
| --- | --- | --- | --- | --- | --- |
| Rank | Team (First) | Record | Points | Conf. | Previous |
| 1 | Penn State (13) | (4-0) | 349 | Big Ten | 1 |
| 2 | Iowa (1) | (7-0) | 336 | Big Ten | 2 |
| 3 | Ohio State | (4-0) | 313 | Big Ten | 3 |
| 4 | Arizona State | (2-0) | 306 | Pac-12 | 4 |
| 5 | Michigan | (3-0) | 293 | Big Ten | 5 |
| 6 | Iowa State | (5-1) | 284 | Big 12 | 6 |
| 7 | NC State | (5-0) | 259 | ACC | 8 |
| 8 | Virginia Tech | (1-1) | 248 | ACC | 9 |
| 9 | Minnesota | (7-0) | 226 | Big Ten | 10 |
| 10 | Missouri | (2-2) | 221 | Big 12 | 7 |
| 11 | Wisconsin | (6-1) | 220 | Big Ten | 11 |
| 12 | Cornell | (0-1) | 189 | EIWA | 13 |
| 13 | Oklahoma State | (4-1) | 188 | Big 12 | 12 |
| 14 | Northwestern | (1-0) | 142 | Big Ten | 14 |
| 15 | North Dakota State | (3-1) | 129 | Big 12 | 15 |
| 16 | Nebraska | (1-2) | 127 | Big Ten | 16 |
| 17 | Rutgers | (6-1) | 120 | Big Ten | 17 |
| 18 | South Dakota State | (1-1) | 105 | Big 12 | 19 |
| 19 | Lehigh | (3-3) | 91 | EIWA | 18 |
| 20 | Pittsburgh | (5-1) | 83 | ACC | 20 |
| 21 | North Carolina | (1-2) | 69 | ACC | 21 |
| 22 | Northern Iowa | (0-0) | 64 | Big 12 | 22 |
| 23 | Maryland | (5-0) | 52 | Big Ten | 23 |
| 24 | Michigan State | (6-0) | 41 | Big Ten | 25 |
| 25 | Cal Poly | (2-1) | 28 | Pac-12 | 24 |
Dropped Out
: None
Others Receiving Votes
: Oregon State 17, Oklahoma 13, Appalachian State 12, Stanford 9, Indiana 7, Princeton 3, West Virginia 3, Penn 2, Purdue 1