Fresno City reclaims CCCAA California state community college men's wrestling title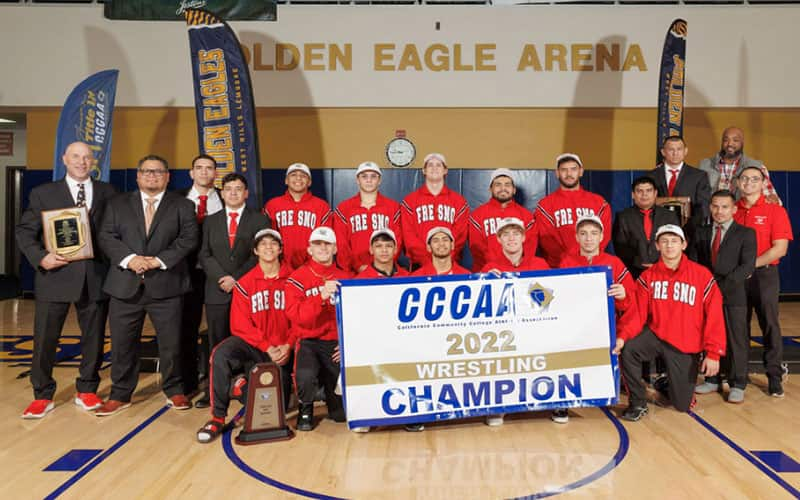 Fresno City College, 2022 CCCAA men's wrestling state champions. Photo by Chris Mora.
LEMOORE, Calif. – The Fresno City Wrestling team reclaimed its spot at the top of the state as the Rams finished with 214 points to lead the field as all 12 of their wrestlers earned spots on the podium at the 2022 CCCAA Wrestling State Championships.
FCC also had five state champions with Devin Murphy (133lbs), Jackson Morgan (157lbs), Jake Prudek (174lbs), Luke Meyer (184lbs), and Rudy Garcia (197lbs), helping them secure their fifth championship since 2016 and 18th in school history.
Mt. San Antonio and Cerritos jousted for second place all tournament and saw their battle come down to the wire. With 154.5 points, Mounties held off the Cerritos Falcons who finished just short at 153.5 points.
The Mounties showed their depth with 11 wrestlers placing while Christopher Bentancourt (125lbs) claimed an individual championship.
Cerritos saw nine wrestlers earn podium spots, including two state champions in Armando Murillo (165lbs) and Felix Osario (149lbs).
While Sacramento City finished fourth with 103 points and seven placers, Modesto saw Carson Hatch (285lbs) win the title in the heavy weight final to lead the team to fifth place at 74.5 points.
The final individual champion was Wayne Joint (141lbs) from the tournament host West Hills.
125 LBS
1st Christopher Betancourt (Mt. San Antonio) MD Christopher Calderon (Mt. San Antonio), 17-9
3rd Alexis Tellez (Rio Hondo) MD Blade Owens (Victor Valley), 11-1
5th Eczequiel Jaurrieta (Fresno City) DEC Darius Levan (Sacramento City), 16-10
7th Dylan Atherton (Rio Hondo) F Gabe Rivera (Cuesta), 1:57
133 LBS
1st Devin Murphy (Fresno City) DEC David Saenz (Mt. San Antonio), 8-6
3rd Anthony Pererya (Cerritos) DEC Devin Martinez (Rio Hondo), 10-5
5th Derrek Alcantar (Bakersfield) TF Joaquin Mosqueda (Sierra), 18-2 5:30
7th Owen Wilson (Palomar) F Liam Nelson (Sierra), 1:55
141 LBS
1st Wayne Joint (West Hills) DEC Mario De la torre (Cerritos), 3-0
3rd Abraham Cerda (Fresno City) DEC Wyatt Carter (Modesto), 4-2
5th Salahdin Farukh (Sierra) F Riley Fitzsimmons (Mt. San Antonio), 5:21
7th Jason Valencia (Mt. San Antonio) DEC Zack Zernik (Moorpark), 10-6
149 LBS
1st Felix Osorio (Cerritos) MD James Juarez (Bakersfield), 14-5
3rd Billy Looney (Mt. San Antonio) DEC Matthew Arias (Fresno City), 10-6
5th Aidan Hansen (Moorpark) F Chase Mirelez (Modesto), 3:19
7th Joshua Padilla (East Los Angeles) DEC Jacob Benson (Shasta), 6-4 SV
157 LBS
1st Jackson Morgan (Fresno City) DEC Ethan Boyd (Sacramento City), 8-1
3rd Noah Cortez (Fresno City) DEC Marcus Lobato (Mt. San Antonio), 8-4
5th Kendall Frank (Sacramento City) DEC Jj Gutierrez (Palomar), 4-1
7th Willy Lamacchia (Skyline) DEC Trevor Thompson (Cerritos), 11-4
165 LBS
1st Armando Murillo (Cerritos) DEC Jesus Gutierrez (Victor Valley), 3-1
3rd Jon Hernandez (Sacramento City) DEC Roman Mendez (Fresno City), 2-0
5th Gracen Hayes (Bakersfield) MD Caidence Turner (Mt. San Antonio), 11-2
7th Isaiah Castro (Sierra) MD Armando Renteria jr. (Moorpark), 16-6
174 LBS
1st Jake Prudek (Fresno City) DEC Reymundo Raiz (Fresno City), 5-2
3rd Benicio Martinez (Sacramento City) DEC Luke Combs (Bakersfield), 10-8 SV
5th Stone Robledo (Cerritos) DEC Sergio Gutierrez (Santa Ana), 2-0
7th Daniel Hernandez (Palomar) MD Jacob Turner (Modesto), 13-5
184 LBS
1st Luke Meyer (Fresno City) DEC Justin Tripp (West Hills), 9-3 SV
3rd Justin Serra (Sacramento City) DEC Celso Silva (Palomar), 7-0
5th Rafeal Guerra (Cerritos) F Leon Tippett (Cuesta), 3:52
7th Jakob Hand (Mt. San Antonio) DEC Troy Garza (East Los Angeles), 8-3
197 LBS
1st Rudy Garcia (Fresno City) F Malachi Lyles (Cerritos), 4:24
3rd Nate Kendricks (Mt. San Antonio) DEC Denzel Mabry (Sacramento City), 6-4
5th Kevin Fernandez (Modesto) F Joel Lopez (Shasta), 5:18
7th Javante Gregoire (Santa Rosa) DEC Devin Peries (East Los Angeles), 8-3
285 LBS
1st Carson Hatch (Modesto) DEC Corbin Hayes (Bakersfield), 3-2
3rd Kobe Pablo (Cerritos) DEC Emitt Mercado (Rio Hondo), 3-1 SV
5th Javier Martinez (Fresno City) MD Brandon Reed (Skyline), 11-1
7th Jesse Garcia (Mt. San Antonio) F Garret Hicks (Modesto), 0:23
Team Standings
1 Fresno City 214
2 Mt. San Antonio 154.5
3 Cerritos 153.5
4 Sacramento City 103
5 Modesto 74.5
6 Bakersfield 71
7 Rio Hondo 60
8 Sierra 55
9 Palomar 45.5
10 West Hills 44.5
11 Victor Valley 42
12 East Los Angeles 29
13 Moorpark 28
14 Cuesta 21
15 Skyline 19
16 Shasta 16
17 Santa Ana 14
18 Santa Rosa 9
19 Chabot 3
20 Delta 0.5