No. 9 Virginia Tech defeats No. 7 Missouri, 17-15, to open home competition slate
by Virginia Tech Athletics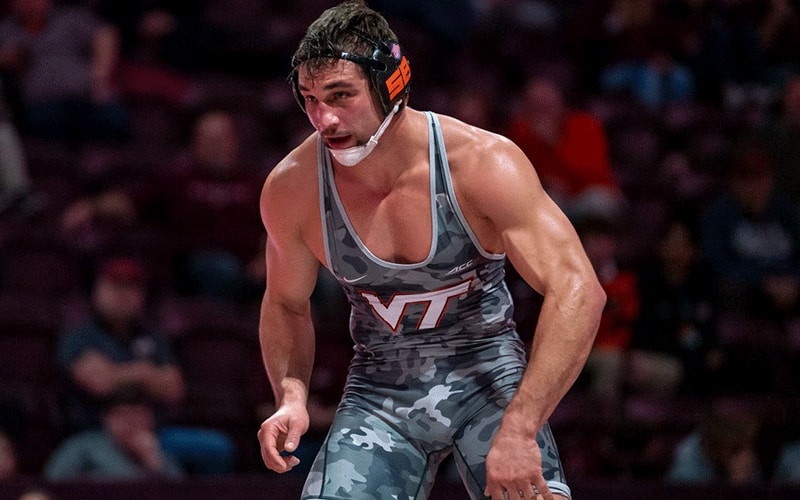 Image courtesy of Virginia Tech Athletics
BLACKSBURG – The No. 9 Virginia Tech wrestling team opened their home competition schedule in fashion with an upset victory over the visiting No. 7 Mizzou, 17-15, in front of a 2,892 Hokie home crowd on Sunday night. The Hokies were led by bonus point victories from redshirt freshman Cooper Flynn and redshirt senior Hunter Bolen including a gutsy win by sophomore Clayton Ulrey to propel the upset over the Tigers.
"We had a good win over a really good team tonight. We had some guys who I thought wrestled well, both in winning and losing efforts. I thought we were aggressive in a lot of places, maybe even too aggressive in some places and it cost us a little bit but overall I think anytime you can get a win against a team like Missouri you have to feel good about it and I think the fact that we feel good about it and we don't feel great about it just tells us how good our team is and how good we can be down the stretch here. Tonight was a good opportunity to wrestle some highly ranked guys - multiple All-Americans, national champion, world champions in their lineup so it was a great experience for our guys and I think it's going to help us moving forward. The energy and atmosphere from Hokie Nation was great as always and was definitely missed," said head coach Tony Robie about tonight's performances.
Starting off the dual with two back-to-back wins were Cooper Flynn and redshirt junior Sam Latona to get the Hokies a 7-0 lead. Flynn made his dual season debut in a dominant display with a major decision over Peyton Moore. Flynn was aggressive early and often, racking up five takedowns along the way in his 13-3 victory in his Cassell Coliseum debut to push the Hokies ahead in the dual. Following up with another strong performance was Latona in a 6-4 decision. Latona scored two takedowns in what was a controlling bout to give the Hokies a 7-0 lead early in the dual.
After dropping two close matches at 141-pounds and 149-pounds, sophomore Clayton Ulrey stepped up in a big way to swing momentum back to the Hokies. Ulrey grinded out a gritty 3-2 decision over Logan Gioffre – highlighted by a 1:00 scramble as the bout ended to give the Hokies a much-needed victory heading into the second half of the dual.
Redshirt senior rebounded from his Cliff Keen finals performance with a victory over another ranked opponent, this time against No. 11 Peyton Mocco. Lewis garnered a takedown early – and nearly added another before it was waived off – then added riding time and an escape to pick up the 3-2 victory to add to the Hokies' team score lead.
In his last, first home dual, graduate Hunter Bolen was in dominant form – putting on a takedown clinic over No. 23 Sean Harman en route to a 13-3 major decision. Bolen was aggressive throughout the bout and tough on top to pick up the Hokies' fifth win of the evening. Bolen added a takedown late to pick up the major decision and pick up the second bonus point victory for the Hokies in what proved to be the difference maker in the upset over the Tigers.
Pledge per Takedown
Join the team and celebrate their success on the mat with Pledge Per Takedown, presented by the Hokie Club. Make a pledge for each takedown the Hokies have this season, and every gift will go directly to their biggest needs.
Up Next
The Hokies travel to Palo Alto to face Stanford and Lindenwood on Sunday, December 18 to close out the first half of their competition slate.
Follow Hokies Wrestling on Instagram, Facebook, and Twitter for all the latest news and updates.
No. 9 Virginia Tech – 17, No. 7 Missouri – 15
125 – Cooper Flynn MAJ DEC Peyton Moore, 13-3
133 – No. 12 Sam Latona DEC No. 26 Connor Brown, 6-4
141 – No. 6 Allan Hart DEC No. 15 Tom Crook, 8-2
149 – No. 9 Brock Mauller DEC No. 12 Caleb Henson, 7-5
157 – Clayton Ulrey DEC Logan Gioffre, 3-2
165 – No. 1 Keegan O'Toole DEC No. 22 Connor Brady, 8-4
174 – No. 3 Mekhi Lewis DEC No. 11 Peyton Mocco, 3-2
184 – No. 8 Hunter Bolen MAJ DEC No. 23 Sean Harman, 13-3
197 – No. 1 Rocky Elam DEC No. 21 Andy Smith, 7-0
285 – No. 8 Zach Elam DEC No. 22 Hunter Catka, 4-2