News
USA Wrestling
International
Women
USAW
USA women place fourth at World Cup, falling to talented Mongolia team, 7-3; Hedrick, Piearcy and Guilford win bouts
by Gabrielle Lord Klein, Special to TheMat.com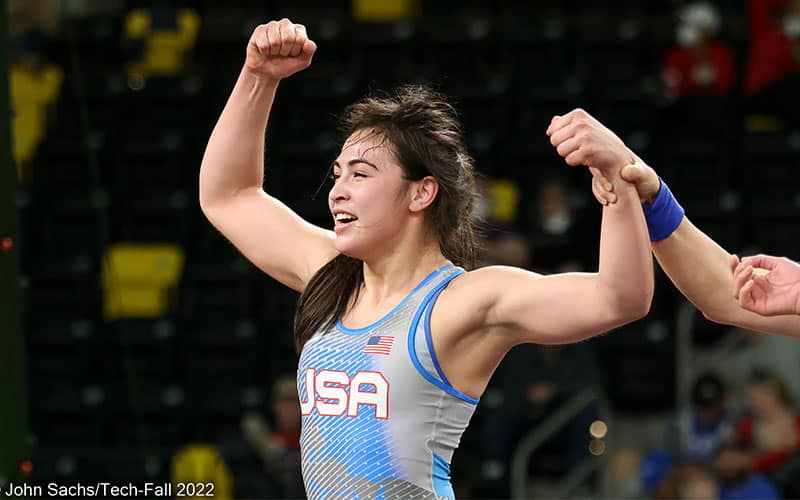 Solin Piearcy (USA) flexes after her win at 68 kg over Mongolia at the 2022 World Cup. Photo by John Sachs, Tech-Fall.com
CORALVILLE, Iowa - The United States placed fourth overall at the 2022 World Cup, dropping their third-place match to a powerful Mongolia team, 7-3. The USA, which placed second in Group A on Saturday, finished with a 1-2 team record.
This match-up came after a roaring 6-4 win over the All-World Team last night which earned them a spot in the medal round.
Team USA won three matches, all from team members who are California natives. There were a number of close losses, which were key in the final outcome.
Alex Hedrick
, a U23 World bronze medalist this year, defeated Mongolia's Erdenesuvd Bat Erdene at 57 kg. Hedrick earned the first point with a step out but trailed 4-1 at the break following a four-point move by the Mongolian. Hedrick picked up a takedown and then scored on a clutch counter attack to make the score 4-4. Bat Erdene still led by criteria with 30-seconds left in the match. Hedrick forced the action, wrestling upper body, and earned a step out point in the final second. The Mongolian lost their challenge, making Hedrick's final score 6-4.
At 68 kg,
Solin Piearcy
prevailed over Purevsuren Ulziisaikhan, 2-0. Piearcy is a member of the Senior National Team, and is a past WCWA and NAIA champion for Menlo College. She scored both of her points after Ulziisaikhan was placed on the shot clock and could not score,
2022 World Team member and U23 World silver medalist
Dymond Guilford
wrapped up the 76 kg match with an explosive 10-0 technical fall over Burmaa Ochirbat. Guilford scored on a blast double leg right into a series of leg laces. The win showcased Guilford's signature energy and enthusiasm.
The Mongolian team showed their strength from the opening matches, scoring three straight wins to start off the dual meet. Otgonjargal Dolgorjav (50 kg) and Otgonjargal Ganbaatar (53 kg) earned bonus points over Erin Golston and Felicity Taylor, respectively.
The 55 kg matchup between 2021 World bronze medalist Jenna Burkert and Olympic bronze medalist Bolortuya Bat Ochir came down to the wire. Burkert forced a pushout before Bat Ochir put together a takedown and exposure of her own. Trailing 4-1 in the second period, Burkert forced wrestling upper body resulting in a whirlwind exchange of points. Once sorted, the Mongolian won by a tight 7-6 decision.
Many matches included World-level medalists from both teams.
Past World champion Tserenchimed Sukhee of Mongolia bested two-time World silver medalist Kayla Miracle at 62 kg. This was followed by an intense 65 kg match between Orkhon Purevdorj, a past Senior world champion and two-time World bronze medalist Mallory Velte that ended in a 9-6 decision for Purevdorj.
Mongolia's final win came at 72 kg, as Davaanasan Enk Amar defeated Skylar Grote, 7-1.
The championship match will feature Ukraine and China, set for 4:00 p.m. CT,
live on FloWrestling
.
World Cup Women's Freestyle Third Place Match

Mongolia 7, USA 3
50 kg – Otgonjargal Dolgorjav (Mongolia) pin Erin Golston (USA), 4:44
53 kg – Otgonjargal Ganbaatar (Mongolia) tech. fall Felicity Taylor (USA), 12-1
55 kg – Bolortuya Bat Ochir (Mongolia) dec. Jenna Burkert (USA), 7-6
57 kg – Alexandra Hedrick (USA) dec. Erdenesuvd Bat Erdene (Mongolia), 6-4
59 kg – Davaachimeg Erkhembayar (Mongolia) tech. fall Lexie Basham (USA), 12-2
62 kg – Tserenchimed Sukhee (Mongolia) tech. fall Kayla Miracle (USA), 16-5
65 kg – Orkhon Purevdorj (Mongolia) dec. Mallory Velte (USA), 9-6
68 kg – Solin Piearcy (USA) dec. Purevsuren Ulziisaikhan (Mongolia), 2-0
72 kg – Davaanasan Enk Amar (Mongolia) dec. Skylar Grote (USA), 7-1
76 kg – Dymond Guilford (USA) tech. fall Burmaa Ochirbat (Mongolia), 10-0
Team Records: Mongolia 2-1, USA 1-2