USA men beat Mongolia, 7-3 to open Group A action at Freestyle World Cup
by Gary Abbott, USA Wrestling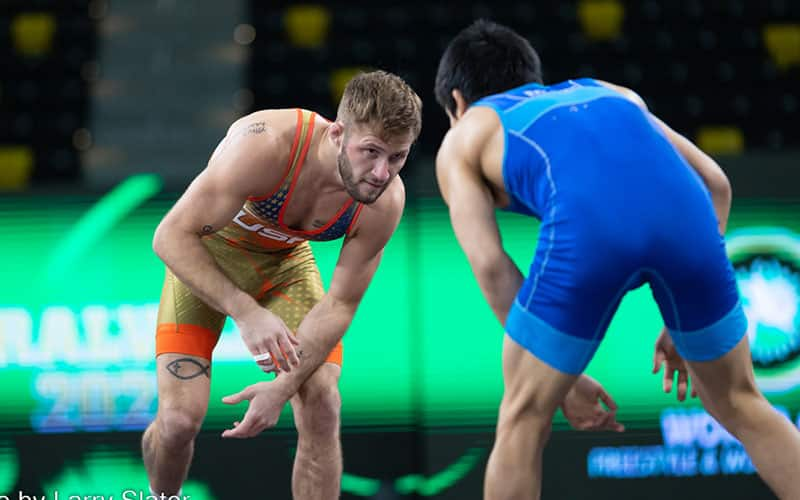 Tyler Berger (USA) won by technical fall at 70 kg. Larry Slater photo.
CORALVILLE, Iowa - Team USA was dominant in its victories during their Group A opener, defeated a depleted Mongolian team, 7-3.
In the four victories decided on the mat, the USA secured technical falls in all of them.
Team USA opened with an impressive win at 57 kg, where
Zane Richards
secured a 10-0 technical fall win over World bronze medalist Zanabazar Zandanbud of Mongolia in the second period. Richards scored two takedowns and a turn in the first period to lead 6-0, then added two takedowns to win it in the second.
Tyler Berger
also came out on the offense at 70 kg, securing a 10-0 technical fall over Munkhtulga Zuunbayan. Berger scored three takedowns and two turns to finish the bout in the second period.
The crowd raised the roof when 2012 Olympic champion and six-time World champion
Jordan Burroughs
came out to wrestle at 79 kg. He quickly dispatched him, 10-0, with two takedowns and three turns, including a slick cradle for exposure.
At 86 kg,
Zahid Valencia
was even faster in getting his 10-0 technical fall, putting away Bat Erdene Byasgalan of Mongolia in 29 seconds. A takedown was followed by four fast turns.
The USA won two matches by forfeit, as Mongolia arrived with only eight weight classes covered. The USA picked up forfeit victories at 61 kg and 92 kg. At 97 kg, 2016 Olympic champion and three-time World champion Kyle Snyder came out on the mat with Batzul Ulziisaikhan, who did not wrestle, giving up an injury default to Snyder.
Mongolia had some highlights in their three victories.
At 65 kg, as World bronze medalist Tulga Tumur Ochir held the edge throughout the match to defeat 2022 World silver medalist Yianni Diakomihalis of the USA, 10-3. At 74 kg, Sumiyabazar Zandanbud of Mongolia shut out Vincenzo Joseph, 8-0. At 125 kg, two-time World medalist Lkhagvagerel Munkhtur of Mongolia broke a 1-1 tie with a pair of step outs to beat 2022 World Team member Hayden Zillmer, 3-1.
The next match for the USA men comes at 6:00 p.m., when they complete their Group A action against Georgia. The event is live on FloWrestling.
GROUP A

United States 7, Mongolia 3
57 kg - Zane Richards (USA) tech. fall Zanabazar Zandanbud (Mongolia), 10-0, 4:19
61 kg - Seth Gross (USA) by forfeit
65 kg - Tulga Tumur Ochir (Mongolia) dec. Yianni Diakomihalis (USA), 10-3
70 kg - Tyler Berger (USA) tech fall Munkhtulga Zuunbayan (Mongolia), 10-0, 2:52
74 kg - Sumiyabazar Zandanbud (Mongolia) dec. Vincenzo Joseph (USA), 8-0
79 kg - Jordan Burroughs (USA) tech. fall Temuujin Mendbileg (Mongolia), 10-0, 1:04
86 kg - Zahid Valencia (USA) tech fall Bat Erdene Byasgalan (Mongolia), 10-0, 0:29
92 kg - Nathan Jackson (USA) by forfeit
97 kg - Kyle Snyder (USA) inj dft. over Batzul Ulziisaikhan (Mongolia), 0:00
125 kg - Lkhagvagerel Munkhtur (Mongolia) dec. Hayden Zillmer (USA), 3-1