News
USA Wrestling
High School & Youth
College
USAW
Joe DeAngelo hired as Beat the Streets New York head boys coach
by Brandon Cain, Beat the Streets New York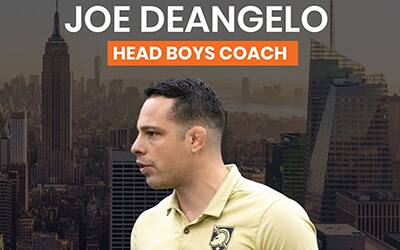 Beat the Streets New York's Board of Directors and Executive Director Brendan Buckley are pleased to announce the hiring of Joe DeAngelo as the Head Boys Coach.
"We could not be more excited to add Joe DeAngelo to the team," Buckley said. "He comes to us with seven years of NCAA Division 1 coaching experience, most recently as the Associate Head Coach at West Point. His experience in program-building, recruiting, teaching and mentorship will bode well for our staff, coaches and student-athletes at Beat the Streets. Furthermore, as a successful high school and college student-athlete, he has been around high caliber coaching and we are excited to begin working with Joe immediately."
DeAngelo spent the past five seasons as an assistant and associate head coach at Army West Point. The Black Knights posted a 25-22 mark in dual matches and had more than 25 NCAA Championship qualifiers with DeAngelo on the coaching staff. Prior to Army West Point, DeAngelo spent a season as a volunteer assistant at Clarion University (2016-17) and Hofstra University (2015-16).
"I am honored and excited to be joining Beat the Streets NYC team!," DeAngelo said. "Being a part of an organization that not only helps grow the sport of wrestling but gives back the community in numerous other ways is something I am very passionate about. I cannot wait to get started and try to make a huge impact on the young student-athletes I get the privilege to work with."
DeAngelo earned an associate degree at Nassau Community College and a bachelor's degree in religious studies at North Carolina State University.
As a student-athlete, DeAngelo was a 2013 and 2015 NCAA Championship qualifier at 125 pounds for North Carolina State. He was also the Wolfpack's team captain and most valuable wrestler in 2014-15. Prior to North Carolina State, DeAngelo earned National Junior College Athletic Association All-American honors and Academic All-American honors at Nassau Community College.
"Coach DeAngelo brings with him a very successful wrestling and coaching resume," BTSNY Director of Programming Bob Seidel said. "His experience at the Division 1 level will give our student-athletes an excellent opportunity to reach their goals both on and off the mat. We're very excited to have him join the BTSNY team!"
About Beat the Streets
Since being founded in 2005, Beat the Streets New York has pioneered a movement that now includes 150 individual wrestling programs, a youth league and the first girls high school league. BTSNY works to develop the full human and athletic potential of the urban youth and strengthen the NYC wrestling culture.
We aim to make a lifelong impact on student athletes through the lessons learned on the wrestling mat -- discipline, perseverance, self-reliance, humility and a strong work ethic. Discover how you can make a meaningful contribution to our work at btsny.org/donate.