News
USA Wrestling
College
USAW
USA Wrestling staff member Derek Sikora elected to UW-Eau Claire Blugold Hall of Fame Class of 2022
by Tim Petterman, UW-Eau Claire Athletics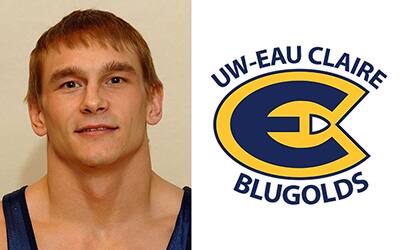 Photo of Derek Sikora as a UW-Eau Claire wrestler courtesy of UW-Eau Claire Athletics
USA Wrestling staff member Derek Sikora elected to UW-Eau Claire Blugold Hall of Fame Class of 2022
Six athletes who achieved All-American recognition make up the UW-Eau Claire Blugold Hall of Fame Class of 2022. The group includes two individual national champions, a player on a national championship team, two individuals who were members of Final Four teams and two athletes who were members of the Blugolds' winningest team in their sport.
The new class includes pole vaulter Stephanie (Barnes) Bertoli, wrestling and football standout Derek Sikora, golfer Ryan Kuhl, basketball center Becca (Spaeth) Bestul, softball pitcher Mallory McKinney and soccer defender Becky (Westbrock) Dettmer.
Sikora is a longtime USA Wrestling staff member, serving as its Manager of State Services. Sikora has played a big role in helping grow USA Wrestling's membership and strengthen the programs it provides to its members.
Stephanie Bertoli won two NCAA pole vault championships in addition to three conference titles. Derek Sikora was a NCAA national championship wrestler in addition to earning All-Conference first team honors twice in football. Ryan Kuhl was a member of the Blugolds' 2001 NCAA championship golf team. Becca Bestul was the starting center on the 2003 Blugold women's basketball team that finished third in the NCAA tournament and set a school record with 32 victories. Mallory McKinney was a two-time NFCA second-team All-American, a two-time conference pitcher of the year and played on the 2007 Blugold team that finished third in the NCAA tournament. Becky Dettmer was an NSCAA third-team All-American on the 2006 Blugold soccer team that won the conference, advanced to the NCAA tournament and set school records with 23 victories and 18 shutouts.
The class will be inducted during Homecoming weekend with a banquet on Friday, October 7 and introduction at the football game versus UW-Whitewater on Saturday, October 8. The group will also ride in the Homecoming parade Saturday morning.
DEREK SIKORA
After winning a WIAA state championship at Neillsville High School, Derek Sikora continued his wrestling success at UW-Eau Claire, capped by an NCAA championship at 165 pounds his senior year when he compiled at 31-2 record. That followed a third-place national finish as a sophomore and a fifth as a junior.
Sikora won two conference individual titles and was runner-up twice. He posted a 111-23 career record with 21 pins. He was the WIAC Wrestler of the Year in 2006 and served three years as a team captain.
Sikora was a four-year starter at cornerback for Todd Hoffner's Blugold football teams which produced a 26-14 overall record and 18-10 conference mark with three runner-up finishes during his career. Sikora finished second on the team in tackles twice. His career stats include 270 total tackles with 188 solos, 10 tackles for loss, one sack, eight interceptions, 28 pass defenses, seven fumble recoveries, three forced fumbles and a blocked kick. He was named to the All-Conference first team as a cornerback his junior season. In addition, he was All-Conference first team as an all-purpose back his senior season when he averaged 11.2 yards on 24 punt returns and 20.9 yards on 13 kick returns. For his career, he averaged 9.2 yards for 71 punts returns, including one for 75 yards, and 18.4 yards for 50 kick returns including one for 50 yards.
Sikora was a team captain as a senior in addition to being named the defensive MVP as a junior and special teams MVP as a senior. Twice, he was named to the All-Region third team.
After graduating in 2007 with a degree in kinesiology, Sikora spent time as a Blugold assistant wrestling and football coach before taking a position as assistant wrestling coach at UW-Oshkosh. He returned to Eau Claire to serve as a paraeducator and substitute teacher in the Eau Claire Area School district for two years. He became the head Blugold wrestling coach for the 2009-10 season, then went to St. Cloud State as the head assistant wrestling coach for the 2010-11 campaign. That year, he also became coordinator of state services for USA Wrestling and since 2011 has been Manager of State Services for USA Wrestling. For four years, he was also involved as an assistant wrestling coach with the Wisconsin Cadet/Junior National Team.
Sikora and his wife Keely, a registered nurse, are parents of three children: Kendall, age 12; Sawyer, age 9; and Brynley, age 7. They reside in Waconia, Minnesota.
This 33rd class of women's inductees and 46th class of men's inductees brings the number of athletes, coaches and administrators who have been honored to 253.
The Blugold Hall of Fame was established 49 years ago in 1973 to pay tribute, to give deserved recognition and to enhance school tradition by honoring former athletic letterwinners, coaches or administrators who demonstrated distinctive, unique or exceptional ability while on the campus at Eau Claire and have distinguished themselves in their profession or personally since leaving the institution.
There must be a lapse of 15 years from their final season of eligibility before an athlete can be considered for induction.
The six athletes being recognized this year all competed between the fall of 1998 and the spring of 2007.