News
USA Wrestling
International
College
Women
Beach
USAW
Olympian Hrovat among men's champions, Life U women's club takes three titles at U.S. Senior Beach Nationals
by Gary Abbott, USA Wrestling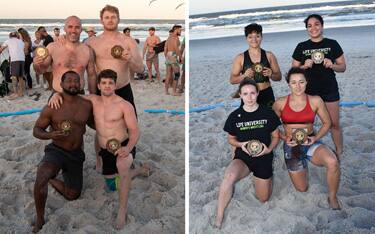 2021 Senior men's Beach National champions: Front row (l to r): Jamal Morris and Domenic Forys; Back Row: Andy Hrovat, Daniel Chaid. Photo by Robbert Wijtman.

2021 Senior women's Beach National champions: Front row (l ro r): Ally Graham and Breanna Stikkelman. Back Row: Zoe Wight and Caitlin Cardenas.
JACKSONVILLE, Fla. - Competing in the largest U.S. Beach National Championships ever hosted by USA Wrestling, the U.S. has qualified a strong set of Senior champions for men and women who have an opportunity to compete internationally later this year.
On the men's side, 2008 men's freestyle Olympian Andy Hrovat, who is part of the Spartan Combat staff involved with the wrestling competitions this weekend in Jacksonville, won the title at 90 kg. The men's weight classes, which were contested in brackets, had a best-of-three championship series to determine the winner.
Hrovat won all four of his bouts for the day, including a two-match sweep over Jason Carter of the Iron Horse WC in the finals. Hrovat won both of his finals bouts against Carter by 3-0 margins. (Note, it takes three points to win a Beach wrestling match).
Winning his second career U.S. Beach Nationals title was Daniel Chaid of the California RTC, the winner in the 90+ (unlimited) weight class. Chaid, who competed in college for Oklahoma and North Carolina, defeated past U.S. Greco-Roman National Team member Khymba Johnson in the championship finals. Chaid won the first bout by a 3-0 margin, and claimed match two by a 3-2 score.
The other men's champions were Domenic Forys of the California RTC at 70 kg, and Jamal Morris of Cardinal Gibbons High School Wrestling at 80 kg.
Forys, a four-time NCAA qualifier and ACC champion for Pitt, defeated Alexander Chaney of California in two straight bouts, 3-0 and 3-0.
Morris, also a multiple NCAA qualifier for NC State, swept his finals opponent Spencer Griffey of Tennessee, 3-0 and 3-0.
The women's brackets were round-robins, so the individual champions competed against all of the other athletes in their weight classes.
Three of the individual women champions were affiliated with Life University's wrestling club, Ally Graham (50 kg), Zoe Wight (70 kg) and Caitlin Cardenas (70+)/
Wright, a graduate assistant at Life, went 4-0 in her round-robin, including a victory over runner-up Leidaly Rivera of the Iron Horse WC. Cardenas had a 3-0 record in her round-robin. Graham won her weight class uncontested.
The other women's champion was Breanna Stikkelman of California (60 kg), who finished with a perfect 4-0 record in her bracket. Stikkelman was a Gi Grappling World champion for USA Wrestling, competed internationally in Belt Wrestling, and is also fighting in MMA. She stopped runner-up high school star and eventual runner-up Amani Jones of Compound WC in her closest battle, 3-2.
The results from this event is part of the qualifying process for U.S. Beach teams that can compete internationally this year. The Senior Beach World Series is set for four events this year, with stops in France, Italy, Greece and Romania. The Pan American Beach Championships are also set for Barbados in early November.
A separate story with results from the Beach Nationals in all other weight divisions will be posted by tomorrow.
USA Wrestling thanks Spartan Combat and FloWrestling for their efforts in hosting the largest Beach Nationals of all time, with more than 300 entries competing in numerous age-groups throughout the day.
U.S. BEACH NATIONAL CHAMPIONSHIPS

At Jacksonville, Fla., May 20


Senior Men's Finals series
70 kg - Domenic Forys (California Regional Training Center) dec. Alexander Chaney (California), two matches to none
Bout One - Forys dec. Chaney, 3-0
Bout Two - Forys dec. Chaney, 3-0
80 kg - Jamal Morris (Cardinal Gibbons High School Wrestling) dec. Spencer Griffey (Tennessee), two matches to none
Bout One - Morris dec. Griffey, 3-0
Bout Two - Morris dec. Griffey, 3-0
90 kg - Andy Hrovat (unattached) dec. Jason Carter (Iron Horse Wrestling Club), two matches to none
Bout One - Hrovat dec. Carter, 3-0
Bout Two - Hrovat dec. Carter, 3-0
90+ - Daniel Chaid (California Regional Training Center) dec. Khymba Johnson (New York Athletic Club), two matches to none
Bout One - Chaid dec Johnson, 3-0
Bout Two - Chaid dec. Johnson, 3-2
Senior Women's Roundrobin placements
50 kg
1st - Ally Graham (Georgia)
60 kg
1st - Breanna Stikkelman (California)
2nd - Amani Jones (Compound Wrestling)
3rd - Alisha Narvaez (California)
4th - Fatima Avalos (unattached)
5th - Jessica Philippus (Girls & Greco Wrestling Club)
70 kg
1st - Zoe Wight (Running Eagles)
2nd - Leidaly Rivera (Iron Horse Wrestling Club)
3rd - Aspen Dodge (Florida)
4th - Coleby Velasquez (Texas)
5th - Leslie Salazar (Texas)
70+
1st - Caitlin Cardenas (Georgia)
2nd - Estefany Garcia (unattached)
3rd - Catherine Palmieri (Tennessee)
4th - Yaima Payne (Barbados)