News
USA Wrestling
International
USAW
Oliver falls in World Olympic Qualifier semifinals and does not qualify weight; he will wrestle for bronze Friday
by Joe Wedra, Special to TheMat.com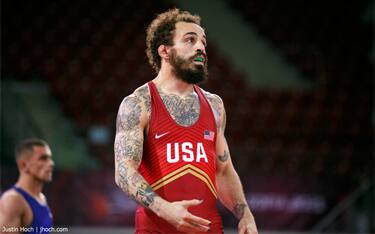 Photo of Jordan Oliver at the World Olympic Games Qualifier in Sofia, Bulgaria by Justin Hoch.
SOFIA, Bulgaria – Jordan Oliver (Chapel Hill, N.C./Sunkist Kids/Tar Heel WC) dropped his World Olympic Qualifier semifinal bout to Poland's Magomedmurad Gadzhiev, 3-2, ending his run at attempting to qualify the 65 kg weight for the USA for the Tokyo Olympics.
Gadzhiev took an early lead against Oliver in the first period, scoring twice on step outs to open up a 2-0 lead. He took a 3-0 lead at the break courtesy of a shot clock point near the end of the first period. Oliver was able to score with less than a minute to go in the match and cut the Poland lead to 3-2, but could not find another takedown in the last 45 seconds. Gadzhiev finished out the match and posted a 3-2 win to earn the qualification spot.
Gadzhiev, a two-time World medalist and 2016 Olympian, scored a 2-1 victory over 2019 World champion Beka Lomtadze of Georgia in the quarterfinals.
Oliver, a 2009 Junior World bronze medalist, won two NCAA titles for Oklahoma State. He currently trains at the Tarheel RTC, which is affiliated with the Univ. of North Carolina,
With the loss, Oliver qualifies for a bronze-medal match on Friday, which are scheduled for 4:45 p.m. local time in Sofia (9:45 a.m. U.S. Eastern time zone).
The wrestlers in the repechage who could end up facing Oliver are Gabriel Janatsch of Austria, 2019 European silver medalist Niurgin Skriabin of Belarus or 2019 World champion Beka Lomtadze of Georgia. The repechage round will be held Friday morning at 10:00 a.m. local time.
Oliver won three matches on Thursday morning to qualify for the semifinals, defeating Ruhan Rasim of Bulgaria, 6-2, Junsik Yun of Korea, 5-4 and Hor Ohannesian of Ukraine, 3-3.
Two more U.S. athletes, Greco-Roman wrestlers Jesse Porter (77 kg) and Adam Coon (130 kg), will compete on Saturday seeking to qualify for the Olympic Games in their weight class. Friday is the start of the women's freestyle division, and the U.S. has no entries, since it has already qualified at all six weight classes.
Two wrestlers who competed on the college level in the USA reached the semifinals in men's freestyle but were defeated, and did not qualify for the Olympics: David Habat of Slovenia at 65 kg (an NCAA runner-up at Edinboro) and Matthew Finesilver of Israel at 74 kg (who competed for Duke).
This is the final qualifying competition for the sport of wrestling for the Tokyo Games.
All of the competition this weekend will be broadcast by FloWrestling.
WORLD OLYMPIC GAMES QUALIFIER

At Sofia, Bulgaria


U.S. entry
65 kg - Jordan Oliver, Chapel Hill, .N.C (Sunkist Kids/Tarheel RTC)
WIN Ruhan Rasim (Bulgaria), 6-2
WIN Junsik Yun (Korea), 5-4
WIN Hor Ohannesian (Ukraine), 3-3
LOSS Magomedmurad Gadzhiev (Poland), 3-2
Bronze medal bout – To be determined in Friday's repechage
Jordan Oliver remaining schedule

(local time in Sofia is seven hours ahead of U.S. Eastern time zone)

Friday, May 7
Medal matches (4:45 pm local/9:45 am U.S. Eastern Time)
Men's freestyle finals

(both nations in each final have now qualified for Tokyo Olympics)
57 kg - Yuki Takahashi (Japan) vs. Bekhbayar Erdenebat (Mongolia)
65 kg - Georgios Pilidis (Greece)vs. Magomedurad Gadzhiev (Poland)
74 kg - Vasyl Mikhailov (Ukraine) vs. Magomedkhabib Kadimagomedov (Belarus)
86 kg - Sohsuke Takatani (Japan) vs. Boris Makoev (Slovakia)
97 kg - Abraham Conyedo Ruano (Italy) vs. Albert Saritov (Romania)
125 kg - Sergei Kozyrev (Russia) vs. Sumit Sumit (India)