News
USA Wrestling
College
High School & Youth
USAW
U.S. Junior Greco-Roman World Team set in exciting finals, as four championship series go the full three matches
by Gary Abbott, USA Wrestling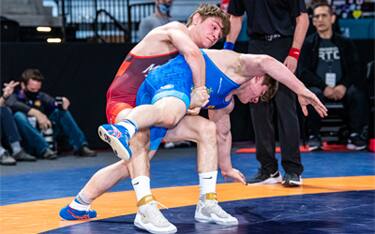 Chayse LaJoie lifts Richard Fedalen in the finals series at 63 kg. Photo by Sam Janicki.
CORALVILLE, Iowa – The 2021 U.S. Greco-Roman Junior World Team was set during an exciting championship series finals on Friday at Xtream Arena.
The champions in the best-of-three championship series in the 10 weight classes will represent USA Wrestling at the UWW Junior World Championships in Ufa, Russia, August 16-22.
Among those punching their ticket to Russia was 2021 U.S. Olympic Team Trials runner-up Braxton Amos of the Wisconsin RTC, who won his 97 kg championship series with a pair of quick technical falls over Christian Carroll of the Midwest RTC. Amos won the first bout 8-0 in 48 seconds, and the second bout 10-0 in 44 seconds.
The finals was very competitive, as four of the championship series went the full three matches before the series was determined. Going the full three bouts in the finals were World Team members Billy Sullivan of Legends of Gold Las Vegas (55 kg), Dominic Damon of NMU-OTS at 67 kg, Jonathon Fagen of Spartan Combat RTC at 82 kg and Kodiak Stephens of Ebbetts Pass Wrestling at 87 kg.
Sullivan lost the first match of his series to Aizayah Yacapin of Takedown Express WC, 4-1. After winning bout two by a 10-6 margin, Sullivan closed out the series with a 4-1 win over Yacapin in bout three.
Damon opened with a tight 5-4 win over Payton Jacobson of Ringers WC, but lost the second bout by a 5-1 margin. In the deciding third match, Damon beat Jacobson, 5-2.
Fagen also won his opener by a 5-1 margin over James Burks of MWC Wrestling Academy, but was blitzed by Burks in round two in a 9-0 technical fall loss. In the deciding third bout, Fagen won a 6-0 shutout decision.
Stephens was defeated by technical fall by Tyler Hannah of the Combat WC School of Wrestling in the opening bout. He rallied with a pair of technical fall wins, beating Hannah 10-2 in bout two and 10-2 in bout three.
Of the six series which ended in just two matches, three of the winners scored a pair of technical falls in their series, Amos, plus Nic Bouzakis of Pennsylvania (60 kg) and Chayse LaJoie of Spartan Combat WC (63 kg).
Bouzakis beat Phillip Moomey of Spartan Combat RTC with a 12-2 technical fall in match one, and a 13-5 technical fall in match two.
LaJoie blitzed Richard Fedalen of Warhawks Wrestling in two straight, 8-0 in match one and 10-0 in match two.
Matthew Singleton of Compound Wrestling scored a two-match sweep over 2020 UWW Junior Nationals champion Justin McCunn of the Viking WC. Singleton won bout one, 8-6, the took bout two in a 9-0 technical fall.
The other individual champions were Justus Scott of Legends of Gold Las Vegas (72 kg) and Luke Luffman of the Illinois RTC (130 kg).
Scott edged Noah Wachsmuth of Colorado in the first bout, 8-8, then added a 7-0 shutout over Wachsmuth in the second match. Luffman scored a 12-4 technical fall in his first match over Peter Christensen of Wisconsin RTC, then won the closing match 9-4.
UWW JUNIOR NATIONALS
At Coralville, Iowa, April 30, 2021

Greco-Roman results


55 KG
1st Billy Sullivan (Legends of Gold Las Vegas) dec. Aizayah Yacapin (Takedown Express Wrestling Club), two matches to none
Bout One – Yacapin dec. Sullivan, 4-1
Bout Two – Sullivan dec. Yacapin, 10-6
Bout Three - Sullivan dec. Yacapin, 4-1
3rd Jett Strickenberger (Black Fox Wrestling Academy) dec. Jonathan Gurule (505 Wrestling Club), 7-4
5th Max Black (Black Fox Wrestling Academy) dec. Angelo Lozado (Lil Saints Youth Wrestling), 5-1
7th Tyler Klein (Wisconsin) dec. Cole Smith (Army (WCAP)), 19-18
60 KG
1st Nic Bouzakis (Pennsylvania) dec. Phillip Moomey (Spartan Combat RTC), two matches to none
Bout One – Bouzakis tech fall Moomey, 12-2 4:29
Bout Two – Bouzakis tech fall Moomey, 13-5, 5:11
3rd Kase Mauger (Brunson UVRTC) tech fall Carter Stephenson (Black Fox Wrestling Academy), 9-1 4:07
5th Kellyn March (Bison Wrestling Club) forfeit Haiden Drury (Takedown Express Wrestling Club), 0-0
7th Jakason Burks (Cowboy RTC) tech fall Nick Masters (Princeton Wrestling Club), 10-0 1:13
63 KG
1st Chayse La joie MI (Spartan Combat RTC) dec. Richard Fedalen MD (Warhawks Wrestling), two matches to none
Bout One – LaJoie tech fall Fedalen, 8-0 2:47
Bout Two – LaJoie tech fall Fedalen, 10-0 3:43
3rd Jordan Hamdan (Michigan Wrestling Club) dec. Aidan Nutter (Wisconsin), 6-1
5th Hagen Heistand (Sebolt Wrestling Academy) pin Dyson Kunz (MWC Wrestling Academy), 2:42
7th Charlie Dill (Curby 3 Style Wrestling Club) tech fall Johnny Masopust (Colorado Mesa Wrestling Club), 8-0 0:58
67 KG
1st Dominic Damon WA (NMU-National Training Center) dec.. Payton Jacobson WI (Ringers Wrestling Club), two matches to one
Bout One – Damon dec. Jacobson, 5-4
Bout Two – Jacobson dec. Damon, 5-1
Bout Three – Damon dec. Jacobson, 5-2
3rd Hunter Lewis (Wolfpack Wrestling Club) tech fall Hunter Garvin (Big Game Wrestling Club), 10-1 2:07
5th Cody Chittum (Tennessee) inj dft Robert Perez 111 (Sunkids Wrestling Club)
7th Dallas Koelzer (Kansas) dec. Seth Lambers (Ohio), 4-4
72 KG
1st Justus Scott NV (Legends of Gold Las Vegas) dec. Noah Wachsmuth CO (Colorado), two matches to none
Bout One –Scott dec. Wachsmuth, 8-8
Bout Two – Scott dec. Wachsmuth, 7-0
3rd Niko Katsuyoshi (New England Regional Training Center) pin Brody Olson (NMU-National Training Center), 3:23
5th Ryan Wheeler (Colorado Mesa Wrestling Club) pin Aaron Gandara (Poway Wrestling), 0:46
7th Gabriel Lewis (Viking Wrestling Club (IA)) forfeit Robert Weston (Level Up Wrestling Center)
77 KG
1st Matthew Singleton (Compound Wrestling) dec. Justin McCunn (Viking Wrestling Club (IA)), two matches to none
Bout One – Singleton dec. McCunn, 8-6
Bout Two –Singleton tech fall McCunn, 9-0 3:12
3rd Jared Stricker (Wisconsin) tech fall Dylan Kohn (Seminole County Wrestling Club), 10-1 3:22
5th David Papach (Burg Training Center) tech fall Dajun Johnson (Panther Wrestling Club RTC), 8-0 1:06
7th Zak Kozumplik (Burg Training Center) inj deft. Matthew Doyle (Burg Training Center)
82 KG
1st Jonathon Fagen (Spartan Combat RTC) dec. James Burks NE (MWC Wrestling Academy), two matches to one
Bout One – Fagen dec. Burks, 5-1
Bout Two – Burks tech fall Fagen, 9-0, 0:31
Bout Three –Fagen dec. Burks, 6-0
3rd Macaron Kukowski (Minnesota) tech fall Cole Pence (Wisconsin), 12-4 3:35
5th Fernando Villaescusa (Cyclone Regional Training Center C-RTC) inj dft Austin Dohl-pantaleo (Team Tornado Wrestling Club)
7th Talmage Carman (Sanderson Wrestling Academy) tech fall John Sexton (Kentucky RTC), 8-0 0:30
87 KG
1st. Kodiak Stephens CA (Ebbetts Pass Wrestling) dec. Tyler Hannah WI (Combat W.C. School of Wrestling), two matches to one
Bout One – Hannah tech. fall Stephens, 10-0 1:32
Bout Two – Stephens tech fall Hannah, 10-2 3:55
Bout Three – Stephens tech fall Hannah, 10-2, 3:37
3rd Connor Bourne (Nevada) dec. Wyatt Voelker (Big Game Wrestling Club), 3-1
5th Jack Darrah (Xtreme Training) inj dft Ryan Cody (The Masters Academy Wrestling)
7th Spencer Mooberry (Caveman Wrestling) tech fall Cayden White (Washington), 8-0 0:27
97 KG
1st Braxton Amos (Wisconsin Regional Training Center) dec. Christian Carroll (Midwest Regional Training Center), two matches to none
Bout One –Amos tech fall Carroll, 8-0, 0:48
Bout Two – Amos tech fall Carroll, 10-0, 0:44
3rd Isaac Trumble NC (Wolfpack Wrestling Club) pin Kalob Runyon IA (Iowa), 9-7 2:26
5th Denzel Mabry CA (San Francisco Wrestling Club) inj. dft. Cameron Dubose WA (Team Tornado Wrestling Club)
7th Sione Halo WA (Tri Cities Wrestling Club) dec. Tyler Thurston IA (Iowa), 9-6
130 KG
1st Luke Luffman (Illinois Regional Training Center/Illini WC) dec. Peter Christensen (Wisconsin Regional Training Center), two matches to none
Bout One – Luffman tech fall Christensen, 12-4, 4:55
Bout Two –Luffman dec. Christensen, 9-4
3rd Braxton Mikesell (Brunson UVRTC) tech fall Eli Pannell (Burg Training Center), 9-1 2:07
5th Max Diaz (Statesmen Wrestling Club) pin Keith Miley (Thoroughbred Wrestling Academy (TWA)), 1:41