News
USA Wrestling
High School & Youth
Women
USAW
Moore wins Girls Folkstyle Nationals Junior title, her third gold this weekend, while four others win a second title
by Gary Abbott, USA Wrestling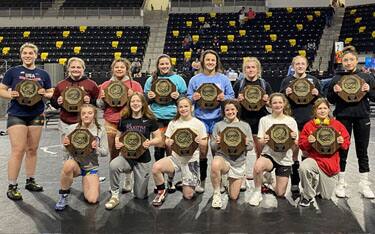 Top photo: The 2021 USA Wrestling Girls Folkstyle National individual champions.
Bottom photo: Isabella Mir of Nevada with her 152-pound stop-sign and her Outstanding Wrestler Award, posing with Nevada state chairperson Rob Cate.
Photos courtesy of Christina Hargrove.
CORALVILLE, Iowa – Shelby Moore of Washington finished a memorable weekend with her third USA Wrestling national title, capturing the 122-pound title in the Junior division at the USA Wrestling Girls Folkstyle National Championships on Sunday night.
Moore was a champion at 122 at the inaugural High School National Recruiting Showcase, a loaded freestyle event, on Saturday night. On Sunday morning, Moore was a champion in the 16U division of the Girls Folkstyle Nationals, and was named Outstanding Wrestler in the age-division.
Her third title came in a Junior finals battle against Gianna DiBenedetto of California, which ended as a solid 7-0 victory for Moore. She was able to score the key takedowns and control the action in all positions. Moore was ranked No. 7 nationally in high school coming into the weekend, while DeBenedetto was ranked 21st in the USA.
Two other wrestlers were able to win Junior titles in both styles this weekend, with a freestyle title at the High School National Recruiting Showcase on Saturday and a folkstyle national title on Sunday: Rose Cassioppi of Illinois (164) and Eliana Bommarito of Michigan (225).
Cassioppi won a rematch against her opponent in the Showcase finals, Ella Nichols of Connecticut, pinning her for the second straight night, this time in 4:51. Cassioppi entered with a No. 5 national ranking, while Nichols had been ranked No. 6 down at 144 pounds.
Bommarito, the No. 3 ranked wrestler in the nation, scored a pin in the finals for the second straight night. This time, she stopped unranked Omastewin Foster of Montana in 3:35.
Along with Moore, two other girls won their second title of the day after a 16U gold medal this morning, Chloe Dearwester of Ohio (106) and Sabrina Nauss of Michigan (200).
Dearwester, ranked sixth nationally, stopped Colorado's Janessa George, 4-2 in overtime tie-breaker two. After riding out George during her turn on top, Dearwester scored a clutch reversal from the bottom to win the title.
Nauss, who holds a No. 1 national ranking, pinned No. 3 ranked Alyvia White of Washington in 1:56. Nauss scored the first takedown and was able to turn White for the fall with just four seconds left in the opening period.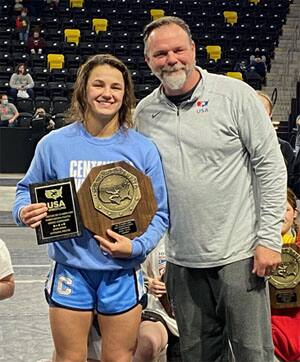 Two wrestlers won their first Junior folkstyle national title by stopping High School National Recruiting Showcase champions in the finals, Abby McIntyre of Iowa (144) and Isabella Mir of Nevada (152).
Mir, not currently ranked in the nation, scored a stunning comeback to defeat No. 9 nationally ranked Haley Ward of Missouri with a pin at 2:41. Ward jumped to an 8-0 lead over Mir with a takedown and a pair of three-point near falls. Mir, riding tough on top in the second period, ran an arm bar to put Ward on her back and secured the second-period pin. She was overwhelmed with emotion after the victory. Mir was named Outstanding Wrestler of the tournament.
McIntyre, ranked No. 18 nationally, edged No 3 ranked Maddie Kubicki of Missouri, 5-4. The bout was close the entire way, but McIntyre scored her winning point in the final period.
There was a second rematch from the High School National Recruiting Showcase finals, and this time the result was reversed. At 138 pounds, Grace Stem of Pennsylvania scored a 4-2 overtime win over Savannah Gomez of California in tie-breaker two. Stem reversed Gomez in the tie-breaker, and was then able to ride her out for the victory. Gomez had pinned Stem on Saturday night. Stem has a No. 9 national ranking, while Gomez is ranked at No. 10.
Five runners-up at the High School National Recruiting Showcase came back today with victories in the finals at the Girls Folkstyle Nationals in the Junior division: Stem, plus Alexandra Szkotnicki of Maryland (100), Savah Savidge of Colorado (127), SaVannah Cosme of Colorado (132) and Sam Calkins of California (200).
Szkotnicki pinned California's Madison Avila in the finals in 1:24. Savidge beat 16U National folkstyle champion Taydem Khamjoi of California, 6-0. Cosme pinned California's Janida Garcia in 1:30. Calkins pinned Ella Beam of North Carolina in 3:39.
Illinois won two consecutive weight classes, with Junior Folkstyle Nationals champions Shea Reisel (112) and Taylin Long.
Reisel won the wildest match of the session, a 13-11 sudden victory overtime won over Kendra Ryan of Michigan. Ryan led 5-4 after the second period, but the match blew up with scoring in the third, with Ryan getting a late escape to tie it at 11-11. Reisel won it with a sudden victory takedown. Long's win was a bit more reserved, a 2-0 victory over Florida's Hannah Hall, with the only points coming on a Long reversal in the final period.
The champion team was Arizona Girls Wrestling, with 257 total points in the tournament.
USA WRESTLING GIRLS FOLKSTYLE NATIONALS
At Coralville, Iowa, March 28

Junior Results
100
1st- Alexandra Szkotnicki (HeadHunters Wrestling Club - MD) pin Madison Avila (California), 1:24
3rd - Riley Banyas (Ohio) pin Jalen Bets (Livermore Elite Wrestling Club - CA), 1:23
5th - Erica Pastoriza (Arizona Girls Wrestling) dec. Makayla Young (Ohio), 8-2
7th - Emaline Hicks (Michigan Revolution - MI) dec. Aspen Blasko (Minnesota Storm), 3-2
106
1st - Chloe Dearwester (Ohio) dec. Janessa George (Chatfield WC - CO), 4-2 TB2
3rd - Julianne Moccia (Mavericks Wrestling- MD) pin Marisol Rodriguez (California), 3:54
5th - Eliana Martinez (All American WC - TX) dec. Brooklyn Conrad (Twin Cities RTC - MN), 8-6
7th - Ella-Lina Gonzalez TN (Tennessee) pin Anna Cullens (Wellington WC - KS), 2:42
112 lbs.
1st Shea Reisel (Illinois) dec. Kendra Ryan MI (Michigan Revolution), 13-11 SV
3rd Ava Purifoy (Gunston WC - VA) dec. Brielle Bibla (Florida), 9-4
5th Isabelle Silva (Silver State Wrestling Academy - NV) pin Helena Alcantar (Panda Wrestling Alliance) - FL, 1:25
7th Valeria Ahumada (NorCal Queens WC - CA) pin Kylie Bustos (Caprock High School - TX), 4:0
117 lbs.
1st Taylin Long (Illinois) dec. Hannah Hall (Palm Harbor University High School - FL), 2-0
3rd Carissa Qureshi (California) dec. Isabella Ngo (Swamp Monsters - CA), 4-2
5th Haley Vann (All-Phase WC - OR) dec. Cameron Galvin (Freedom High School - FL), 6-0 2:30
7th Isabell Ortiz (Kansas) dec.Chloe Herrick (Kobra Kai Training), 2-0 SV
122 lbs.
1st Shelby Moore (Takedown Express WC - WA) dec. Gianna Dibenedetto (Swamp Monsters - CA), 7-0
3rd Tatiana Garcia (Caprock High School Wrestling) F Jordyn Knecht KS (Paola Wrestling Club), 1:44
5th Josie Davis (Ohio) pin Emily Sullenger (All-Phase WC - OR), 0:29
7th Kailey Rees (Freedom High School - FL) pin Sydney Harper (Trinity High School – TX), 1:40
127 lbs.
1st Sarah Savidge (Betterman Elite Wrestling - CO) dec. Taydem Khamjoi (Swamp Monsters - CA), 6-0
3rd Katie Ward (Nevada Elite Wrestling) dec. April Kelly (South Carolina), 7-5 SV
5th Emma Grimm (Iowa) dec. Destiny Campbell (California), 3-0
7th Emma Gruenhagen (U.S. Women's Wrestling Travel Team - WI) pin Ariana Carrasquillo (Virginia), 4:19
132 lbs.
1st Savannah Cosme (ET Wrestling - CO) pin Janida Garcia (Swamp Monsters - CA), 1:30
3rd Claire Dicugno (Takedown Express WC - WA) maj. dec. Madyson Gray (Lawrence Elite WC - KS), 9-1
5th Samanatha Barragan (Hemet High School - CA) dec. Lilly Gough (Hurricane Wrestling Academy - OK), 3-0
7th Sylvia Pierce (Michigan Revolution) pin Hailey Chapman (California Grapplers), 2:03
138 lbs.
1st Grace Stem (Pennsylvania) dec. Savannah Gomez (California), 4-2 TB2
3rd Tyler Richardson (The Factory WC - OR) dec/ Mariah Wahl (Montana Girls), 5-2
5th Bryce White (Tennessee) pin Avangeline Turner (Central Catholic WC - CA), 0:44
7th Abigail Varady (FordDynastyWC - WA) dec. Leah Brown (California), 4-2
144 lbs.
1st Abby Mcintyre (Iowa) dec. Maddie Kubicki (Victory Wrestling - MO), 5-4
3rd Kaiulani Garcia (NorCal Queens WC - CA) pin Aevri Ciha WI (Cambridge WC - WI), 4:15
5th Esther Han (Missouri) pin Sheccid Aguirre (Elevated Wrestling - CO), 3:35
7th Lydia Krauss Michigan Revolution) pin Kaylie Petersen (Indiana Girls Wrestling IGNITES), 3:45
152 lbs.
1st Isabella Mir (Centennial High School - NV) pin Haley Ward (MoWest WC - MO), 2:41
3rd Brooklyn Hays (Utah) dec. Alexandra Hofrichter (Wisconsin), 10-9
5th Stella Steigler (Hornet WC - VA) dec. Anna Mcdougal (Oregon), 2-1
7th Elicia Leonard (Wisconsin) pin Lainey Wooley IN (Columbia City WC - IN), 1:00
164 LBS
1st Rose Cassioppi (Hononegah Wrestling Club) pin Ella Nichols (KT Kidz WC - CT), 2:27
3rd Shelby Zacharias (Tennessee) dec. Emma Burk (Black Fox Wrestling Academy - CO), 3-0
5th Sarina Bertram (Missouri) dec. Symphony Veloz (Elgin Grapplers - OK), 8-2
7th Bo Geibe (Michigan) pin Romona Blake (Appleton North High School - WI), 2:17
180 lbs.
1st Sabrina Nauss (Michigan Revolution) pin Alivia White (Washington), 1:56
3rd Kaylie Upson (Wisconsin) pin Fiona Mcconnell (All-Phase Wrestling Club - OR), 2:20
5th Jaylen Hyman (Champions that Wrestle - MD) FOR Kieisha Cathey (Team Tulsa WC - OK), 0-0
7th Cheyenne Meade (Ohio) pin Sarah Huse (Indiana Girls Wrestling IGNITES), 4:25
200 lbs.
1st Sam Calkins (Delta Wrestling Club - CA) pin Ella Beam (North Carolina), 3:39
3rd Kaylyn Munn (Missouri) pin Riley Dempewolf (Indiana), 3:32
5th Shayra Calderon (Tennessee) pin Tara Henes (Ohio), 1:48
7th Jaila Kennard (California) pin Sadie Hill (Oregon City High School - OR), 1:08
225 LBS
1st Eliana Bommarito (Michigan Revolution) pin. Omastewin Foster (Montana Girls), 3:35
3rd Tatianna Herrera (NorCal Queens WC - CA) dec. Justina Chongnee (Tennessee), 5-3
5th Andrea Smith (RPA Wrestling) dec. Karla Padilla Zepeda (Utah), 3-0
7th Grace Montierth (Utah) FOR Jessica Edwards (Ohio)
Team champions -
Arizona Girls Wrestling,