News
USA Wrestling
International
College
USAW
Olympic medalist Tervel Dlagnev named head coach for Nebraska Wrestling Training Center
by Gary Abbott, USA Wrestling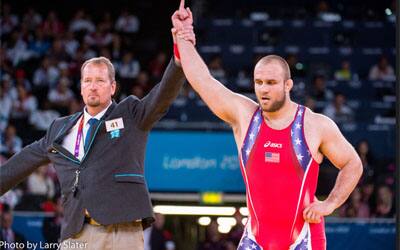 Photo of Tervel Dlagnev at the 2012 Olympic Games by Larry Slater.
The Nebraska Wrestling Training Center announced that Olympic and World bronze medalist and respected coach Tervel Dlagnev has been named its head freestyle coach.
The NWTC made this announcement via Twitter today.
"We are extremely excited to announce the addition of Tervel Dlagnev at the head freestyle coach for the Nebraska Wrestling Training Center (NWTC). Tervel brings a wealth of knowledge and expertise to Nebrask, having been a World and Olympic medalist competing at the highest level. Tervel will add anohter piece to our coaching staff and add value to our student-athletes' experience on and off the mat. He'll contribute significantly to their overall development and help them reach their competitive goals. We welcome Tervel, his wife Kristen and their family back to Nebraska to help our Regional Training Center bet the most competitive club in the country."
Dlagnev was one of the nation's best heavyweight freestyle wrestlers in history.
He won his Olympic bronze medal at the 2012 London Olympic Games. Originally fifth at the event, gold medalist Artur Taymazov of Uzbekistan was stripped of his gold medal for doping violations, not announced until July 2019 during re-analysis of Taymazov's test. Dlagnev's only loss at the London Games was to Taymazov.
Dlagnev also won World bronze medals for the USA in 2009 and 2014. He was also am member of the 2016 U.S. Olympic Team, placing fifth in the Rio Olympic Games. Dlagnev was fifth in the 2011 and 2013 World Championships. He was a 2011 Pan American Games champion and won a 2008 University World title. Dlagnev won four U.S. Open title.
He was a two-time Div. II national champion for Nebraska-Kearney before moving on to the Senior level. A native of Arlington, Texas, he was a three-time Div. II finalist and four-time All-American.
Dlagnev moves to the Nebraska WTC after serving as an assistant coach at Ohio State University, where he was hired prior to the 2016-17 season. He also worked with international stars with the Ohio Regional Training Center. During part of his international career, Dlagnev trained at the Ohio RTC.