News
USA Wrestling
College
International
USAW
The record five Black NCAA Div. I champions this year all have strong USA Wrestling backgrounds
by Gary Abbott, USA Wrestling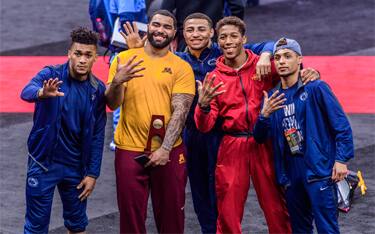 Top photo: Carter Starocci of Penn State, Gable Steveson of Minnesota, Aaron Brooks of Penn State, David Carr of Iowa State and Roman Bravo-Young of Penn State pose together at the NCAA Championships. Photo by Tony Rotundo, Wrestlers Are Warriors.


Bottom photo: Amateur Wrestling News 1978 NCAA Champions photo, courtesy of the National Wrestling Hall of Fame.
The wrestling community may have seen on social media in recent days a number of posts concerning the fact that a record five Black wrestlers won NCAA Div. I individual championships in St. Louis this past weekend.
These champions were (in weight order): Roman Bravo-Young of Penn State (133), David Carr of Iowa State (157), Carter Starocci of Penn State (174), Aaron Brooks of Penn State (184) and Gable Steveson of Minnesota (285).
Obviously, the three Penn State wrestlers are teammates with the Nittany Lions. However, the athletes have also been teammates at various times on USA Wrestling World Teams and have developed friendships during their years in the sport.
The group came together after the championship finals. They celebrated their success and historic moment as a group with a number of photos and video clips that were posted on their own social media, as well as on other platforms on the historic night in St. Louis. In one photo, they flashed five fingers, recognizing their achievement as a group.
The National Wrestling Hall of Fame along with other historians went through all of the available resources to confirm the fact that this group of five champions had indeed set a new record with their victories this year.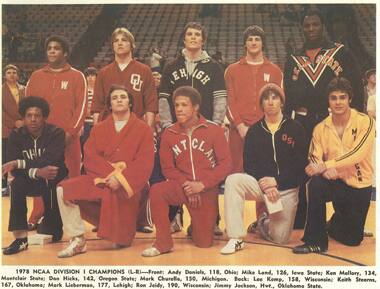 The previous high for Black athletes winning NCAA titles side-by-side came at the 1978 NCAA Div. I Championships held at the University of Maryland: Andy Daniels of Ohio (118), Kenny Mallory of Montclair State (134), Lee Kemp of Wisconsin (158) and Jimmy Jackson of Oklahoma State (HWT).
For Kemp, it was his third NCAA title and fourth NCAA finals appearance. It was also Jackson's third NCAA title. Daniels and Mallory were one-time champions. Kemp went on to win three Senior World titles and a spot on the 1980 U.S. Olympic Team which did not compete due to the U.S. government boycott.
"As a minority, you notice those kind of things," said Carl Adams, in admiration of the achievement of these 2021 champions.
Adams won a pair of NCAA for Iowa State in 1971 and 1972 and was the first freshman in history to earn Div. I All-American honors in 1969. After completing his college career, Adams coached at the Div. I college level for about four decades, including head coaching stints at Boston University and Rhode Island. Coach Adams could not remember there ever being this kind of success from Black wrestlers all at the same time at the college level.
The fact that these athletes had developed friendships along the way should be of no surprise. All you had to do was listen to Brooks when he was asked about Carr during his interviews at the NCAAs.
On the World level, three of these athletes have reached the pinnacle of age-group wrestling by winning World titles. Steveson boasts three World gold medals (2017 Junior, 2015 and 2016 Cadet). Carr was a 2019 Junior World champion and Brooks was a 2017 Cadet World champion. All three have won at least two World medals, with Carr adding a 2016 Cadet World bronze and Brooks winning a 2018 Junior World silver.
Steveson made four age-group World Teams, Brooks three teams, Carr two teams and Bravo-Young one team. Steveson was a teammate with Carr and Bravo-Young on the 2016 Cadet World Team and with Brooks on the 2018 Junior World Team. Carr and Brooks were teammates on the 2019 Junior World Team.
Bravo-Young was a 2019 Pan American Junior champion in freestyle. In Fargo, he won Cadet National titles in both freestyle and Greco-Roman and also won a Junior Nationals freestyle title.
"These men are bonded in so many ways, color is only one of many. They have had similar life challenges and experiences in our sport. They have experiencing international competition together on USA Cadet and Junior World Teams. They grew up in USA Wrestling's system and it's paying off at every level," said National Freestyle Developmental Coach Kevin Jackson.
Starocci is also very accomplished in the international styles, although not a World Team member yet. He won Cadet National titles in both freestyle and Greco-Roman in 2017 and has placements at the UWW Cadet Nationals while still in high school.
"They are outstanding young men on and off the mat. I'm extremely impressed with their continued maturity, growth, and development. They are students of the wrestling game. I've had the honor to work with four of the five and I'm not at all surprised with their success. Congratulations, champions! I'm in!" said Jackson.
We can expect to see continued success for these athletes in future college competitions, as none of them are seniors. Starocci is a freshman, and with this year not counting towards future eligibility, he could actually become a five-timer. Carr is a sophomore, while Bravo-Young and Steveson are juniors. There have been rumors that Steveson may skip his final year of college wrestling to focus on international freestyle or pro wrestling, but at this point, who knows?
Also expect to see all or most of these athletes in the U.S. Olympic Team Trials – Wrestling in Fort Worth, Texas, April 2-3. Steveson and Carr were already qualified for the Trials before they even went to the NCAA Tournament in St. Louis. With their wins, Bravo-Young, Starocci and Brooks also qualified to compete.
Bravo-Young has not yet decided if he is going to Trials, but the other four confirmed they are going and have high expectations for themselves at the next level. Stay tuned on NBC or watch them if you will be in Dickies Arena.
"I'll be there. Making the team? I told my little brothers, we go to Tokyo this summer. 2021 Olympics," said Brooks in his post NCAA interview.
Steveson, one of the favorites in Fort Worth at 286 pounds, was a bit more reserved about his chances next week.
"I expect hard matches with all the guys. There are going to be great opponents in Texas for the Olympic Trials. This was a big turnaround for me, getting all these matches in, then going over there and being ready to wrestle, too. I am happy to compete at this time and grateful for all the opportunities that I get," said Steveson.
In regards to this year being a trailblazing year in St. Louis, the Black Wrestling Association published a tweet which said "For the first time, 4 BIPOC men refereed in the NCAA D1 Championship FINALS!, with a photo of Angel Rivera, Nathan Chatman, Steven Curtis and Carlus Mansel. (BIOPC refers to Black, Indigenous and People of Color.)