News
USA Wrestling
College
USAW
Session 1 Notes: Eierman and Amine seek fourth AA honor; Only four coaches can win a second title; Upsets by the dozens
by Andy Elder, Special to TheMat.com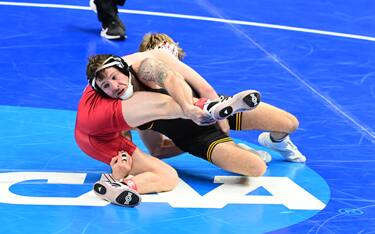 Jaydin Eierman of Iowa battles Cayden Crooks of Indiana in session one of the NCAA Championships. Photo by Tony Rotundo.
With 79 returning All-Americans (counting those who received NWCA All-American selections after the cancelled 2020 NCAA tournament), only two athlete are seeking fourth NCAA All-American honor earned by placing top eight at the Div. I championships: Iowa's Jaydin Eierman and Michigan's Myles Amine.
Eierman is seeking his first All-American honor as a Hawkeye, after going 5-4-3 for Missouri. Last year, he was on an Olympic redshirt year. He opened his NCAA meet today with a 20-5 tech fall over Cayden Rooks of Indiana at 141 pounds.
Amine also took an Olympic redshirt in 2020. His first three NCAA Championships went 4-3-3 all down at 174.
When you add in NWCA All-American honors, which are legitimate in our eyes, going for fourth AA honors are Spencer Lee of Iowa, Sebastian Rivera of Rutgers, Nick Lee of Penn State, Chad Red of Nebraska, and Hayden Hidlay of North Carolina State and Alex Marinelli of Iowa. If Hidlay can place among the top eight, he would be the first four-time Wolfpack All-American.
It is truly rare to be a four-time All-American, even during a pandemic.
Active coaches and their number of NCAA titles
Cael Sanderson, Penn State – 8
John Smith, Oklahoma State – 5
Tom Brands, Iowa – 3
Tom Ryan, Ohio State – 1
That's it. Only four head coaches in the field have coached an NCAA team title. The current field was reduced by one last year, when Jim Zalesky, who won three NCAA titles for Iowa, was let go at Oregon State. In fact, in the history of Div. I wrestling, only 26 head coaches ever have led an NCAA Champion team.
Is it possible that a new coach can join the list this weekend? With Iowa as the heavy favorite, and most pundits picking Penn State to come in second, it is not likely. But then again, this is a pandemic year, and experience tells us nothing is impossible this year.
Different tournament, different result

Stanford sophomore Real Woods and Oregon State redshirt junior Grant Willits represent the young guard and the old guard of the 141-pound weight class for the Pac 12.
Woods burst onto the scene last year as a freshman, twice beating Willits by major decision When the NCAA tournament was canceled, he earned First-Team NWCA honors. This year, however, he didn't wrestling a match until the Pac 12 Tournament.
The pair met in the finals of the Pac 12 Tournament, where Willits scored a fall, avenging those two losses from last season.
In a rare occurrence brought on by the quirk of seeding all 33 wrestlers, No. 21 seed Woods met No. 12 seed Willits in the first round. Woods won the rematch, 6-3.
No. 29 seed vs. No. 4 seed a one-point bout? You bet!
For the uninitiated, the matchup between Iowa State's Samuel Colbray, the No. 29 seed, and Northern Iowa's Parker Keckeisen, the No. 4 seed, would look like a mismatch on paper.
However, Colbray is a three-time NCAA qualifier and 2020 NWCA Honorable Mention All-American who advanced to the quarterfinals in 2019.
Keckeisen enjoyed a perfect redshirt freshman season, going 13-0 on his way to winning a Big 12 title.
These two met during the regular season and Keckeisen eked out a 4-3 decision. The two met in the first round Thursday and Keckeisen won another close one, 2-1.
Welcome to the NCAA Championships, Little Rock Trojans
The wrestling world learned just before the start of the 2018 championships that the University of Arkansas at Little Rock would be starting a Div. 1 wrestling team. The first of what is now known as the Little Rock Trojans to qualify for the championships, 133-pounder Paul Bianchi, was seeded 29th. He dropped a 19-4 technical fall to Iowa No. 4 seed Austin DeSanto in the first round.
Dozens and dozens of upsets in the first round

Now that the NCAA is seeding all 33 wrestlers in each weight class at the NCAA Div. 1 Wrestling Championships, upsets are inevitable, but they usually happen to wrestlers seeded in double digits in the first round.
Rare is the case when a top 8 wrestler is bitten by the upset bug. Top seeds swatted away several attempts at upsets, but one No. 2 seed fell victim — Nebraska senior 197-pounder Eric Schultz.
The Big Ten runner-up faced off with North Dakota State No. 31 seed Owen Pentz. The freshman from Morgan Utah is listed at 184 pounds on the Bisons' official roster. He caught Schultz and decked him at the 4:51 mark of the second period.
Here's a look at a healthy list of first-round upsets:
Session I upsets – lower seed beats higher seed in match
197 - No. 31 Owen Pentz (North Dakota State) pin Eric Schultz (Nebraska) (Fall 4:51)
141 - No. 26 Colin Valdiviez (Northwestern) dec. No. 7 Ian Parker (Iowa State) (Dec 8-5)
157 - No. 26 Johnny Lovett (Central Michigan) dec. No. 7 Jarrett Jacques (Missouri) (Dec 3-2)
197 - No. 26 Jake Woodley (Oklahoma) dec. No. 7 Rocky Elam (Missouri) (Dec 4-1)
149 - No. 25 Yahya Thomas (Northwestern) dec. No. 8 Jaden Abas (Stanford) (Dec 6-2)
125 - No. 23 Robert Howard (Penn State) dec. No. 10 Malik Heinselman (Ohio State) (Dec 6-4)
149 - No. 23 Triston Lara (Northern Iowa) dec. No. 10 Mike Van Brill (Rutgers) (Dec 12-7)
157 - No. 23 Jacob Wright (Wyoming) dec. No. 10 Justin Thomas (Oklahoma) (TB-2 5-4)
184 - No. 23 Charles Small (Hofstra) dec. No. 10 Tate Samuelson (Wyoming) (TB-1 3-2)
133 - No. 22 Mario Guillen (Ohio) dec. No. 11 Anthony Madrigal (Oklahoma) 6-9 (SV-2 4-2)
141 - No. 21 Real Woods (Stanford) dec. No. 12 Grant Willits (Oregon State) (Dec 6-3)
165 - No. 21 Peyton Hall (West Virginia) maj. dec. No. 12 Jake Keating (Virginia)(MD 14-4)
285 - No. 21 Tate Orndorff (Ohio State) dec. No. 12 Christian Lance (Nebraska) (Dec 2-1)
133 - No. 20 Ryan Sullivan (West Virginia) dec. No. 13 Zach Redding (Iowa State) (TB-2 4-3)
141 - No. 20 Brian Courtney (Virginia) dec. No. 13 DJ Lloren (Fresno State) (Dec 10-5)
149 - No. 20 Joshua Heil (Campbell) dec. No. 13 Mitch Moore (Oklahoma) (Dec 2-1)
174 - No. 20 Trenton Munoz (Arizona State) dec. No. 13 Jackson Hemauer (Northern Colorado) (Dec 6-2)
184 - No. 20 David Key (Navy) pin No. 13 Christopher Weiler (Wisconsin) (Fall 5:48)
125 - No. 19 Eric Barnett (Wisconsin) dec. No. 14 Jaret Lane (Lehigh)(Dec 6-3)
197 - No. 19 Thomas Penola (Purdue) dec. No. 14 Greg Bulsak (Clarion) (Dec 6-4)
133 - No. 18 Kyle Burwick (Wisconsin) pin No. 15 Mosha Schwartz (Northern Colorado) (Fall 4:38)
157 - No. 18 Cade DeVos (South Dakota State) dec. 15 Chase Saldate (Michigan State) 8-6 (Dec 3-1)
165 - No. 18 Izzak Olejnik (Northern Illinois) dec. No. 15 Dan Braunagel (Illinois) (Dec 6-1)
174 - No. 18 Dustin Plott (Oklahoma State) dec. No. 15 Thomas Flitz (Appalachian State)(Dec 7-5)
184 - No. 18 Alan Clothier (Northern Colorado) dec. No. 15 Layne Malczewski (Michigan State)(Dec 8-3)
125 - No. 17 Killian Cardinale (West Virginia) over No. 16 Codi Russell (Appalachian State) (SV-2 7-6)
133 - No. 17 Malyke Hines (Lehigh) maj dec. No. 16 Devan Turner (Oregon State)(MD 8-0)
149 - No. 17 Kyle Parco (Fresno State) dec. No. 16 PJ Ogunsanya (Army West Point) (SV-1 7-5)
157 - No. 17 Requir van der Merwe (Stanford) dec. No. 16 Justin McCoy (Virginia) (Dec 3-2)
165 - No. 17 Thomas Bullard (NC State) dec. No. 16 William Formato (Appalachian State) (Dec 3-2)
174 - No. 17 Benjamin Pasiuk (Army West Point) dec. No. 16 Clay Lautt (North Carolina) (Dec 8-3)
285 - No. 17 Wyatt Hendrickson (Air Force) pin No. 16 Luke Luffman (Illinois) (Fall 2:12)
Pigtails
149 - No. 33 Cameron Hunsaker (Utah Valley) dec. No. 32 Greg Gaxiola (Hofstra) (Dec 5-1)
157 - No. 33 Wyatt Sheets (Oklahoma State) dec.No. 32 Luca Frinzi (Lehigh) (Dec 8-2)
165 - No. 33 Austin Yant (Northern Iowa) maj. dec. Ricky Stamm (Hofstra) (MD 12-4)
197 - No. 33 Billy Janzer (Rutgers) dec. Logan Andrew (Chattanooga) (Dec 8-6)

Northern Iowa's Runyon withdraws from tournament

Northern Iowa 174-pounder Lance Runyon, who was seeded 29th, withdrew from the tournament due to injury prior to the first round. The redshirt freshman ended his season with a 6-5 record. Earning a bye in the first round was No. 4 seed Mikey Labriola of Nebraska.