News
USA Wrestling
International
College
High School & Youth
Women
Grappling
Beach
USAW
Cutouts of all Hall of Fame Distinguished Members will be at the Olympic Trials; join them by ordering your cutout by March 22
by USA Wrestling and National Wrestling Hall of Fame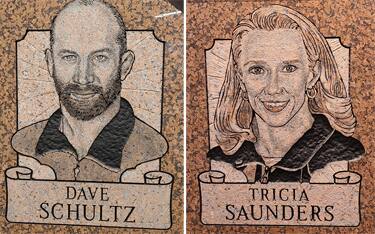 National Wrestling Hall of Fame Distinguished Member plaques of Dave Schultz and Tricia Saunders courtesy of the NWHOF.
The National Wrestling Hall of Fame and USA Wrestling are partnering to place a cardboard cutout of each of the 196 Distinguished Members of the National Wrestling Hall of Fame in the stands at U.S. Olympic Team Trials in Fort Worth, Texas, April 2-3.
These organizations will help celebrate the history of American wrestling by displaying the heroes of our sport throughout Dickies Arena.
"It is appropriate that the legends of our sport are honored and promoted as part of the most important wrestling event of the year here in the United States," said USA Wrestling Executive Director Rich Bender. "Their presence in the arena will add to the excitement that the U.S. Olympic Team Trials – Wrestling provides for our sport."
"We are excited to partner with USA Wrestling to showcase our Distinguished Members, many of whom have represented America around the globe," said Lee Roy Smith, Executive Director, National Wrestling Hall of Fame. "We look forward to seeing them in the stands at Dickies Arena, providing us a new and unique way to recognize some of the most influential people in our great sport."
Wrestling fans, clubs and teams can join these wrestling heroes in the stands by purchasing a cutout to be placed in Dickies Arena during the U.S. Olympic Team Trials – Wrestling.
USA Wrestling is selling the popular cardboard cutouts of fans, similar to those seen at major professional and college sports events throughout the pandemic.
There will be 5,200 fans allowed at Dickies Arena for the U.S. Olympic Team Trials, and many thousands more of empty seats. Help add to the atmosphere by filling empty seats with a picture of yourself or someone who loves wrestling, all for a great cause.
The cost is just $50, and can be purchased through the
USA Wrestling Membership System
Simply login to the
Membership System
, go to Extra's at the top of the page and select 2021 Olympic Trials Cutouts.
Do not wait!!! All photos must be submitted to USA Wrestling by Monday, March 22.
Clubs, teams and other large groups of wrestling people who wish to order multiple cutouts for their group can contact Derek Sikora of USA Wrestling to discuss group pricing. Email him at DSikora@usawrestling.org
Proceeds raised from this project will support the Living the Dream Medal Fund, which provides bonuses directly to wrestlers who win medals for USA Wrestling at the Olympic Games and World Championships.
The Living the Dream Medal fund will provide $250,000 to any U.S. wrestler who wins a gold medal at the Tokyo Olympics, $50,000 for an Olympic silver medal and $25,000 for an Olympic bronze medal. At the Senior World Championships, payouts are $50,000 for a World gold, $25,000 for a World silver and $15,000 for a World bronze.
All of those who purchase a cut out will also be included in a drawing for two tickets to the 2022 U.S. World Team Trials.
See the
Official Rules
for the sweepstakes.
Join all the Distinguished Members of the National Wrestling Hall of Fame and other wrestling fans who will be in attendance at the U.S. Olympic Team Trials with a photo of themselves!!!
USA Wrestling thanks you in advance for helping make the Olympic Trials more special, while supporting our elite U.S. wrestlers who represent our nation at the Olympics and World Championships.