News
USA Wrestling
College
USAW
Long-time rivals Oklahoma and Oklahoma State finish tied and become co-champions of the Big 12
by Gary Abbott, USA Wrestling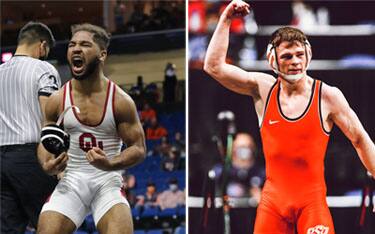 Celebration photo of Big 12 champion Dom Demas of Oklahoma courtesy of Oklahoma Wrestling Twitter. Celebration photo of OSU Big 12 champion Boo Lewallen courtesy of Oklahoma State Wrestling Twitter.
TULSA, Okla. – After day one of the 2021 Big 12 Championships, surprising Oklahoma had a 10 point lead over both eight-time defending champions Oklahoma State as well as Wyoming, setting up a crazy final day.
Nobody knew exactly how this would shake out, but it is a safe bet few people saw a tie between Bedlam rivals OU and OSU as being the final outcome.
It took a strong day for Cowboys to close the gap, as well as some clutch performances by the Sooners to keep the themselves from being passed. Both teams had three finalists going into the gold-medal finals, with OU holding an eight point lead.
The Cowboy run came as Daton Fix, who missed most of the college season due to a USADA sanction, continued to establish himself as one of the nation's top stars with a 6-1 win over Tony Madrigal of Oklahoma, 6-1.
Dom Demas of Oklahoma needed to go to tiebreaker 2 to defeat returning Big 12 champion Ian Parker of Iowa State in overtime, 4-3 at 141 pounds. This win helped keep OU in the lead.
A huge win for Oklahoma State came at 149 pounds, when returning Big 12 champion Boo Lewallen edged OU's Mitch Moore, 7-6. A win by Moore would have sealed OSU's fate. This closed the gap to four points, with John Smith's Cowboys having one more finalist. All the Sooners could do was wait and watch.
It all shook at at 197, as No. 4 seed A.J. Ferrari of Oklahoma State needed a win against No. 2 seed Stephen Buchanan. In a match with a lot of scoring, Ferrari powered to a 13-8 win, finishing the comeback with a tie.
Oklahoma State was able to win its ninth straight conference title, and its 55th overall conference title during its long and storied history. However, OU was able to win its first Big 12 title under coach Lou Rosselli and share bragging rights with their cross-state rivals.
Oklahoma State had wrestled back well on Sunday morning, with third places from Trevor Mastrogiovanni (125), Travis Wittlake (165) and Dakota Geer (184), and fourth place from Dustin Plott (174).
OU had kept on the pressure in the morning session, as they a secured third place from Justin Thomas (157) and a fourth place from Josh Heindselman (285) and finished with nine wrestlers placing in the top eight.
A healthy battle for third developed on Sunday between Iowa State and Wyoming. It was Wyoming that was tied with Oklahoma State in second on Saturday, with Iowa State in fourth place. Wyoming had the most finalists with four. In Sunday morning's consolations, Iowa State jumped to third, within striking distance of the top two spots.
The Cyclones earned a champion at 157, where David Carr repeated as Big 12 champion with an 8-2 win over North Dakota State's Jared Franek. Carr was a 2019 Junior World freestyle champion.
Wyoming did not make a run in the finals, losing all four of their matches. It started at 165, where Luke Weber of North Dakota State defeated Wyoming's Cole Moody 11-7. Their next bout was at 184 pounds, as Northern Iowa's Parker Keckeisen continues a great season with a 5-3 win over Wyoming's Tate Samuelson.
After Ferrari's dramatic win at 197 over Buchanan, Wyoming had one more chance for a champion at heavyweight, as returning Big 12 champion Brian Andrews went up against Iowa State's Gannon Gremmel. It was Gremmel won got the title this year, after a 2-0 victory in the final bout of the night.
Iowa State finished safely in third with 117.5 points, with Wyoming in fourth with 105.5 points. Things could have been different had Wyoming been able to win some of those finals.
Brody Teske of Northern Iowa, who defeated multiple-time age-group World Greco-Roman medalist Taylor LaMont of Utah Valley in the finals, 9-7 at 125. Teske, a transfer from Penn State who is an Iowa native, won in his first Big 12 tournament.
Utah Valley added a champion at 174, when 2019 Big 12 champion Demetrius Romero scored a 6-2 win over Jackson Hemauer of Northern Colorado. Both were transfers, Romero starting his career at Boise State, which dropped its program, while Hemauer competed at Fresno State before joining UNC this season.
BIG 12 CHAMPIONSHIPS
At Tulsa, Okla., March 7-8
125 (4 NCAA berths)
1st Place - Brody Teske (Northern Iowa) over Taylor LaMont (Utah Valley). (Dec 9-7)
3rd Place - Killian Cardinale (West Virginia) over Danny Vega (South Dakota State) (Dec 9-6)
5th Place - Trevor Mastrogiovanni (Oklahoma State) over Kysen Terukina (Iowa State). (TF-1.5 6:00 (19-1))
7th Place - Cody Phippen (Air Force) over Jace Koelzer (Northern Colorado) (Dec 8-1)
133 (4 NCAA berths)
1st Place - Daton Fix (Oklahoma State) over Tony Madrigal (Oklahoma). (Dec 6-1)
3rd Place - Zach Redding (Iowa State) over Mosha Schwartz (Northern Colorado) (MD 20-7)
5th Place - Zach Price (South Dakota State) over Haiden Drury (Fresno State) 2-3, . (Dec 8-1)
7th Place - Kellyn March (North Dakota State) over Ty Smith (Utah Valley) (Dec 13-6)
141 (3 NCAA berths)
1st Place - Dom Demas (Oklahoma) over Ian Parker (Iowa State) (Dec. 4-3 TB2)
3rd Place - DJ Lloren (Fresno State) over Clay Carlson (South Dakota State) (Dec 6-4)
5th Place - Chase Zollman (Wyoming) over Dylan Droegemueller (North Dakota State. (Dec 2-0)
7th Place - Chris Sandoval (Northern Colorado) over Kaden Gfeller (Oklahoma State) (M. For.)
149 (4 NCAA berths)
1st Place - Boo Lewallen (Oklahoma State) over Mitch Moore (Oklahoma), (Dec 7-6)
3rd Place - Kyle Parco (Fresno State) over Jarett Degen (Iowa State) (Dec 9-4)
5th Place - Triston Lara (Northern Iowa) over Jaron Jensen (Wyoming) (MD 18-8)
7th Place - Cameron Hunsaker (Utah Valley) over Jaden Van Maanen (North Dakota State) (Dec 2-0)
157 (2 NCAA berths)
1st Place - David Carr (Iowa State) over Jared Franek (North Dakota State) (Dec 8-2)
3rd Place - Justin Thomas (Oklahoma) over Cade DeVos (South Dakota State) (SV-1 3-1)
5th Place - Jacob Wright (Wyoming) over Alex Hornfeck (West Virginia) (Dec 4-2)
7th Place - Danny Snediker (Utah Valley) over Cayd Lara (Northern Iowa) (Dec 7-6)
165 (4 NCAA berths)
1st Place - Luke Weber (North Dakota State) over Cole Moody (Wyoming) (Dec 11-7)
3rd Place - Travis Wittlake (Oklahoma State). over Peyton Hall (West Virginia) (Dec 9-3)
5th Place - Austin Yant (Northern Iowa)over Troy Mantanona (Oklahoma) (Dec 9-3)
7th Place - Jordan Robison (Northern Colorado) over Koy Wilkinson (Utah Valley) (TB-2 3-2)
174 (3 NCAA berths)
1st Place - Demetrius Romero (Utah Valley) over Jackson Hemauer (N. Colorado) (Dec 6-2)
3rd Place - Hayden Hastings (Wyoming) over Dustin Plott (Oklahoma State) (Dec 9-3)
5th Place - Anthony Mantanona (Oklahoma). over Cody Surratt (Air Force) (MD 8-0)
7th Place - Austin Brenner (North Dakota State) over Cade King (South Dakota State) (SV-1 6-4)
184 (3 NCAA berths)
1st Place - Parker Keckeisen (Northern Iowa) over Tate Samuelson (Wyoming) (Dec 5-3)
3rd Place - Dakota Geer (Oklahoma State) over Alan Clothier (Northern Colorado) (Dec 7-1)
5th Place - Sam Colbray (Iowa State) over Darrien Roberts (Oklahoma) (Dec 9-3)
7th Place - Jacob Schoon (South Dakota State) over Anthony Carman (West Virginia) (Fall 3:31)
197 (4 NCAA berths)
1st Place - AJ Ferrari (Oklahoma State) over Stephen Buchanan (Wyoming) (Dec 13-8)
3rd Place - Noah Adams (West Virginia) over Marcus Coleman (Iowa State) (Dec 6-3)
5th Place - Jake Woodley (Oklahoma) over Tanner Sloan (South Dakota State)(M. For.)
7th Place - Owen Pentz (North Dakota State) over Jacob Seely (Northern Colorado) (MD 14-2)
285 (4 NCAA berths)
1st Place - Gannon Gremmel (Iowa State) over Brian Andrews (Wyoming) (Dec 2-0)
3rd Place - Wyatt Hendrickson (Air Force) over Josh Heindselman (Oklahoma) (Dec 11-5)
5th Place - Brandon Metz (North Dakota State) over Carter Isley (Northern Iowa) (SV-1 3-1)
7th Place - Michael Wolfgram (West Virginia) over Dalton Robertson (Northern Colorado) (Dec 10-8)
Big 12 Team Standings
1 Oklahoma State 124.0
1 Oklahoma 124.0
3 Iowa State 117.5
4 Wyoming 105.5
5 N. Iowa 79.0
6 North Dakota State 78.0
7 N. Colorado 70.5
8 South Dakota State 67.5
9 West Virginia 57.0
10 Utah Valley 55.0
11 Air Force 32.5
12 Fresno State 31.0