News
USA Wrestling
College
USAW
Oklahoma leads Big 12 after day one, with Oklahoma State and Wyoming tied 10 points behind the Sooners
by Gary Abbott, USA Wrestling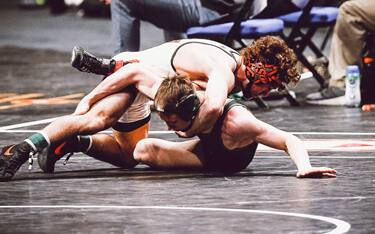 Photo of Big 12 finalist Daton Fix courtesy of Oklahoma State Wrestling Twitter.
There were predictions that the 2021 Big 12 Championships would show the kind of depth that has developed in the conference during recent years. After day one of the event, those folks were absolutely right.
The team race is very, very tight. As the final consolation matches finished up on Saturday night, a surprisingly strong Oklahoma team grabbed first place with 107 points, followed by defending champion Oklahoma State and Wyoming tied in second with 97 points.
Oklahoma State and Wyoming were going back and forth at the top of the standings during the semifinals, but Oklahoma took the lead with many key wins in the consolation rounds held after the semifinals were completed.
Oklahoma State is seeking its ninth straight conference title, and its 55th overall conference title in its long and storied history. This year, for sure, winning another title will take something extra on the final day of the tournament.
Wyoming secured the most finalists with four: Cole Moody (165), Tate Samuelson (184), Stephen Buchanan (197) and Brian Andrews (285)
Three teams have three finalists. Oklahoma State put Daton Fix (133), Boo Lewallen (149) and AJ Ferrari (197) in the finals. Oklahoma also put three in the finals: Tony Madrigal (133), Dom Demas (141) and Mitch Moore (149). Iowa State added three wrestlers to the finals: Ian Parker (141), David Carr (157) and Gannon Gremmel (285).
Northern Iowa, North Dakota State and Utah Valley each have two finalists. The other team with one individual finalist is Northern Colorado.
OU has nine wrestlers still competing after day one. Wyoming has eight wrestlers still in the tournament, while Oklahoma State will have seven wrestlers competing on Sunday.
Four of the six returning Big 12 individual champions have reached the finals: Iowa State's Parker, Oklahoma State's Lewallen, Iowa State's Carr and Wyoming's Andrews.
The two returning champions who did not reach the finals are Oklahoma State's Travis Wittlake at 165, who lost to Luke Weber of North Dakota State in the semifinals, and West Virginia's Noah Adams, who was defeated by Wyoming's Buchanan in the semifinals.
With upsets up and down all of these brackets, the team standings could be determined based upon the consolation rounds on Sunday, or could come down to the last matches of the gold-medal finals.
Be honest. Who would have expected OU to be winning the Big 12's after day one? Congratulations to Coach Lou Rosselli and his Sooners for stepping up for the conference meet. As the OU Wrestling Twitter says, "Legends are made in March."
BIG 12 CHAMPIONSHIPS

At Tulsa, Okla.,


Finals pairings
125 - Brody Teske (N. Iowa) vs. Taylor LaMont (Utah Valley)
133 - Daton Fix (Ok State) vs. Tony Madrigal (Oklahoma)
141 - Ian Parker (Iowa State) vs. Dom Demas (Oklahoma)
149 - Boo Lewallen (Ok State) vs. Mitch Moore (Oklahoma)
157 - David Carr (Iowa State) vs. Jared Franek (North Dakota State)
165 - Luke Weber (North Dakota State) vs. Cole Moody (Wyoming)
174 - Demetrius Romero (Utah Valley) vs. Jackson Hemauer (N. Colorado)
184 - Parker Keckeisen (N. Iowa) vs. Tate Samuelson (Wyoming)
197 - AJ Ferrari (Ok State) vs. Stephen Buchanan (Wyoming)
285 - Gannon Gremmel (Iowa State) vs. Brian Andrews (Wyoming)
Semifinal results
125
Brody Teske (N. Iowa) 3-0 won by decision over Danny Vega (South Dakota State) 1-1 (Dec 8-6)
Taylor LaMont (Utah Valley) 3-0 won by decision over Trevor Mastrogiovanni (Ok State) 2-1 (Dec 5-3)
133
Daton Fix (Ok State) 3-0 won by tech fall over Mosha Schwartz (N. Colorado) 2-1 (TF-1.5 6:53 (21-5))
Tony Madrigal (Oklahoma) 3-0 won by decision over Zach Redding (Iowa State) 1-1 (Dec 8-3)
141
Ian Parker (Iowa State) 2-0 won by decision over DJ Lloren (Fresno State) 1-1 (Dec 6-2)
Dom Demas (Oklahoma) 2-0 won by decision over Clay Carlson (South Dakota State) 2-1 (Dec 3-2)
149
Boo Lewallen (Ok State) 3-0 won by decision over Triston Lara (N. Iowa) 1-1 (Dec 7-4)
Mitch Moore (Oklahoma) 2-0 won by decision over Jaron Jensen (Wyoming) 2-1 (Dec 4-2)
157
David Carr (Iowa State) 2-0 won by decision over Cade DeVos (South Dakota State) 1-1 (Dec 8-2)
Jared Franek (North Dakota State) 2-0 won in sudden victory - 1 over Justin Thomas (Oklahoma) 1-1 (SV-1 3-1)
165
Luke Weber (North Dakota State) 2-0 won in sudden victory - 1 over Travis Wittlake (Ok State) 2-1 (SV-1 5-3)
Cole Moody (Wyoming) 2-0 won by decision over Peyton Hall (West Virginia) 2-1 (Dec 5-4)
174
Demetrius Romero (Utah Valley) 3-0 won by major decision over Cody Surratt (Air Force) 2-1 (MD 12-3)
Jackson Hemauer (N. Colorado) 2-0 won by decision over Hayden Hastings (Wyoming) 2-1 (Dec 4-3)
184
Parker Keckeisen (N. Iowa) 3-0 won by decision over Alan Clothier (N. Colorado) 1-1 (Dec 7-2)
Tate Samuelson (Wyoming) 3-0 won by decision over Dakota Geer (Ok State) 2-1 (Dec 6-2)
197
AJ Ferrari (Ok State) 2-0 won by decision over Tanner Sloan (South Dakota State) 1-1 (Dec 7-1)
Stephen Buchanan (Wyoming) 3-0 won by decision over Noah Adams (West Virginia) 1-1 (Dec 3-2)
285
Gannon Gremmel (Iowa State) 3-0 won in sudden victory - 1 over Josh Heindselman (Oklahoma) 1-1 (SV-1 3-1)
Brian Andrews (Wyoming) 2-0 won by decision over Brandon Metz (North Dakota State) 1-1 (Dec 4-3)
Team Standings after day one
1 Oklahoma 107.0
2 Oklahoma State 97.0
2 Wyoming 97.0
4 Iowa State 94.0
5 North Dakota State 69.0
6 Northern Iowa 68.0
7 Northern Colorado 57.5
8 South Dakota State 52.0
9 Utah Valley 49.0
10 West Virginia 43.5
11 Air Force 25.0
12 Fresno State 22.0