News
USA Wrestling
College
USAW
Koll names Joseph, Francois as assistant coaches at Stanford
by Regina E. Verlengiere, Stanford Athletics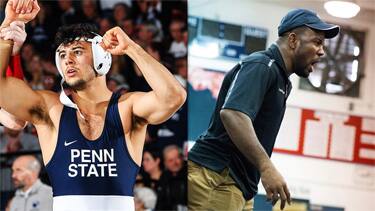 Images of Vincenzo Joseph and Dr. Enoch Francois courtesy of Stanford athletics.
STANFORD, Calif. – Dr. Enock Francois and Vincenzo Joseph have been named assistant coaches for the Stanford wrestling program, head coach Rob Koll announced today.
"I had the pleasure of working with Enock for three years at Cornell and couldn't be more excited to have him join us at Stanford," said Koll. "I also had the displeasure of having to compete against Vincenzo and I am thrilled to finally have him on my team!"
Dr. Francois comes to The Farm from Florida, where he has been the Buffalo Stampeders Wrestling Club Director and the Special Services Coordinator at The Villages Charter School since 2018. He also served as an associate head wrestling coach at The Villages Charter School during that time.
Dr. Francois brings a wealth of experience in leadership, coaching and teaching to the Cardinal program. A student-athlete at California Baptist, he received his undergraduate degree in psychology with a concentration in social work. He was a three-time collegiate All-American and a national finalist. He earned his master's in special education in 2012 and a Ph.D. in education leadership from the University of Cumberlands in Williamsburg, Kentucky.
"I am looking forward to joining the Stanford staff and being able to coach our student-athletes and help them achieve excellence, maximize their potential and build the self-worth to become key contributing citizens in society for life," said Dr. Francois. "The student-athletes come to us with dreams to begin as seeds in their hearts that take time and diligent care to be fulfilled. I hope to play an essential part in helping our guys realize those dreams."
Dr. Francois was a member of the U.S. Senior National Greco Team in 2017 and a Senior Nationals placewinner in 2014, 2015, 2016 and 2017. He spent time with Koll while training fulltime with the Cornell wrestling program from 2014-18 within the regional training center, and served as a coach with the Finger Lakes Wrestling Club (FLWC). A 2016 Olympic Trials U.S. qualifier, he placed fourth at the 2015 USA Wrestling World Team Trials challenge tournament. In 2020, Dr. Francois was the Pan Am Games Ju-Jitsu Blue Belt Masters 1 champion and placed second at the Ju-Jitsu Blue Belt Masters 1 World Championships.
A two-time NCAA champion and three-time NCAA finalist at Penn State, Joseph will begin his collegiate coaching career with the Cardinal.
"I am very excited and grateful to accept this position at Stanford University," said Joseph. "We have high aspirations for the program and I am thrilled to get started. Stanford athletics has a history of excellence and we see ourselves competing with the best. We are looking to bring this program to new heights and are ready to get to work!"
A three-time NCAA All-American, Joseph won the 165-pound national title as a freshman (2017) and sophomore (2018) before falling in the finals as a junior (2019). His senior year was cut short due to the COVID-19 pandemic and subsequent cancellation of the 2020 NCAA Championships. He finished his illustrious career with the Nittany Lions with an 89-9 overall record, including 25 falls.
A 2020 graduate of Penn State with a degree in communication, Joseph originally hails from Pittsburgh.