News
USA Wrestling
College
USAW
Pac-12 Preview: Arizona State aims to defend conference title, led by four top seeds and four returning champs
by Gary Abbott, USA Wrestling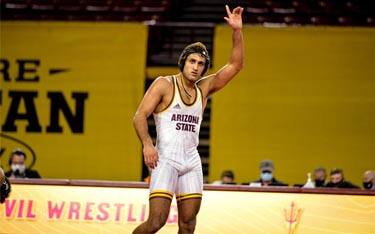 Sun Devil senior Anthony Valencia seeks a fourth Pac-12 title. Photo courtesy of Arizona State Athletics.

Arizona State is the defending champion, and host Oregon State seeks to win the conference title on its home mats, when the Pac-12 Wrestling Championships are held in Corvallis, Ore. on Sunday, February 28.
Arizona State finished the regular season ranked in a tie for No. 9 in the final NWCA Div. I coaches poll, with a perfect 6-0 dual meet record. They are the only Pac-12 team in the rankings.
Arizona State's No. 1 seeds at the Pac-12 Championships include Brandon Courtney (125), Michael McGee (133), Kordell Norfleet (197) and Cohlton Schultz (285). Courtney and Norfleet are returning Pac-12 individual champions. Schultz, a freshman, is a multiple age-group World medalist and Senior National champion in Greco-Roman, and has still not lost a college match, coming in with a 10-0 record.
Two more 2020 Pac-12 champions return, No. 3 seed Jacori Teemer (157) and No. 2 seed Anthony Valencia (165). Valencia is actually a three-time Pac-12 champion, and will attempt to become only the third Sun-Devil to capture four Pac-12 titles.
The Sun Devils have three No. 2 seeds and all 10 wrestlers are seeded in the top four of their class. If Arizona State wrestles anywhere near matching their seed, it could run away with the team title.
There are 19 NCAA Championships berths up for grabs, including the 10 conference champions, plus nine other wrestlers. The only weight class where three wrestlers will advance automatically to the NCAAs is at 197 pounds.
Host Oregon State has three No. 1 seeds, the Willits brothers from Colorado, Willits (141) and Hunter (157), plus the top seed at 184, Ryan Reyes. The Beavers also have a pair of No. 2 seeds, Devan Turner (133) and J.J. Dixon (197). Grant Willits was a conference champion in 2019, while Turner won the conference in 2020, and both are team captains.
This will be the Pac-12 debut of new Beaver head coach Chris Pendleton, who came to Corvallis after coaching as an assistant at rival Arizona State. Oregon State has 23 Pac-12 team titles, the most of any program, and would love to add another in its own gym for its new coach.
Stanford, which won its first Pac-12 title in 2019, has a strong team which may have been overlooked based upon the adversity faced by the program. Earlier in the pandemic, Stanford announced that it was dropping 11 varsity sports teams, including wrestling, and much of the focus has been on the amazing effort of the #KeepStanfordWrestling movement. The Stanford administration has not budged on its decision, in spite of the $12 million raised by alumni and supporters. Add to that, the Cardinal did not start its season until January 24, wrestling all of its matches on the road, finishing with a 5-3 dual meet record.
The only No. 1 seed for Stanford is Shane Griffith (165), a returning Pac-12 champion who could be the best wrestler in the conference. Griffith is ranked No 1 nationally in the Coaches Rankings, and No. 3 by FloWrestling. Four Stanford wrestlers have No. 2 seeds, Jackson DiSario (125), Jaden Abas (149), Requir Van de Merwe (157) and Nathan Traxler (285). If the team wrestles above its seeds, it has a great chance to win the event. Traxler was named Wrestling Scholar Athlete of the Year earlier this morning.
Cal Poly has some strong individuals, including a pair of No. 1 seeds in Legend Lamer (149) and Bernie Truax (174). Lawrence Saenz grabbed a No. 2 seed at 141.
CSU-Bakersfield has a returning Pac-12 champion in Josh Loomer, who won his title last year at 184, but has moved up to 197 this year and has a No. 3 seed.
Little Rock, in its second year in the conference, has only one wrestler seeded in the top four, heavyweight Gabe Beyer who is at No. 5. Paul Bianchi, the No. 5 seed at 133, is actually in the national Coaches Ranking at No. 26, and is a returning Pac-12 runner-up at the weight class.
Many of the Pac-12 teams had difficulty getting competition during the pandemic, with some of the Western states shut down more than others around the nation, as well as numerous postponements or cancellations due to COVID-19.
The first two rounds will be streamed on the Oregon State live stream. The championship round will be televised on the Pac-12 Network.
Pac-12 brackets
2020 Pac-12 Championships Team Standings
1 Arizona State University, 141.5
2 Stanford, 122.0
3 CSU Bakersfield, 99.5
4 Oregon State, 92.5
5 Cal Poly, 90.0
6 Little Rock, 62.5
Event Schedule (Pacific time)
Sunday, February 28
11:30 a.m. – Round One
4:30 p.m. – Round Two
6:00 p.m. – Final Round
Pac-12 Championships top four seeds
Rankings from FloWrestling and Coaches Ranking
125 pounds (2 NCAA berths)
1. Brandon Courtney, Arizona State (4/4)
2. Jackson DiSario, Stanford (-/27)
3. Brandon Kaylor, Oregon State (-/30)
4. Antonio Lorenzo, Cal Poly
133 pounds (1 NCAA berths)
1. Michael McGee, Arizona State (7/7)
2. Devan Turner, Oregon State (-/22)
3, Jason Miranda, Stanford (-/24)
4, Chance Rich, CSU-Bakerfield
Note: No. 5 seed Paul Bianchi of Little Rock is No. 26 in Coaches Ranking.

141 pounds (2 NCAA berths)
1. Grant Willits, Oregon State (16/15)
2. Lawrence Saenz, Cal Poly
3. Angelo Martinoni, CSU-Bakersfield
4. Julian Chlebove, Arizona State
149 pounds (2 NCAA berths)
1. Legend Lamer, Cal Poly (11/10)
2. Jaden Abas, Stanford (19/16)
3. Cory Crooks, Arizona State (-/31)
4. Lane Stigall, Oregon State
157 pounds (2 NCAA berths)
1. Hunter Willits, Oregon State (13/14)
2. Reqir Van der Merwe, Stanford (14/13)
3. Jacori Teemer, Arizona State (16/20)
4. Brock Rogers, CSU-Bakersfield
165 pounds (2 NCAA berths)
1. Shane Griffiths, Stanford (3/1)
2. Anthony Valencia, Arizona State (4/4)
3. Matt Olguin, Oregon State
4. Adam Kemp, Cal Poly
174 pounds (2 NCAA berths)
1. Bernie Truax, Cal Poly (17/16)
2. Trey Munoz, Arizona State (18/19)
3. Tyler Eischens, Stanford
4. Albert Urias, CSU-Bakersfield
184 pounds (1 NCAA berth)
1. Ryan Reyes, Oregon State (-/27)
2. Cade Belshay, Arizona State (-/31)
3. Dom Ducharm, Cal-State Bakersfield
4. Jared Hill, Stanford
197 pounds (3 NCAA berths)
1. Kordell Norfleet, Arizona State (4/4)
2. J.J. Dixon, Oregon State (-/30)
3. Josh Loomer, CSU-Bakerfield
4. Nick Stemmet, Stanford
285 pounds (2 NCAA berths)
1. Cohlton Schultz, Arizona State (5/6)
2. Nathan Traxler, Stanford (25/22)
3. Sam Aguilar, Cal Poly
4. Gabe Beyer, Little Rock