News
USA Wrestling
High School & Youth
Women
USAW
Bring your youth and high school wrestlers to Orlando, Fla. for two great competitions, March 12-14
by Gary Abbott, USA Wrestling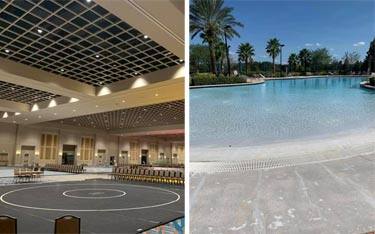 What could be better than taking your wrestling family for a Florida vacation, while entering the kids in one of two great wrestling competitions?
You get that chance next month – when the High School National Recruiting Florida Qualifier, as well as the USA Wrestling Southeast Kids Showcase are hosted at the Rosen Shingle Creek resort in Orlando, March 12-14.
Consider this. 12 Mats, a 4 Diamond Resort, 15 on-site restaurants...Best Venue in Florida!
On Friday, youth wrestlers will compete in the USA Wrestling Southeast Kids Showcase. On Saturday and Sunday, your high school wrestlers will be able to compete at the National Recruiting Showcase Florida Qualifier.
Wrestlers will earn a discount by booking a room their room first.
ATHLETES MUST BOOK HOTEL ROOM FIRST AND USE CODE FOR REGISTRATION AFTER TO GET REGISTRATION DISCOUNT!
Rosen Shingle Creek

9939 Universal Blvd

Orlando, FL 32819

$115 per night excluding taxes and fees.

Free Parking
This is a huge discount for this property. The usual room rate is around $280 per night!!
The event will honor the $115 rate up to the day of the event if it does not sell out.
CLICK HERE TO BOOK HOTEL NOW
ADDITIONAL INFORMATION FOR FAMILIES AND CLUBS
Event organizers will send you a discount code to get $10 off your youth athlete registration (up to 4).
High School Registration
Kids-Middle School Registration
MORE INFORMATION ON USA WRESTLING SOUTHEAST KIDS SHOWCASE
Click for USA Wrestling Southeast Kids Showcase website
MORE ON THE HIGH SCHOOL NATIONAL RECRUITING SHOWCASE – FLORIDA QUALIFIER
The High School National Recruiting Showcase – Florida Qualifier is open only to boys and girls athletes who qualify for the USA Wrestling Junior age division. Wrestlers must have been born September 1, 2001 or after, plus must be enrolled in grades 9-12. Athletes from any state may enter any of the eight qualifiers.
The qualifier events will feature top High School boys' and girls' wrestlers from around the country. For the boys (contested in folkstyle) and girls (contested in freestyle), the top five place winners in each weight class in the eight qualifiers will earn a spot in the High School National Recruiting Showcase set for Coralville, Iowa, March 25-27..
The High School National Recruiting Showcase will be broadcast by Trackwrestling.
Due to local health and government regulations, there will be a cap on the number of entries for this specific Florida qualifier, which are:
• High School boys – 700
• High School girls - 300
Due to the limits on entries, families are encouraged to sign up right away. Registration has already been opened.
Pre-registration entry fee is $50 per athlete (with Hotel code) or $60 per athlete (without hotel code), and closes on Monday, March 1 at 11:59 p.m. Mountain Time.
1. Wait 48 hrs. after booking your room to register. The hotel will be sending USA Wrestling booking confirmation numbers daily which will be used to give you a discount on registration.
2. Use your booking confirmation number as your discount code when you do happen to register. Each code is good for up to FOUR (4) athlete registrations.
Late registration online registration costs $65 per athlete, and closes Wednesday, March 15 at 11:59 p.m. Mountain Time.
Click for High School National Recruiting Showcase Florida qualifier website