News
USA Wrestling
College
USAW
ACC PREVIEW: Five ranked teams and numerous talented individuals battle for 33 NCAA berths
by Joe Wedra, Special to TheMat.com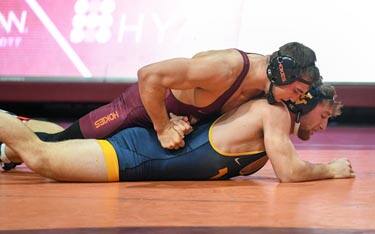 Hokie star Hunter Bolen is ranked No. 1 in the nation, and Virginia Tech has a No. 3 national team ranking heading into the ACC Championships. Photo courtesy of Virginia Tech Athletics.
The ACC is set for the 2021 ACC Wrestling Championship with five of its six teams finishing the dual meet season ranked in the NWCA's top 20. A conference championship full of talent, the event is set to feature stars up and down the brackets, potentially resulting in a very tight team race. Nine of last year's 10 ACC champions return this year, looking to win back-to-back conference titles.
The tournament will start strong at 125 pounds, with returning champion Jakob Camacho of NC State ranked as the second seed behind Virginia Tech's top-seeded Sam Latona. The two faced each other in a dual meet on February 5, with Latona scoring in dramatic fashion late to win and secure the team victory for Virginia Tech. Colton Camacho of Pittsburgh, Patrick McCormick of Virginia, Wil Guida of North Carolina and Logan Agin of Duke will also compete at a weight that has three automatic qualifier spots up for grabs.
Jakob Camacho, who is ranked third in the country by FloWrestling, won the tournament's Outstanding Wrestler award last season.
The conference is loaded with talent at 133 pounds, headlined by returning champion Pittsburgh's Micky Phillippi. Korbin Myers of Virginia Tech, Louie Hayes of Virginia and Jarrett Trombley of NC State, all who are ranked inside the top 10 of at least one national ranking. North Carolina will enter Joe Heilmann, a late surprise entry over Jaime Hernandez. Heilmann defeated Hayes in UNC's dual meet against Virginia earlier in February. The conference will have four automatic qualifiers at 133.
At 141 pounds, returning champion Zach Sherman of North Carolina is the second seed in the conference. NC State's Tariq Wilson, who defeated Sherman earlier in the year, will be the top seed in the ACC at the weight. Both third-seeded Brian Courtney of Virginia and fourth-seeded Cole Matthews of Pittsburgh are steady top-15 wrestlers across national rankings. Virginia Tech's Sam Hillegas and Duke's Patrick Rowland will attempt to earn one of the ACC's three automatic qualifier spots.
Two-time All-American Austin O'Connor of North Carolina sits atop the ACC seeding at 149 pounds, the heavy favorite to win at the weight. Bryce Andonian of Virginia Tech, who kept his dual meet match against O'Connor to a decision, is the second seed. With three bids up for grabs, Ed Scott of N.C. State, Josh Finesilver of Duke, Denton Spencer of Virginia and Mick Burnett of Pittsburgh will look to punch their ticket to NCAA tournament on Sunday.
N.C. State's Hayden Hidlay appears primed to win his fourth ACC title at 157 pounds. In a weight class with four automatic qualifier spots, he'll battle Virginia's Justin McCoy, Virginia Tech's Connor Brady and North Carolina's Josh McClure, all of whom are ranked nationally headed into the weekend. They'll be pushed by Duke's Brandon LaRue and Pittsburgh's Tyler Badgett. Brady, the third seed in the tournament, has a win over McClure and kept his dual meet match against Hidlay to a decision. Hilday defeated McClure in a tech fall victory earlier this season.
165 pounds is another stacked weight for the ACC. The top five wrestlers in the conference have traded wins and losses, with each having a national ranking within the top 15. Pittsburgh's Jake Wentzel, the returning ACC champion, holds the top seed. In his February dual meet match against 2019 national champion Mekhi Lewis of Virginia Tech, he posted a win via injury default. Lewis is seeded second at the weight.
Jake Keating of Virginia, Kennedy Monday of North Carolina and Thomas Bullard of NC State all will compete for four total automatic qualifier spots at the weight with Duke's Eric Carter.
North Carolina's Clay Lautt, returning ACC champion at 174 pounds, will be the second seed behind NC State's Daniel Bullard, who was a perfect 4-0 in the ACC this season. The top two are joined by Virginia's Victor Marcelli, Virginia Tech's Dakota Howard, Pittsburgh's Jared McGill and Duke's Conor Becker. Three automatic qualifier spots will be up for grabs at 174 pounds. Bullard and Lautt both have byes into the semis, setting up a potential rematch of last year's 174-pound finals.
184 pounds in the ACC features two of the best wrestlers in the country: Virginia Tech's Hunter Bolen and NC State's Trent Hidlay. Bolen is a consensus No. 1 at the weight, while Hidlay sits comfortably in the top five across major rankings. Bolen edged Hidlay, 2-1, in the two's meeting earlier in the season. With three spots available at 184 pounds and Bolen and Hidlay likely to take two, North Carolina's Devin Kane, Virginia's Michael Battista, Pittsburgh's Gregg Harvey and Duke's Vincent Baker will likely battle for the third AQ spot.
The ACC will also have three automatic qualifier spots at 197 pounds. Returning ACC champion Jay Aiello of Virginia is seeded second, behind Pittsburgh's Nino Bonaccorsi, who leads the way for the ACC. Bonaccorsi defeated Aiello, 7-5, in a dual meet earlier in the season. Virginia Tech will enter Andy Smith, while NC State will enter Nick Reenan over Issac Trumble. Reenan is 5-1 on the year with his only loss coming against Aiello. North Carolina's third-seeded Max Shaw and Duke's sixth-seeded Kaden Russell will also compete at the weight.
The battle at 285 pounds will wrap up the tournament, the only weight in which the 2020 champion is not a returning wrestler. Heavyweight is led by NC State's Deonte Wilson, who is a perfect 7-0 on the year. Ranked second is Virginia's Quinn Miller, followed by a surprise late entry from Virginia Tech: freshman Hunter Catka. North Carolina's Andrew Gunning, Pittsburgh's Austin Cooley and Duke's Jonah Niesenbaum will all compete with the top seeds for four AQ spots up for grabs.
Event:
2021 ACC Wrestling Championship
Location:
Reynolds Coliseum (Raleigh, N.C.)
Date:
Sunday, February 28
ACC Conference: 33 automatic qualifiers
125 (3), 133 (4), 141 (3), 149 (3), 157 (4), 165 (3), 174 (3), 184 (3), 197 (3), 285 (4)
NWCA Dual Meet Ranked Teams
3. Virginia Tech
7. NC State
14. North Carolina
16. Pittsburgh
20. Virginia

Trackwrestling Tournament Ranked Teams
4. Virginia Tech
5. NC State
13. North Carolina
14. (Tie) Pittsburgh
30. Virginia
Pre-seeds and Individual ranked wrestlers (Track/WIN/Flo)
125 Pounds
1. Sam Latona, Virginia Tech (3/5/2)
2. Jakob Camacho, NC State (5/6/3)
3. Colton Camacho, Pittsburgh
4. Patrick McCormick, Virginia
5. Wil Guida, North Carolina
6. Logan Agin, Duke
133 Pounds
1. Micky Phillippi, Pittsburgh (4/4/4)
2. Korbin Myers, Virginia Tech (7/7/6)
3. Joe Heilmann, North Carolina
4. Louie Hayes, Virginia (11/15/9)
5. Jarrett Trombley, NC State (14/18/10)
6. Drake Doolittle, Duke
141 Pounds
1. Tariq Wilson, NC State (8/8/8)
2. Zach Sherman, North Carolina (9/9/9)
3. Brian Courtney, Virginia (14/14/14)
4. Cole Matthews, Pittsburgh (15/15/15)
5. Sam Hillegas, Virginia Tech (21/NR/24)
6. Patrick Rowland, Duke
149 Pounds
1. Austin O'Connor, North Carolina (1/1/2)
2. Bryce Andonian, Virginia Tech (8/12/12)
3. Ed Scott, NC State (31/NR/NR)
4. Josh Finesilver, Duke (32/NR/NR)
5. Denton Spencer, Virginia (33/NR/NR)
6. Mick Burnett, Pittsburgh
157 Pounds
1. Hayden Hidlay, NC State (2/2/2)
2. Justin McCoy, Virginia (19/20/21)
3. Connor Brady, Virginia Tech (33/NR/NR)
4. Josh McClure, North Carolina (21/NR/NR)
5. Brandon LaRue, Duke
6. Tyler Badgett, Pittsburgh
165 Pounds
1. Jake Wentzel, Pittsburgh (4/11/6)
2. Mekhi Lewis, Virginia Tech (5/3/1)
3. Jake Keating, Virginia (10/13/10)
4. Kennedy Monday, North Carolina (11/14/11)
5. Thomas Bullard, NC State (16/15/13)
6. Eric Carter, Duke
174 Pounds
1. Daniel Bullard, NC State (8/8/13)
2. Clay Lautt, North Carolina (19/18/14)
3. Victor Marcelli, Virginia (20/NR/NR)
4. Dakota Howard, Virginia Tech (21/NR/NR)
5. Jared McGill, Pittsburgh (22/NR/NR)
6. Conor Becker, Duke
184 Pounds
1. Hunter Bolen, Virginia Tech (1/1/1)
2. Trent Hidlay, NC State (4/3/2)
3. Devin Kane, North Carolina (21/NR/21)
4. Michael Battista, Virginia (20/20/19)
5. Gregg Harvey, Pittsburgh (22/NR/22)
6. Vincent Baker, Duke
197 Pounds
1. Nino Bonaccorsi, Pittsburgh (10/6/5)
2. Jay Aiello, Virginia (11/9/8)
3. Max Shaw, North Carolina (18/NR/17)
4. Nick Reenan, NC State
5. Andy Smith, Virginia Tech
6. Kaden Russell, Duke
285 Pounds
1. Deonte Wilson, NC State (18/17/22)
2. Quinn Miller, Virginia (19/20/23)
3. Hunter Catka, Virginia Tech
4. Andrew Gunning, North Carolina (23/NR/NR)
5. Austin Cooley, Pittsburgh
6. Jonah Niesenbaum, Duke
2020 NWCA Division I First-Team All-Americans Returning
Micky Phillippi (Pittsburgh), Austin O'Connor (North Carolina), Hayden Hidlay (NC State), Hunter Bolen (Virginia Tech), Trent Hidlay (NC State), Jay Aiello (Virginia)
2020 ACC Champions Returning
125: Jakob Camacho, NC State
133: Micky Phillippi, Pittsburgh
141: Zach Sherman, North Carolina
149: Austin O'Connor, North Carolina
157: Hayden Hidlay, NC State
165: Jake Wentzel, Pittsburgh
174: Clay Lautt, North Carolina
184: Hunter Bolen, Virginia Tech
197: Jay Aiello, Virginia
2020 ACC Championship Results
1: NC State (81)
2: Pittsburgh (77)
3: North Carolina (67.5)
4: Virginia (60.5)
5: Virginia Tech (52)
6: Duke (2)
Schedule of Events (Eastern Time)
Sunday, February 28
11 a.m. – First round matches (ACC Network Extra)
1 p.m. – Semifinals (ACC Network Extra)
3:30 p.m. – Consolation semifinals (ACC Network Extra)
5 p.m. – Consolation finals (ACC Network Extra)
7 p.m. – Finals (ACC Network)