No. 2 King women take NCWWC Southeast Regional, with seven champions and 14 national qualifiers
by Gary Abbott, USA Wrestling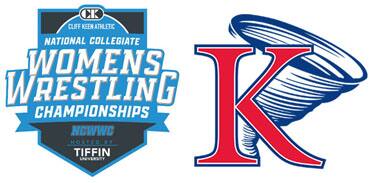 FRANKLIN SPRINGS, Ga. – King University, ranked No. 2 among NCAA programs going into women's college wrestling post-season, had a strong effort at the NCWWC Southeast Regional on Sunday, with seven individual champions and 14 national qualifiers.
The top four wrestlers in each weight class have advanced to the National Collegiate Women's Wrestling Championships at Tiffin on March 6. This is the annual women's college national tournament for NCAA wrestling teams.
King's individual champions were Jaclyn McNichols (101), Aleeah Gould (109), Cheyenne Sisenstein (123), Allison Petix (130), Ana Luciano (136), Ashlynn Ortega (143) and Tavi Heidelberg-Tollson (191).
This regional had four teams ranking among the top 15 in the NCAA. No. 2 King scored 160.5 points, with No. 3 Emmanuel in second with 129.5 points, No. 8 Presbyterian in third with 66 points and No. 14 Limestone in fourth with 56 points. Coming in fifth was Ferrum with 46.5 points.
Emmanuel secured nine national qualifiers, led by individual champions Kayla Marano at 155 and Heaven Byrd at 170. Presbyterian had an individual champion in Jaslyn Gallegos at 116, and brought home six national qualifiers.
Although neither Limestone or Ferrum had an individual champion, both teams secured four national qualifiers.
NCWWC SOUTHEAST REGIONALS
at Franklin Springs, Ga.
101
1st Place Match - Jaclyn McNichols (King University) won by decision over Angelina Gomez (Emmanuel College) (Dec 4-0)
3rd Place - Sam Miller (Presbyterian University)
109
1st Place Match - Aleeah Gould (King University) won by decision over Cassy Lopez (Presbyterian University) (Dec 6-0)
3rd Place Match - Samantha Larsen (King University) won by fall over Katerina Pendergrass (Ferrum College) (Fall 5:03)
5th Place Match - Angelica Angeles (Emmanuel College)
116
1st Place Match - Jaslyn Gallegos (Presbyterian University) won by tech fall over Kasey Baynon (Emmanuel College) (TF 10-0)
3rd Place Match - Sophia Mirabella (King University) won by decision over Melanie Mendoza (King University) (Dec 2-2)
5th Place Match - Trynadii Rocha (Emmanuel College) won by fall over TaQwai Seburn (Limestone University) (Fall 2:40)
123
1st Place Match - Cheyenne Sisenstein (King University) won by tech fall over Makayla Welch (King University) (TF 11-0)
3rd Place Match - Alexandra Herle (Emmanuel College) won by forfeit over Gabriela Ramos Diaz (Limestone University) (FF)
5th Place - Sadie Tackett (Emmanuel College)
130
1st Place Match - Allison Petix (King University) won by fall over Emily Se (Emmanuel College) (Fall 3:40)
3rd Place Match - Phoenix Dubose (King University) won by tech fall over Leidaly Rivera (Limestone University) (TF 10-0)
5th Place Match - Haven Pennington (Presbyterian University) won by decision over Isabella Badone (Presbyterian University) (Dec 11-6)
136
1st Place Match - Ana Luciano (King University) won by fall over Julia Padilla (Emmanuel College) (Fall 0:26)
2nd Place Match - Julia Padilla (Emmanuel College) won by decision over Jorie Richardson (Presbyterian University) (Dec 10-1)
3rd Place Match - Jorie Richardson (Presbyterian University) won by decision over Lillian Humphries (Presbyterian University) (Dec 6-2)
143
1st Place Match - Ashlynn Ortega (King University) won by decision over Felicity Bryant (Emmanuel College) (Dec 4-1)
3rd Place Match - Morgan Norris (Presbyterian University) won by tech fall over Skylar Novak (King University) (TF 10-0)
4th Place Match - Destiny Benjamin (Ferrum College) won by fall over Skylar Novak (King University) (Fall 2:54)
5th Place Match - Destiny Benjamin (Ferrum College) won by fall over Amalani Latu (Limestone University) (Fall 2:20)
155
1st Place Match - Kayla Marano (Emmanuel College) won by decision over Viktorya Torres (King University) (Dec 5-0)
3rd Place Match - Caitlyn Gilmore (Limestone University)
170
1st Place Match - Heaven Byrd (Emmanuel College) won by decision over Nia Crosdale (King University) (Dec 8-8)
3rd Place - Morganne Flinkstrom (Ferrum College)
191
1st Place Match - Tavi Heidelberg-Tollson (King University) won by decision over Cristina Santoyo (Emmanuel College) (Dec 8-0)
3rd Place Match - Leya Deickman (Ferrum College) won by fall over Destiny Baltierra (Limestone University) (Fall 2:14)
5th place - Kalani Rivas (Limestone University)
Team Standings
1. King University, 160.5
2. Emmanuel College, 129.5
3. Presbyterian University, 66.0
4, Limestone University, 56.0
5. Ferrum College, 46.5
NCWWC Nationals qualifiers (by team)
King (14)
Jaclyn McNichols (1st at 101, SE qualifier)
Aleeah Gould (1st at 109, SE qualifier)
Samantha Larsen (3rd at 109, SE qualifier)
Sophia Mirabella (3rd at 116, SE qualifier)
Melanie Mendoza (4th at 116, SE qualifier)
Cheyenne Sisenstein (1st at 123, SE qualifier)
Makayla Welch (2nd at 123, SE qualifier)
Allison Petix (1st at 130, SE qualifier)
Phoenix Dubose (3rd at 130, SE qualifier)
Ana Luciano (1st at 136, SE qualifier)
Ashlynn Ortega (1st at 143, SE qualifier)
Viktorya Torres (2nd at 155, SE qualifier)
Nia Crosdale (2nd at 170, SE qualifier)
Tavi Heidelberg-Tollson (1st at 191, SE qualifier)
Emmanuel (9)
Angelina Gomez (2nd at 101, SE qualifier)
Kasey Baynon (2nd at 116, SE Regional)
Alexandra Herle (3rd at 123, SE qualifier)
Emily Se (2nd at 130, SE qualifier)
Julia Padilla (2nd at 136, SE qualifier)
Felicity Bryant (2nd at 143, SE qualifier)
Kayla Marano (1st at 155, SE qualifier)
Heaven Byrd (1st at 170, SE qualifier)
Cristina Santoyo (2nd at 191, SE qualifier)
Presbyterian (6)
Sam Miller (3rd at 101, SE qualifier)
Cassy Lopez (2nd at 109, SE qualifier)
Jaslyn Gallegos (1st at 116, SE qualifier)
Jorie Richardson (3rd at 136, SE qualifier)
Lillian Humphries (4th at 136, SE qualifier)
Morgan Norris (3rd at 143, SE qualifier)
Limestone (4)
Gabriela Ramos Diaz (4th at 123, SE qualifier)
Leidaly Rivera (4th at 130, SE qualifier)
Caitlyn Gilmore (3rd at 155, SE qualifier)
Destiny Baltierra (4th at 191, SE qualifier)
Ferrum (4)
Katerina Pendergrass (4th at 109, SE qualifier)
Destiny Benjamin (4th at 143, SE qualifier)
Morganne Flinkstrom (3rd at 170, SE qualifier)
Leya Deickman (3rd at 191, SE qualifier)