News
USA Wrestling
College
Women
USAW
Tiffin women claim NCWWC Northeast Regional, with five champions and 14 national qualifiers
by Gary Abbott, USA Wrestling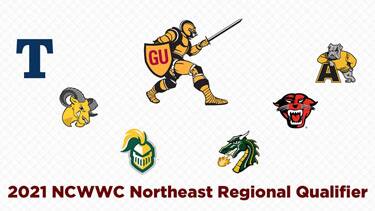 GANNON, Pa. – The first regional competition to qualify for athletes for the National Collegiate Women's Wrestling Championships was held on Saturday, when the NCWWC Northeast Regional was held at Gannon University.
Tiffin has the strongest performance of the seven teams in the tournament, scoring the most team points with 190.5, securing the most individual champions with five, and qualifying the most athletes for the national tournament with 14.
The top four wrestlers in each weight class have advanced to the National Collegiate Women's Wrestling Championships at Tiffin on March 6. This is the annual women's college national tournament for NCAA wrestling teams.
Individual champions for Tiffin included Shanna Morris (101), Sugey Ceja (116), Trinity Berry (123), Marta Ojeda (155) and Jessie Lee (191). Tiffin was ranked No. 6 in the most recent NCAA women's wrestling team rankings.
Adrian College had the next best performance, second in the team standings with 159.5 points, led by four individual champions and 12 national qualifiers. Individual champions for Adrian were Emily Mendez (109) , Elisa Cox (136) Zoe Nowicki (145) and Jasmine Hale (170).
Host Gannon placed third with 131.5 points, eight national qualifiers and one individual champion, Lana Perez at 130 pounds.
Rounding out the team scores were New Jersey City in fourth with 61 points, Delaware Valley in fifth with 22 points, Davenport in sixth with 14.5 points and Trine in seventh with 11.5 points.
New Jersey City had three national qualifiers, led by regional runner-up Johnae Drumright at 109 pounds. First year programs Trine and Delaware Valley each secured a national qualifier.
NCWWC NORTHEAST REGIONALS
at Gannon, Pa.
101
1st Place Match - Shanna Morris (Tiffin University) won by decision over Trinity Oredina (Tiffin University) (Dec 11-4)
3rd Place Match - Modestie Hitchcock (Adrian College) won by fall over Leila Garrido (Gannon University) (Fall 0:46)
109
1st Place Match - Emily Mendez (Adrian College) won by decision over Johnae Drumright (New Jersey City University) (Dec 9-4)
3rd Place Match - Brooke Richards (Tiffin University) won by fall over Riley Morrison (Trine) (Fall 1:26)
5th Place - Kennedy Javier (Gannon University)
116
1st Place Match - Sugey Ceja (Tiffin University) won by tech fall over Angela LoRusso (Adrian College) (TF 10-0)
3rd Place - Nikoly Dos Santos (Gannon University)
123
1st Place Match - Trinity Berry (Tiffin University) won by fall over Stephanie Mondragon (Tiffin University) (Fall 3:36)
3rd Place Match - Caleeann Blarr (Gannon University) won by decision over Jaryn Strong (Adrian College) (Dec 20-12)
4th Place Match - Jaryn Strong (Adrian College) won by decision over Janice Dykes (Gannon University) (Dec 11-7)
5th Place Match - Janice Dykes (Gannon University) won by forfeit over Elizabeth Palmer (Davenport University) (FF)
130
1st Place Match - Lana Perez (Gannon University) won by decision over Eunique Davis (Tiffin University) (Dec 7-2)
3rd Place Match - Naomi Henry (New Jersey City University) won by tech fall over Mackenzie Tayerle (Adrian College) (TF 10-0)
4th Place Match - Mackenzie Tayerle (Adrian College) won by fall over Bridgette Schoultz (Delaware Valley University) (Fall 0:28)
5th Place Match - Bridgette Schoultz (Delaware Valley University) won by fall over Abbi Montgomery (Tiffin University) (Fall 1:14)
136
1st Place Match - Elisa Cox (Adrian College) won by fall over Lindsey Beans-Polk (Gannon University) (Fall 3:27)
3rd Place Match - Shawna Oesterling (Adrian College) won by tech fall over Paige Lenhardt (Tiffin University) (TF 12-0)
5th Place Match - Cole Schield (Davenport University) and Megan Bird (Davenport University) (DFF)
143
1st Place Match - Zoe Nowicki (Adrian College) won by fall over Nia Miranda (Tiffin University) (Fall 2:35)
3rd Place Match - Megan Vondrasek (Adrian College) won by fall over Aliya Martin (Tiffin University) (Fall 2:11)
5th Place Match - Stephanie Floor (Gannon University) won by forfeit over Lockslea Mayers (New Jersey City University) (FF)
155
1st Place Match - Marta Ojeda (Tiffin University) won by decision over Taylor Hites (Tiffin University) (Dec 6-1)
3rd Place Match - Annabelle Helm (Gannon University) won by decision over Aspen Dodge (Adrian College) (Dec 10-6)
4th Place Match - Maggie Elliott (Adrian College) won by tech fall over Aspen Dodge (Adrian College) (TF 10-0)
5th Place Match
Maggie Elliott (Adrian College) won by fall over Ana Gomez Lima (New Jersey City University) (Fall 0:54)
170
1st Place Match - Jasmine Hale (Adrian College) won by fall over Morgan Davidson (Tiffin University) (Fall 3:24)
3rd Place Match - Sienna Lejeune (Adrian College) won by fall over Danielle Floor (Gannon University) (Fall 1:35)
191
1st Place Match - Jessie Lee (Tiffin University) won by fall over Amara Devericks (Gannon University) (Fall 2:00)
3rd Place Match - Sandra Guerrero (New Jersey City University) won by fall over Erin Murray (Delaware Valley University) (Fall 0:38)
5th Place - Caira Jaynes (Delaware Valley University)
Team Scores
1. Tiffin University, 190.5
2. Adrian College , 159.5
3. Gannon University, 131.5
4. New Jersey City University, 61.0
5. Delaware Valley University, 22.0
6. Davenport University, 14.5
7. Trine University, 11.5
NCWWC Nationals qualifiers (by team)
Tiffin (14)
Shanna Morris (1st at 101, NE qualifier)
Trinity Oredina (2nd at 101, NE qualifier)
Brooke Richards (3rd at 109, NE qualifier)
Sugey Ceja (1st at 116, NE qualifier)
Trinity Berry (1st at 123, NE qualifier)
Stephanie Mondragon (2nd at 123, NE qualifier)
Eunique Davis (2nd at 130, NE qualifier)
Paige Lenhardt (4th at 136, NE qualifier)
Nia Miranda (2nd at 143, NE qualifier)
Aliya Martin (4th at 143, NE qualifier)
Marta Ojeda (1st at 155, NE qualifier)
Taylor Hites (2nd at 155, NE qualifier)
Morgan Davidson (2nd at 170, NE qualifier)
Jessie Lee (1st at 191, NE qualifier)
Adrian (12)
Modestie Hitchcock (3rd at 101, NE qualifier)
Emily Mendez (1st at 109, NE qualifier)
Angela LoRusso (2nd at 116, NE qualifier)
Jaryn Strong (4th at 123, NE qualifier)
Mackenzie Tayerle (4th at 130, NE qualifier)
Elisa Cox (1st at 136, NE qualifier)
Shawna Oesterling (3rd at 136, NE qualifier)
Zoe Nowicki (1st at 143, NE qualifier)
Megan Vondrasek (3rd at 143, NE qualifier)
Maggie Elliott (4th at 155, NE qualifier)
Jasmine Hale (1st at 170, NE qualifier)
Sienna Lejeune (3rd at 170, NE qualifier)
Gannon (8)
Leila Garrido (4th at 101, NE qualifier)
Nikoly Dos Santos (3rd at 116, NE qualifier)
Caleeann Blarr (3rd at 123, NE qualifier)
Lana Perez (1st at 130, NE qualifier)
Lindsey Beans-Polk (2nd at 136, NE qualifier)
Annabelle Helm (3rd at 155, NE qualifier)
Danielle Floor (4th at 170, NE qualifier)
Amara Devericks (2nd at 191, NE qualifier)
New Jersey City (3)
Johnae Drumright (2nd at 109, NE qualifier)
Naomi Henry (3rd at 130, NE qualifier)
Sandra Guerrero (3rd at 191, NE qualifier)
Trine (1)
Riley Morrison (4th at 109, NE qualifier)
Delaware Valley (1)
Erin Murray (4th at 191, NE qualifier)