News
USA Wrestling
International
College
High School & Youth
USAW
Mark Halvorson, 57, Olympic Greco-Roman coach and USA Wrestling leader, passed away Monday
by Gary Abbott, USA Wrestling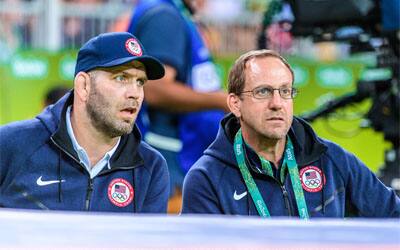 Photo of Mark Halverson (right) coaching with National Greco-Roman Coach Matt Lindland at the 2016 Olympic Games by Tony Rotundo, Wrestlers Are Warriors.
Mark Halvorson of Martinez, Calif., 57, a 2016 Olympic Greco-Roman coach and long-time coach and leader within USA Wrestling at all levels, unexpectedly passed away on Monday.
Halvorson was among the most successful and influential coaches and leaders within USA Wrestling's National Greco-Roman program for many years, not only developing champion athletes but helping to strengthen and grow the sport in many ways.
"We lost a great friend and leader in wrestling. Mark Halvorson advanced his athletes in life, while being one of the most productive Greco-Roman coaches in history. He did so much for his home state of California as well as our Greco-Roman National Teams program. Many of us were fortunate to be his friend and colleague. Coach Halvorson changed lives and made us better. Our hearts go out to his athletes and his family," said Gary Mayabb, USA Wrestling Manager of Greco-Roman programs.
A Celebration of Life for Mark Halvorson is being planned and will be announced for a later date, when all of his family, friends and colleagues from around the nation can safely come together in his honor.
In addition to coaching the 2016 Olympic Team in Rio de Janiero, Brazil, Halvorson served as a World Team Coach in Greco-Roman for the United States for numerous other age-groups, including U23, Unviersity, UWW Junior and UWW Cadet levels. He also served as the U.S. coach at the 2010 Youth Olympic Games in Singapore, the first time that the International Olympic Committee held this prestigious event. He has most recently served as the Western Regional Advisor for G.R.I.T., USA Wrestling's Greco-Roman Innovation Team.
He served as varsity head coach for De La Salle High School for many years. A leader within California USA Wrestling, Halvorson also coached all wrestling styles in his community as head wrestling coach for the Community Youth Center – Concord Campus (CYC). Over the years, he coached numerous World-level medalists, national champions, All-Americans and California state champions and placewinners.
Among the great athletes that Halvorson coached over the years were 2016 Olympian and four-time Senior World Team member Robby Smith, Senior Nationals champion Lucas Sheridan and 2019 UWW Junior World medalist Peyton Omania, among many others.
Halvorson served as 2014 U.S. Senior Greco-Roman World Team Coach in Tashkent, Uzbekistan. He was also on the coaching staff at the 2015 World Championships in Las Vegas, Nev. and the 2013 World Championships in Budapest, Hungary. Halvorson also led the 2014 Pan American Championships team in Mexico City, Mexico.
In 2013, he was the Head Coach of the Junior Greco-Roman World Team in Bulgaria. In 2012, he coached at the Cadet World Championships in Azerbaijan, and the Junior World Championships in Thailand. Halvorson was a 2006 UWW Junior World Team coach. He was an assistant coach for the 2003 University World Team at the Olympic Hopes Tournament in Hungary. Halvorson was Team Leader for the 2001 UWW Junior World Team, and Head Coach of the 2000 UWW Cadet World Team.
Halvorson served as the California Greco Roman Head Wrestling coach from 1996 to 2008, and the California Greco Roman Coach for the Junior National Duals in 2000. Halvorson also served on the California USA Wrestling Executive Committee for two years. In 1998, he was named the Western States Developmental Coach of the Year by USA Wrestling. In 2006, he earned his National Coaches Education Program Gold Coaching level certification from USA Wrestling, the highest level of achievement in coaching.
Halvorson is tournament director for the successful Junior Greco-Roman World Duals, which has been hosted for 17 years in Concord, Calif. Over the years, teams from Germany, Estonia, Norway, Sweden, Hungary, Mexico and Honduras and others have all participated in this event.
At De La Salle High School. His team has won 11 of the past 12 North Coast Section (NCS) Championships, including six in a row. His team finished in the top 10 of the California state championships numerous times, reaching in the top four in 2011 and 2012. Halvorson was named the Contra Costa Times Coach of the Year seven times.
"Ultimately, despite his accomplishments and awards and championships, what Mark Halvorson meant to our student-athletes and our community will be sorely missed," Lopoz said. "He brought the attributes of just a living, caring person and always wanting to make himself available," De La Salle athlete director Leo Lopoz told the San Jose Mercury News.
Halvorson graduated cum laude with a Bachelor's Degree from San Francisco State University with a Social Science emphasis, and received a California Single Subject Teaching Credential from Chapman University.
San Jose Mercury News: De La Salle wrestling coach Mark Halvorson dies at 57