News
USA Wrestling
College
USAW
This week's NCAA Div. I schedule only includes a handful of Big Ten and Big 12 matches
by Gary Abbott, USA Wrestling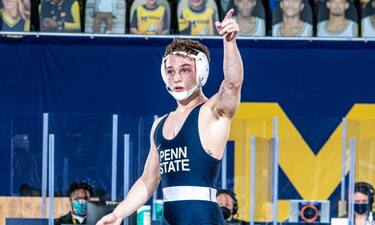 Action photo by Sam Janicki.
Here is this week's Div. I college wrestling schedule, broken up by conference. Please note that we are including the most current NWCA Div. I poll rankings, as published on February 16.
Most of the Div. I programs have finished their dual meet season, with only nine Big Ten matches and two Big 12 matches. Of these bouts, five of the dual meets include two ranked teams.
On Monday, No. 1 Iowa gave an update, since the program had paused activities last week. The team is returning to limited in-person activity, but their Friday dual meet against Northwestern has been postponed. At this time, the status of their Sunday dual meet at No. 25 Wisconsin had not yet been determined. It remains on the schedule, but its status is still in question.
On Tuesday, Davidson College, which competes in the Southern Conference, announced that it had paused wrestling activities, finishing its season completely. Davidson will not compete at the SoCon Championships, which is scheduled for Sunday, February 28 at Appalachian State.
This week's dual meets between ranked opponents (by day)
Friday, Feb. 19 – No. 4 Michigan at No. 23 Michigan State
Friday, Feb. 19 – No. 2 Penn State at No. 12 Ohio State
Sunday, Feb. 21 – No. 8 Nebraska at No. 11 Illinois
Sunday, Feb. 21 – No. 1 Iowa at No. 25 Wisconsin
Sunday, Feb. 21 – No. 19 Oklahoma at No. 6 Oklahoma State
Notes from Pat Donghia, Penn State
Penn State (4-0, 4-0 B1G) has two dual meets scheduled for the coming six days. The Lions visit #11 Ohio State (5-3) on Friday, Feb. 19, for a B1G Network national telecast at 7 p.m. and then host Maryland (0-7*) on Monday, Feb. 22. at 6 p.m. in Rec Hall in another B1G Network event. Maryland is at Rutgers on Feb. 19 as well.
The Nittany Lions have nine ranked wrestlers via InterMat heading into the week, ten overall. Roman Bravo-Young is No. 3 at 133 on InterMat; Nick Lee is ranked No. 2 at 141; Terrell Barraclough debuted in the 149 rankings at No. 20; Brady Berge moved up to No. 8 at 157; Joe Lee is now No. 14 at 165; Carter Starocci moved up to No. 5 at 174; Aaron Brooks is now No. 2 at 184; Michael Beard is No. 16 at 197; and Seth Nevills is No. 8 at 285. True freshman Robert Howard, while not ranked on InterMat, debuted at No. 18 on TrackWrestling.
Ohio State enters the week with a 5-3 overall record and is ranked No. 11 on InterMat's TPI. The Buckeyes have wins over Wisconsin, Rutgers, Michigan State, Maryland and Purdue. They have lost to Illinois, Iowa and Michigan (an 18-16 setback last Friday). The Buckeyes are being led by six ranked grapplers. Malik Heinselman is ranked No. 10 at 125; Sammy Sasso is No. 2 at 149; Ethan Smith is No. 10 at 165; Kaleb Romero is No. 3 at 174; Rocky Jordan is No. 20 at 184; and Tate Orndorff is No. 16 at 285.
Penn State has a 42-2-2 lead in the all-time series between the two long-time East Coast rivals and has won 27 straight. The Lions won 40-3 last year in Rec Hall on Feb. 2, 2020. The Nittany Lions won 47-3 on Jan. 21, 2018, in their last trip to Maryland.
Big Ten Schedule (this week)
**Friday, Feb. 19 – Rutgers at Maryland
**Friday, Feb. 19 – No. 4 Michigan at No. 23 Michigan State
**Friday, Feb. 19 – No. 2 Penn State at No. 12 Ohio State
**Sunday, Feb. 21 – No. 8 Nebraska at No. 11 Illinois
**Sunday, Feb. 21 – No. 1 Iowa at No. 25 Wisconsin
**Sunday, Feb. 21 - Indiana at No. 17 Purdue
**Sunday, Feb. 21 – Maryland at Penn State
**Sunday, Feb. 21 – Northwestern at No. 9 Minnesota
Monday, Feb. 22 – Maryland at No. 2 Penn State
Big 12 Schedule (this week)
**Friday, Feb. 19 – No. 13 Iowa State at West Virginia
**Sunday, Feb. 21 – No. 19 Oklahoma at No. 6 Oklahoma State
ACC Schedule (this week)
All teams have completed their 2021 dual meet schedule
EIWA Schedule (this week)
All teams have completed their 2021 dual meet schedule
MAC Schedule (this week)
All teams have completed their 2021 dual meet schedule
Pac-12 Schedule (this week)
All teams have completed their 2021 dual meet schedule
SoCon Schedule (this week)
All teams have completed their 2021 dual meet schedule