News
USA Wrestling
International
USAW
U.S. Greco-Roman wrestlers Rau, Germinaro, Gregerson competing in Hungary this weekend
by Gary Abbott, USA Wrestling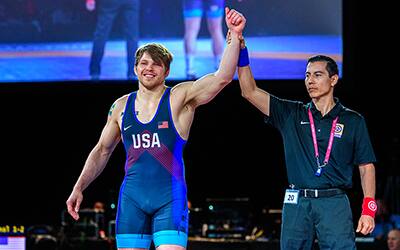 Photo of Joe Rau courtesy of United World Wrestling.
A number of U.S. Greco-Roman athletes have travelled to Hungary for training and competition in the upcoming days.
The Hungarian Wrestling Federation will host an international Greco-Roman tournament called the Olympic Preparation Tournament, held at the Tata Olympic Training Center in Tata, Hungary on Saturday, February 13.
At this time, three U.S. wrestlers are expected to compete, including two-time Senior World Team member Joe Rau (Titan Mercury WC/Illinois RTC) at 87 kg. Rau won the 2020 Pan American Olympic Qualifier in Ottawa, Canada, to qualify the USA to compete at the weight class in the 2020 Olympic Games.
Also expected to wrestle at 60 kg is Calvin Germinaro of the Minnesota Storm, who was runner-up at the 2019 and 2020 U.S. Senior Nationals. Also entering the event is Dylan Gregerson of the Brunson UVRTC at 60 kg. Gregerson was a 2020 U23 Nationals champion.
Because of travel issues, a few Americans hoping to compete may not be in Hungary in time to wrestle.
According to the Hungarian Wrestling Federation, there will be as many as 145 wrestlers from 15 countries who may enter the Olympic Preparation Tournament. Among the Hungarian stars expected to wrestler are 2009 World champion Balasz Kiss, U23 World champion Erik Szilvassy and European Junior champion Alez Szoke.
At this time, there is not expected to be a live stream from this event. We will share any additional information when available.
A few other U.S. athletes will be in Hungary for training. Many of these wrestlers are planning to also compete at the Matteo Pellicone Ranking Tournament in Rome, Italy in early March.
OLYMPIC PREPARATION TOURNAMENT

At Tata, Hungary, February 13
Expected U.S. entries
60 kg - Dylan Gregerson (Brunson UVRTC)
67 kg - Calvin Germinaro (Minnesota Storm)
87 kg - Joe Rau (Titan Mercury WC/Illinois RTC)