News
USA Wrestling
International
College
USAW
America's Cup Preview: What teams and individuals will step up on Wednesday and Thursday?
by Gary Abbott, USA Wrestling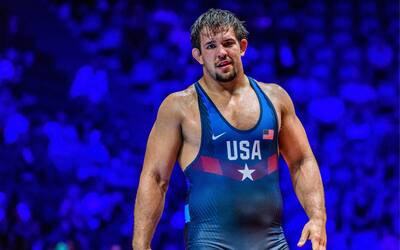 Nick Gwiazdowski portrait by Tony Rotundo, Wrestlers Are Warriors.
America's Cup, presented by the Sunkist Kids, Titan Mercury WC and the New York AC, is new dual meet competition in men's freestyle, which will be held in Concord, N.C. and broadcast live by FloWrestling on Wednesday and Thursday.
In recognition of Black History Month, the teams are named in honor of great Black wrestling legends Kenny Monday, Lloyd Keaser, Lee Kemp, Bobby Douglas, Simon Roberts and Carl Adams. The event is being presented and financially supported by three of the world's most successful wrestling clubs on the planet, the Sunkist Kids, Titan Mercury Wrestling Club and the New York Athletic Club.
This dual meet tournament will be held one match at a time on one mat, so fans can watch each of 13 dual meets held over two days. There is $60,000 in prize money available, with payouts made to the top three teams, as well as to the top three individuals at each weight class.
The tournament is split into two pools of three teams, with pool play on Wednesday. On Thursday, based upon the pool results, the tournament will be split into a bracket, with the pool winners getting a bye. Two quarterfinals will be held, followed by the semifinals. The competition will finish with placement matches, going from fifth place, to third place to first place.
POOL A TEAMS
1. Team Kenny Monday
57 kg – Frank Perrelli (Titan Mercury WC/ Lehigh Valley RTC)
65 kg – Yianni Diakomihalis (Titan Mercury WC/Spartan Combat RTC)
74 kg – Quincy Monday (Sunkist Kids)
86 kg – Ryan Epps (Gopher WC)
97 kg – Austin Schafer (New York AC)
125 kg – Shawn Streck (Titan Mercury WC/Cowboy RTC)
Alternate 65 kg - Josh Saunders (Titan Mercury WC/Spartan Combat RTC)
Team Review:
Team Kenny Monday is led by Yianni Diakomihalis, the two-time NCAA champion for Cornell and past Cadet World champion who reached No. 2 on the national team in 2019 at 65 kg. The veteran with the most experience on the squad is Frank Perrelli, who is competing at 57 kg. At 74 kg, Quincy Monday, the son of Kenny Monday and a student-athlete at Princeton, is one of the young talents in the lineup, along with Ryan Epps, who was a NWCA All-American last year for Div. III Augsburg and competing at 86 kg. Austin Schafer, a college star at Oklahoma State and a U.S. Open champion in 2018, will wrestle at 97 kg. Holding the heavyweight post is Shawn Streck, an NCAA qualifier for Purdue, who is now training with the Cowboy RTC at Oklahoma State and was a U.S. Open placewinner in 2018. There is one alternate, young 65 kg star Josh Saunders, who is at Cornell (which is not having a college season this year). It will be difficult to handicap how this team will finish, due to the youth of many of the athletes.
2. Team Lloyd Keaser
57 kg – Guesseppe Rea Villarroel (Ecuador/Lehigh Valley RTC)
65 kg – Evan Henderson (Titan Mercury WC/Spartan Combat RTC)
74 kg – Chad Walsh (Wrecking Crew Academy LLC)
86 kg – Jonathan Loew (Spartan Combat RTC)
97 kg – Mike Macchiavello (Titan Mercury WC/Wolfpack RTC)
125 kg – Nick Gwiazdowski (Titan Mercury WC/Wolfpack RTC)
Alternate 86 kg - Chris Foca (Spartan Combat RTC)
Team Review:
Team Lloyd Keaser is very strong in the upper weights, anchored by a pair of NCAA champions from NC State. Two-time World bronze medalist Nick Gwiazdowski (a 2x NCAA champ for the Wolfpack) is at 125, along with 2019 NCAA champion Mike Macchiavello at 97 kg, who reached No. 3 on the national team at 92 kg in 2019. Another wrestler with a Carolina background is former North Carolina All-American Evan Henderson at 65 kg. Henderson was second in the 2020 Senior Nationals in October. Chad Walsh, a two-time All-American at Rider, is competing at 74 kg. The international flavor comes at 57 kg, with Guesseppe Rea Villarroel of Ecuador in the lineup. Jonathan Loew, an NCAA qualifier at Cornell, holds down 86 kg. The alternate is another Cornell wrestler, Chris Foca at 86 kg. If this team can be competitive in the lighter weights, big men Macchiavello and Gwiazdowski have the ability to close out a dual meet at the top of the lineup.
3. Team Lee Kemp
57 kg – Zach Sanders (Gopher WC)
65 kg – Mitch McKee (Gopher WC)
74 kg – Jasmit Phulka (Canada/Cyclone RTC)
86 kg – Gabe Dean (Titan Mercury WC/Spartan Combat RTC)
97 kg – Hayden Zillmer (Gopher WC)
125 kg – Tanner Hall (Sunkist Kids)
Alternate 86 kg - Max Dean (Titan Mercury WC/Spartan Combat RTC)
Team Review:
Team Lee Kemp has a decided Minnesota flavor to it, with three members of the Gopher WC on the team. At 97 kg, Hayden Zillmer, who was a star at North Dakota State but has trained in Minnesota in recent years, has risen to No. 2 on the Freestyle National Team, and is also a past Greco-Roman National Team member. Formerr Minnesota stars open in the light weights, with veteran star Zach Sanders at 57 kg is followed by Junior World silver medalist Mitch McKee at 65 kg. This team has the Cornell All-American Dean brothers at 86 kg, with two-time NCAA champion Gabe and young brother Max on the team. Gabe Dean was a 2020 Senior Nationals champion. Tanner Hall, an All-American at Arizona State and age-group freestyle star, is at heavyweight. Canadian star Jasmit Phulka, a Senior Pan American bronze medalist, will battle at 74 kg.
POOL A PREVIEW:
This pool seems to have a lot of balance. Team Lloyd Keaser has two current National Team members in Macchiavello and Gwiazdowski, plus a Senior Nationals runner-up in Henderson. Team Lee Kemp features National Team member Zillmer and Senior National champion Dean. Team Kenny Monday has Senior Nationals champion Diakomihalis and past Senior Nationals runner-up Schafer. There will be some great battles at 97 kg, with Zillmer, Macchiavello and Schafer all proven talents. With only six weight classes, bonus points could play a big factor in the dual meets in the pool. Both Team Lee Kemp and Team Lloyd Keaser are tough in the upper weight classes.
POOL B TEAMS
4. Team Bobby Douglas
57 kg – Vito Arujau (Titan Mercury WC/Spartan Combat RTC)
65 kg – Nahshon Garrett (Titan Mercury WC/Southeast RTC)
74 kg – Elroy Perkin (Gopher WC)
86 kg – Brett Pfarr (Gopher WC)
97 kg – Scott Boykin (Titan Mercury WC/Spartan Combat RTC)
125 kg – Dom Bradley (Sunkist Kids/Tiger Style WC)
Team Review:
The two lighter weights for Team Bobby Douglas are manned by college stars from Cornell, with 2020 Senior Nationals champion Vito Arujau at 57 kg and 2019 Final X champion Nahshon Garrett at 65 kg. Arujau was a Junior World silver medalist. Garrett was an NCAA champion, and has gotten bigger since moving up from 61 kg for his Olympic run. Another past Senior Nationals champion and multiple National Team member is heavyweight Dom Bradley. Brett Pfarr, an All-American at Minnesota who has placed fourth at the U.S. Open two times, will be at 74 kg. Elroy Perkin, a two-time Div. III All-American at UW-Whitewater, has been on the Senior circuit in recent years. At 97 kg, Scott Boykin, who wrestled at Chattanooga in college, was a U.S. Open placewinner in 2018 and now trains at Cornell.
5. Team Simon Roberts
57 kg – Daniel DeShazer (Gopher WC)
65 kg – Pat Lugo (Titan Mercury WC/Hawkeye WC)
74 kg – Evan Wick (Titan Mercury WC/Wisconsin RTC)
86 kg – Mark Hall (Titan Mercury WC/Pennsylvania RTC)
97 kg – Ben Honis (Titan Mercury WC/Pennsylvania RTC)
125 kg – Garrett Ryan (Sunkist Kids)
Alternate 74 kg - Jevon Balfour (Canada/Spartan Combat RTC)
Team Review:
Team Simon Roberts has a lot of young talent, led by two-time Junior World champion and Penn State's three-time NCAA finalist Mark Hall at 86 kg. Heavyweight Garrett Ryan, who competed for Columbia in college, is a two-time U.S. Open place winner. Evan Wick, an NCAA All-American for Wisconsin, has been fourth the last two years at the U.S. Open at 74 kg. Ben Honis, a Senior U.S. Open runner-up in 2019 and a Cornell All-American, will be at 97 kg. Pat Lugo, the former Edinboro and Iowa star, is just getting his Senior freestyle career rolling at 65 kg. Daniel DeShazer, an NCAA Div. II national champion for Nebraska-Kearney, is a past Senior U.S. Open All-American and competes at 57 kg. The alternate at 74 kg is Canadian star Jevon Balfour, a 2019 Pan American Games bronze medalist.
6. Team Carl Adams
57 kg – Sean Russell (Gopher WC)
65 kg – Ethan Lizak (New York AC/PRTC)
74 kg – Josh Shields (Sunkist Kids)
86 kg – Muhamed McBryde (New York AC/USOPTC)
97 kg – J'den Cox (Titan Mercury WC/USOPTC)
125 kg – Tony Nelson (Gopher WC)
Alternate 74 kg - Julian Ramirez (Spartan Combat RTC)
Team Review:
Team Carl Adams is led by two-time World champion, World bronze medalist and Olympic bronze medalist J'den Cox at 97 kg. Cox won three NCAA titles for Missouri as well. The team also has a strong Minnesota background, with three of the athletes coming out of the Gopher program. Two-time NCAA champion and current Senior National Team member Tony Nelson holds down the 125 kg spot. The lightest weight wrestlers were also Gophers and Div. I All-Americans, with Sean Russell at 57 kg and Ethan Lizak at 65 kg. Russell started his career at Edinboro before transferring to Minnesota. Muhammed McBryde, who competed at Buffalo, was fifth in the 2019 U23 World Championships and trains with Cox. Arizona State star Josh Shields competes at 74 kg. Julian Ramirez, also with the Cornell program, is the alternate at 74 kg. This team will be very tough in the upper weights.
POOL B PREVIEW:
What's your poison, tough lightweights, tough middleweights or tough heavyweights? Team Bobby Douglas starts out strong in the lightest weights with Arujau and Garrett, and closes with a proven heavyweight in Bradley. Team Carl Adams ends with three tough big men in McBryde, Cox and Nelson. Team Simon Roberts might be best in the middle of the lineup with Lugo, Wick and Hall. In this pool, 86 kg is loaded with Pfarr, Hall and McBryde. All three 125 kg men in this pool are also tough, Bradley, Ryan and Nelson. If Team Carl Adams can get some production from past Minnesota lightweights Russell and Lizak, they could own this pool because of their big men.
Action starts at 2:00 p.m. ET on Wednesday, and returns at 1:00 p.m. ET on Thursday. Enjoy!!!
AMERICA'S CUP DUAL MEET EVENT SCHEDULE
Wednesday, Feb 10
2:00 pm: Pool A: Team Kenny Monday vs Team Lloyd Keaser
3:00 pm: Pool A: Team Kenny Monday vs Team Lee Kemp
4:00 pm: Pool A: Team Lloyd Keaser vs Team Lee Kemp
6:00 pm: Pool B: Team Bobby Douglas vs. Team Simon Roberts
7:00 pm: Pool B: Team Bobby Douglas vs Team Carl Adams
8:00 pm: Pool B: Team Simon Roberts vs Team Carl Adams
Thursday, Feb 11
1:00 pm: Quarterfinal 1: Pool A #2 vs Pool B #3
2:00 pm: Quarterfinal 2: Pool B #2 vs Pool A #3
3:00 pm: Semifinal 1: Winner Quarterfinal 1 vs Pool B#1
4:00 pm: Semifinal 2: Winner Quarterfinal 2 vs Pool A#1
6:00 pm: 5th place match
7:00 pm: Consolation championship match
8:00 pm: Championship match