News
USA Wrestling
College
USAW
Nebraska's Eric Schultz take over top spot at 197 in WIN's Feb. 8 rankings
by Mike Finn, WIN Magazine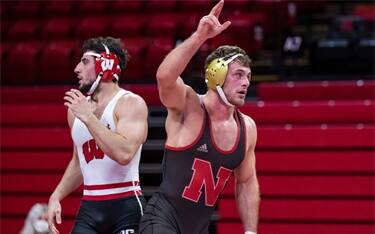 Eric Schultz image courtesy of WIN Magazine
NEWTON, Iowa — Nebraska senior Eric Schultz has taken over the top spot at 197 pounds in WIN Magazine's Feb. 8 NCAA Division I national wrestling rankings.
This change happened after West Virginia's previously-top-ranked Noah Adams lost 8-7 to Wyoming's Stephen Buchanan in a Feb. 6 dual in Laramie, Wyo. Meanwhile, Schultz, formerly No. 2, improved his 2021 record to 7-0 with victories over Indiana's Nick Willham and Michigan State's nationally-ranked Cam Caffey last Saturday.
Another notable change came at 125 pounds as Virginia Tech's 125-pound Sam Latona moved up two spots to No. 6 after the redshirt freshman beat No. 3 Jakob Camacho, 7-4, last Friday and helped the Hokies beat the Wolfpack on criteria.
Meanwhile, there are 13 newcomers to this week's rankings, including four at 133 pounds (Illinois' Lucas Byrd, Bucknell's Darren Miller, NC State's Jarrett Trombley and West Virginia's Ryan Sullivan) and three at 174 (Indiana's Donnell Washington, Missouri's Peyton Mocco and Cal Poly's Bernie Truax).
In the team ratings, Iowa remained No. 1 in the dual rankings with road victories over Purdue and Ohio State and also stayed on top of WIN's Tournament Power Index as ten ranked Hawkeyes give the team 134 TPI points. Penn State, which will host Iowa this Friday, remained No. 2 in the dual ranks with a road victory over Wisconsin. The defending champion Nittany Lions are ranked No. 5 in WIN's TPI (57 points) with nine ranked wrestlers.
Michigan, No. 2 in WIN's TPI (82 and eight ranked wrestlers) hopes to return to action this weekend against Ohio State after the university put all winter sports on a pause because of COVID concerns on Jan. 24. Nebraska, with seven total ranked wrestlers, has moved up to No. 3 in WIN's TPI.
Oklahoma State, No. 4 in the TPI with 58 points and eight ranked wrestlers, improved to 9-0 on the season with a victory over Bedlam-rival Oklahoma last weekend. Oklahoma State will host the Cowboy Challenge this Sunday against undefeated Missouri (10-0 with 10 ranked wrestlers), Wyoming and West Virginia.
WIN's Tournament Power Index is a tally of potential NCAA placement points based on where wrestlers are currently ranked and could possibly place, March 20, at the NCAA Championships in St. Louis. The following is a point breakdown of the TPI, based on a wrestler's ranking: 20 for 1st, 16 for 2nd, 13.5 for 3rd, 12.5 for 4th, 10 for 5th, 9 for 6th, 6.5 for 7th and 5.5 for 8th. Wrestlers ranked 9-12 earn two points each, followed by 1.5 points for wrestlers ranked 13-16 and 1 point for those ranked 17-20.
WIN's Feb. 8, 2021 Tournament Power Index
| | | | | |
| --- | --- | --- | --- | --- |
| Rk. | School | Total Rank | Top 8 Rank | TPI Points |
| 1. | Iowa | 10 | 9 | 134 |
| 2. | Michigan | 8 | 6 | 82 |
| 3. | Nebraska | 7 | 4 | 60.5 |
| 4. | Oklahoma State | 8 | 4 | 58 |
| 5. | Penn State | 9 | 4 | 57 |
| 6. | Virginia Tech | 6 | 4 | 53.5 |
| 7. | NC State | 9 | 5 | 51 |
| 8. | Iowa State | 6 | 4 | 45 |
| 9. | Arizona State | 8 | 3 | 40.5 |
| 10. | Ohio State | 6 | 3 | 39 |
| 11. | Northwestern | 5 | 2 | 38 |
| 12. | Missouri | 10 | 2 | 36 |
| 13. | Minnesota | 5 | 2 | 34 |
| 14. | Central Michigan | 3 | 2 | 30 |
| 15. | North Carolina | 5 | 1 | 27.5 |
| 16. | Pitt | 4 | 2 | 23.5 |
| 17. | Rutgers | 3 | 2 | 21 |
| 18. | Northern Iowa | 4 | 2 | 17.5 |
| 19t. | South Dakota State | 4 | 1 | 17 |
| 19t. | West Virginia | 2 | 1 | 17 |
| 21. | Illinois | 7 | 1 | 16.5 |
| 22. | Stanford | 3 | 1 | 16 |
| 23. | Virginia | 5 | 1 | 14.5 |
| 24t. | Lehigh | 4 | 2 | 14 |
| 24t. | Rider | 2 | 1 | 14 |
| 26. | Navy | 4 | 1 | 13 |
| 27. | Oklahoma | 5 | 1 | 12 |
| 28t. | Purdue | 4 | 1 | 11.5 |
| 28t. | Utah Valley | 2 | 1 | 11.5 |
| 30t. | Binghamton | 2 | 1 | 11 |
| 30t. | Wisconsin | 2 | 1 | 11 |
| 32. | Northern Colorado | 2 | 1 | 10.5 |
| 33. | Duke | 1 | 1 | 9 |
| 34. | Bucknell | 2 | 1 | 7.5 |
| 35t. | Michigan State | 2 | 1 | 7 |
| 35t. | Wyoming | 5 | 0 | 7 |
| 37. | Clarion | 1 | 1 | 6.5 |
| 38t. | Appalachian State | 3 | 0 | 4 |
| 38t. | Indiana | 3 | 0 | 4 |
| 40. | Oregon State | 2 | 0 | 3 |
| 41t. | American U. | 2 | 0 | 2.5 |
| 41t. | North Dakota State | 2 | 0 | 2.5 |
| 43t. | Army | 2 | 0 | 2 |
| 43t. | Edinboro | 1 | 0 | 2 |
| 43t. | Fresno State | 1 | 0 | 2 |
| 43t. | Kent State | 1 | 0 | 2 |
| 43t. | Northern Illinois | 1 | 0 | 2 |
| 48. | Hofstra | 1 | 0 | 1.5 |
| 49t. | Buffalo | 1 | 0 | 1 |
| 49t. | Cal Poly | 1 | 0 | 1 |
| 49t. | Campbell | 1 | 0 | 1 |
| 49t. | Chattanooga | 1 | 0 | 1 |
| 49t. | Drexel | 1 | 0 | 1 |
| 49t. | Ohio | 1 | 0 | 1 |

WIN Magazine's Feb 8, 2021 Team Dual Rankings
| | | | | |
| --- | --- | --- | --- | --- |
| Rk. | School | W-L | Previous | Next Week |
| 1. | Iowa | 5-0 | 1st | at Penn State (2/12) |
| 2. | Penn State | 3-0 | 2nd | vs Iowa (2/12) |
| 3. | Michigan | 3-0 | 3rd | vs Ohio State (2/12) |
| 4. | Oklahoma State | 9-0 | 4th | Host Cowboy Challenge (2/14) |
| 5. | Missouri | 10-0 | 5th | at Cowboy Challenge (2/14) |
| 6. | Nebraska | 6-1 | 6th | off until 2/21 vs Illinois |
| 7. | Virginia Tech | 8-0 | 8th | vs Pitt (2/12) |
| 8. | NC State | 5-1 | 7th | vs Duke (2/12) |
| 9. | Arizona State | 3-0 | 9th | vs Cal Poly (2/12) at Iowa State with Northern Iowa (2/14) |
| 10 | Minnesota | 5-2 | 13th | at Wisconsin (2/12) |
| 11. | Illinois | 5-2 | 10th | off until 2/21 vs. Nebraska |
| 12. | Ohio State | 5-2 | 11th | at Michigan (2/12) |
| 13. | Iowa State | 8-2 | 12th | vs No. Colo., Arizona St., and No. Iowa (2/14) |
| 14. | North Carolina | 4-2 | 14th | vs Virginia (2/13) |
| 15. | Navy | 4-1 | 15th | at Army (2/12) |
| 16. | Pitt | 3-3 | 16th | at Virginia Tech (2/12) |
| 17. | Wisconsin | 1-4 | 17th | vs Minnesota (2/12) & at Northwestern (2/14) |
| 18. | Purdue | 2-5 | 18th | at Michigan State (2/12) |
| 19. | Northern Iowa | 4-2 | 19th | at Iowa State with Arizona St. & No. Colo. (2/14) |
| 20. | Oklahoma | 5-4 | 20th | at Fresno State with Oregon State (2/14) |
| 21. | Rutgers | 0-4 | 21st | off until 2/19 at Maryland |
| 22. | Northwestern | 1-5 | 22nd | vs Wisconsin (2/14) |
| 23. | Virginia | 3-2 | 23rd | at North Carolina (2/13) |
| 24. | Michigan State | 2-3 | 24th | vs Purdue (2/13) |
| 25. | Binghamton | 3-1 | 25th | vs Hofstra (2/13) |

WIN Magazine's Feb. 8, 2021 Individual Rankings
125 pounds
| | | | | |
| --- | --- | --- | --- | --- |
| Wt | Name | School | Year | Previous |
| 1. | Spencer Lee | Iowa | Senior | 1st |
| 2. | Drew Hildebrandt | Central Michigan | Senior | 2nd |
| 3. | Brandon Courtney | Arizona State | Junior | 4th |
| 4. | Michael DeAugustino | Northwestern | Sophomore | 5th |
| 5. | Liam Cronin | Nebraska | Senior | 7th |
| 6. | Sam Latona | Virginia Tech | RS Freshman | 8th |
| 7. | Jakob Camacho | NC State | Sophomore | 3rd |
| 8. | Dylan Ragusin | Michigan | Freshman | 6th |
| 9 | Brody Teske | Northern Iowa | RS Freshman | 9th |
| 10. | Patrick McKee | Minnesota | Sophomore | 10th |
| 11. | Devin Schroder | Purdue | Senior | 11th |
| 12. | Malik Heinselman | Ohio State | Junior | 12th |
| 13. | Rayvon Foley | Michigan State | Junior | 13th |
| 14. | Justin Cardani | Illinois | Sophomore | 14th |
| 15. | Taylor Lamont | Utah Valley | Junior | 15th |
| 16. | Trevor Mastrogiovanni | Oklahoma State | Freshman | 16th |
| 17. | Jaret Lane | Lehigh | Junior | 20th |
| 18. | Brock Hudkins | Indiana | Senior | 17th |
| 19. | Connor Brown | Missouri | Junior | 18th |
| 20. | Cage Curry | American U. | Senior | 19th |

133 pounds
| | | | | |
| --- | --- | --- | --- | --- |
| Wt | Name | School | Year | Previous |
| 1. | Daton Fix | Oklahoma State | Sophomore | 1st |
| 2. | Stevan Micic | Michigan | Grad. | 2nd |
| 3. | Roman Bravo-Young | Penn State | Junior | 3rd |
| 4. | Austin DeSanto | Iowa | Senior | 4th |
| 5. | Mickey Phillippi | Pittsburgh | Junior | 5th |
| 6. | Michael McGee | Arizona State | Junior | 6th |
| 7. | Sammy Alvarez | Rutgers | Sophomore | 7th |
| 8. | Korbin Myers | Virginia Tech | Senior | 9th |
| 9. | Matt Schmitt | Missouri | Grad. | 11th |
| 10. | Zach Price | South Dakota State | Sophomore | 12th |
| 11. | Chris Cannon | Northwestern | Freshman | 14th |
| 12. | Kyle Biscoglia | Northern Iowa | Sophomore | 15th |
| 13. | Jamie Hernandez | North Carolina | Junior | 16th |
| 14. | Lucas Byrd | Illinois | RS Freshman | NR |
| 15. | Louie Hayes | Virginia | Senior | 17th |
| 16. | Mosha Schwartz | Northern Colorado | Sophomore | 10th |
| 17. | Darren Miller | Bucknell | Sophomore | NR |
| 18. | Jarrett Trombley | NC State | Sophomore | NR |
| 19 | Mario Guillen | Ohio | Senior | 20th |
| 20 | Ryan Sullivan | West Virginia | RS Freshman | NR |

141 pounds
| | | | | |
| --- | --- | --- | --- | --- |
| Wt. | Name | School | Year | Previous |
| 1. | Jaydin Eierman | Iowa | Senior | 1st |
| 2. | Nick Lee | Penn State | Senior | 2nd |
| 3. | Sebastian Rivera | Rutgers | Grad. | 3rd |
| 4. | Chad Red Jr. | Nebraska | Senior | 4th |
| 5. | Allen Hart | Missouri | Junior | 6th |
| 6. | Ian Parker | Iowa State | Senior | 7th |
| 7. | Dom Demas | Oklahoma | Junior | 8th |
| 8. | Tariq Wilson | NC State | Senior | 9th |
| 9. | Zachary Sherman | North Carolina | Junior | 10th |
| 10. | Dylan Duncan | Illinois | Senior | 11th |
| 11. | Cody Trybus | Navy | Senior | 12th |
| 12. | D.J. Loren | Fresno State | Senior | 13th |
| 13. | Grant Willits | Oregon State | Junior | 14th |
| 14. | Brian Courtney | Virginia | Junior | 15th |
| 15. | Cole Matthews | Pittsburgh | Sophomore | 16th |
| 16. | Dresden Simon | Central Michigan | Senior | 17th |
| 17. | Pete Lipari | Arizona State | Senior | 18th |
| 18. | Derek Spann | Buffalo | Senior | 19th |
| 19. | Zach Trampe | Binghamton | Senior | 20th |
| 20. | Clay Carlson | South Dakota State | Sophomore | NR |

149 pounds
| | | | | |
| --- | --- | --- | --- | --- |
| Wt. | Name | School | Year | Previous |
| 1. | Austin O`Connor | North Carolina | Junior | 1st |
| 2. | Sammy Sasso | Ohio State | Sophomore | 2nd |
| 3. | Brock Mauller | Missouri | Junior | 3rd |
| 4. | Boo Lewallen | Oklahoma State | Senior | 4th |
| 5. | Jarrett Degen | Iowa State | Senior | 5th |
| 6. | Andrew Alirez | Northern Colorado | Sophomore | 6th |
| 7. | Max Murin | Iowa | Junior | 7th |
| 8. | Kanen Storr | Michigan | Senior | 8th |
| 9. | Mike Carr | Illinois | Junior | 9th |
| 10. | Griffin Parriott | Purdue | Senior | 10th |
| 11. | Jonathan Millner | Appalachian State | Junior | 11th |
| 12. | Bryce Andonian | Virginia Tech | Sophomore | 12th |
| 13. | Yahya Thomas | Northwestern | Junior | 13th |
| 14. | Graham Rooks | Indiana | Sophomore | 14th |
| 15. | Jaden Abas | Stanford | RS Freshman | 15th |
| 16. | Jarod Verkleeren | Penn State | Junior | 16th |
| 17. | Joshua Heil | Campbell | Senior | 17th |
| 18. | Mitch Moore | Oklahoma | Junior | 18th |
| 19. | Casey Cobb | Navy | Senior | 19th |
| 20. | Tanner Smith | Chattanooga | Junior | 20th |

157 pounds
| | | | | |
| --- | --- | --- | --- | --- |
| Wt. | Name | School | Year | Previous |
| 1. | Ryan Deakin | Northwestern | Senior | 1st |
| 2. | Hayden Hidlay | NC State | Senior | 2nd |
| 3. | David Carr | Iowa State | Sophomore | 3rd |
| 4. | Jesse Dellavecchia | Rider | Grad | 4th |
| 5. | Kaleb Young | Iowa | Senior | 5th |
| 6. | Brayton Lee | Minnesota | Sophomore | 6th |
| 7. | Kendall Coleman | Purdue | Sophomore | 7th |
| 8. | Josh Humphreys | Lehigh | Junior | 8th |
| 9. | Justin Thomas | Oklahoma | Senior | 12th |
| 10. | Wyatt Sheets | Oklahoma State | Junior | 9th |
| 11. | Will Lewan | Michigan | Sophomore | 10th |
| 12. | Jacori Teemer | Arizona State | Sophomore | 11th |
| 13. | Jarrett Jacques | Missouri | Junior | 13th |
| 14. | Brady Berge | Penn State | Junior | 14th |
| 15. | Jared Franek | North Dakota State | Sophomore | 15th |
| 16. | Hunter Willits | Oregon State | Junior | 18th |
| 17. | Requir Van der Merwe | Stanford | Senior | 16th |
| 18. | Markus Hartman | Army West Point | Junior | 17th |
| 19. | Justin McCoy | Virginia | Sophomore | 19th |
| 20. | Jacob Wright | Wyoming | Junior | 20th |

165 pounds
| | | | | |
| --- | --- | --- | --- | --- |
| Wt. | Name | School | Year | Previous |
| 1. | Mekhi Lewis | Virginia Tech | Sophomore | 1st |
| 2. | Alex Marinelli | Iowa | Senior | 2nd |
| 3. | Shane Griffith | Stanford | Sophomore | 3rd |
| 4. | Travis Wittlake | Oklahoma State | Sophomore | 4th |
| 5. | Anthony Valencia | Arizona State | Senior | 5th |
| 6. | Tanner Skidgel | Navy | Senior | 6th |
| 7. | Zach Hartman | Bucknell | Junior | 7th |
| 8. | Dan Braunagel | Illinois | Sophomore | 8th |
| 9. | Ethan Smith | Ohio State | Junior | 9th |
| 10. | Keegan O'Toole | Missouri | Freshman | 12th |
| 11. | Jake Wentzel | Pittsburgh | Senior | 10th |
| 12. | Kennedy Monday | North Carolina | Senior | 11th |
| 13. | Andrew Sparks | Minnesota | Freshman | 13th |
| 14. | Jake Keating | Virginia | Senior | 14th |
| 15. | Thomas Bullard | NC State | Senior | 15th |
| 16. | Tanner Cook | South Dakota State | Sophomore | 16th |
| 17. | Peyton Robb | Nebraska | Sophomore | 17th |
| 18. | Joe Lee | Penn State | RS Freshman | 18th |
| 19. | Cameron Amine | Michigan | RS Freshman | 19th |
| 20. | William Formato | Appalachian State | Sophomore | NR |

174 pounds
| | | | | |
| --- | --- | --- | --- | --- |
| Wt. | Name | School | Year | Previous |
| 1. | Michael Kemerer | Iowa | Grad. | 1st |
| 2. | Logan Massa | Michigan | Senior | 2nd |
| 3. | Mikey Labriola | Nebraska | Junior | 3rd |
| 4. | Kaleb Romero | Ohio State | Junior | 4th |
| 5. | Demetrius Romero | Utah Valley | Senior | 5th |
| 6. | Matt Finesilver | Duke | Junior | 6th |
| 7. | Carter Starocci | Penn State | RS Freshman | 7th |
| 8. | Daniel Bullard | NC State | Senior | 8th |
| 9. | Jacob Oliver | Edinboro | Junior | 9th |
| 10. | Devin Kane | North Carolina | Senior | 10th |
| 11. | Andrew McNally | Kent State | Senior | 11th |
| 12. | Dustin Plott | Oklahoma State | Freshman | 13th |
| 13. | Hayden Hastings | Wyoming | Junior | 14th |
| 14. | Trey Munoz | Arizona State | RS Freshmen | 12th |
| 15. | Sage Heller | Hofstra | Senior | 16th |
| 16. | Donnell Washington | Indiana | Freshman | NR |
| 17. | Peyton Mocco | Missouri | Sophomore | NR |
| 18. | Bernie Truax | Cal Poly | Sophomore | NR |
| 19. | Michael O`Malley | Drexel | Sophomore | 18th |
| 20. | Thomas Flitz | Appalachian State | Senior | 20th |

184 pounds
| | | | | |
| --- | --- | --- | --- | --- |
| Wt. | Name | School | Year | Previous |
| 1. | Myles Amine | Michigan | Grad | 1st |
| 2. | Hunter Bolen | Virginia Tech | Junior | 2nd |
| 3. | Aaron Brooks | Penn State | Sophomore | 3rd |
| 4 | Trent Hidlay | NC State | Sophomore | 4th |
| 5. | Lou Deprez | Binghamton | Junior | 5th |
| 6 | Chris Weiler | Wisconsin | Senior | 6th |
| 7. | Parker Keckeisen | Northern Iowa | RS Freshman | 7th |
| 8. | Dakota Geer | Oklahoma State | Senior | 8th |
| 9. | Brit Wilson | Northern Illinois | Junior | 12th |
| 10. | Zach Braunagel | Illinois | Sophomore | 9th |
| 11. | Nelson Brands | Iowa | Sophomore | 10th |
| 12. | Taylor Venz | Nebraska | Senior | 11th |
| 13. | Jeremiah Kent | Missouri | Sophomore | 13th |
| 14. | Tanner Harvey | American | Senior | 14th |
| 15. | Owen Webster | Minnesota | Grad | 17th |
| 16. | Sam Colbray | Iowa State | Senior | 16th |
| 17. | Tate Samuelson | Wyoming | Junior | 18th |
| 18. | Max Lyon | Purdue | Senior | 19th |
| 19. | John Poznanski | Rutgers | Freshman | 20th |
| 20. | Rocky Jordan | Ohio State | Sophomore | NR |

197 pounds
| | | | | |
| --- | --- | --- | --- | --- |
| Wt. | Name | School | Year | Previous |
| 1. | Eric Schultz | Nebraska | Senior | 2nd |
| 2. | Noah Adams | West Virginia | Junior | 1st |
| 3. | Jacob Warner | Iowa | Junior | 3rd |
| 4. | Tanner Sloan | South Dakota State | Sophomore | 4th |
| 5. | Nino Bonaccorsi | Pittsburgh | Junior | 5th |
| 6. | Jay Aiello | Virginia | Senior | 6th |
| 7. | Greg Bulsak | Clarion | Senior | 7th |
| 8. | Cameron Caffey | Michigan State | Junior | 8th |
| 9. | A.J. Ferrari | Oklahoma State | Freshman | 9th |
| 10. | Kordell Norfleet | Arizona State | Junior | 11th |
| 11. | Lucas Davison | Northwestern | Sophomore | 10th |
| 12. | Stephen Buchanan | Wyoming | Sophomore | 14th |
| 13. | Jake Woodley | Oklahoma | Junior | 12th |
| 14. | Rocky Elam | Missouri | Freshman | 13th |
| 15. | Isaac Trumble | NC State | Freshmen | 15th |
| 16. | Michael Beard | Penn State | RS Freshman | 17th |
| 17. | Jake Jakobsen | Lehigh | Senior | NR |
| 18. | JT Brown | Army West Point | Junior | 16th |
| 19. | Yonger Bastida | Iowa State | Freshman | 20th |
| 20. | Jacob Koser | Navy | Sophomore | NR |

Heavyweight
| | | | | |
| --- | --- | --- | --- | --- |
| Wt. | Name | School | Year | Previous |
| 1. | Gable Steveson | Minnesota | Junior | 1st |
| 2. | Mason Parris | Michigan | Junior | 2nd |
| 3. | Tony Cassioppi | Iowa | Sophomore | 3rd |
| 4. | Matt Stencel | Central Michigan | Senior | 4th |
| 5 | Gannon Gremmel | Iowa State | Senior | 5th |
| 6. | Carter Isley | Northern Iowa | Senior | 6th |
| 7. | Jordan Wood | Lehigh | Senior | NR |
| 8. | Tate Orndorff | Ohio State | Junior | 7th |
| 9. | Zach Elam | Missouri | Sophomore | 8th |
| 10. | Trent Hillger | Wisconsin | Junior | 9th |
| 11. | Luke Luffman | Illinois | Sophomore | 10th |
| 12. | Seth Nevills | Penn State | Sophomore | 11th |
| 13. | Cohlton Schultz | Arizona State | RS Freshman | 12th |
| 14 | Brian Andrews | Wyoming | Senior | 13th |
| 15. | Ethan Laird | Rider | Senior | 19th |
| 16. | Christian Lance | Nebraska | Senior | 14th |
| 17. | Deonte Wilson | NC State | Junior | 16th |
| 18. | Josh Heindselman | Oklahoma | RS Freshman | 17th |
| 19. | John Borst | Virginia Tech | Junior | 15th |
| 20. | Brandon Metz | North Dakota State | Junior | 18th |