News
USA Wrestling
International
Women
College
USAW
Olympian Winchester, returning champion Page unbeaten after session one of Senior Women's Nationals
by Koral Sugiyama, Special to TheMat.com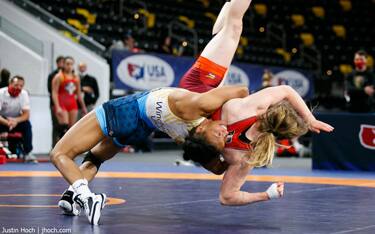 Olympian Jacarra Winchester hits a big move at the 2021 Senior Nationals. Photo by Justin Hoch.
IOWA CITY– In total, 15 athletes went undefeated in this morning's Senior Women's session; all but the 76 kg weight class are in round robins.
The top-five placers in each weight class will qualify for the World Team Trials in September; note that most of the weight classes for the Senior women have five or less participants. The champions today at the non-Olympic/World weight classes are competing for a spot on the 2021 Pan-Am Championship team.
Jacarra Winchester (TMWC) is the only Olympian/World champion entered in the Senior Women's National tournament. With two tech-falls in this morning's session over Ngao Shoua Whitehorn (Victory) and Amy Fearnside (TMWC), Winchester remains unscored on and undefeated.
Only one of the two returning 2020 Senior National champion made it through undefeated. Jennifer Page (TMWC) moved up and into the non-Olympic weight, 65 kg, and defeated Grand View University sophomore Andrea Schlabach, 10-0 in the first period.
McKendree alumni and U23 Bronze medalist Alex Glaude won the 72 kg championship with two wins over Skylar Grote (NYAC) in a best-of-three series, only giving up one point. Glaude just announced her commitment to the Dam RTC in Oregon earlier this week.
The first round of the tournament showcased the 2020 finals match at 57 kg—Lauren Louive (NYAC) against Xochitl Mota-Pettis (Rise RTC). Louive was down 9-0 this morning when the returning champ came back, scoring 20 unanswered points to tech Mota-Pettis. However, Louive is not unbeaten, as Junior World Champion Maya Nelson of the Sunkist Kids defeated Louive later in the session, 9-4
One official final pairing is set. At 76 kg Precious Bell (TMWC) will wrestle Dymond Guilford (TMWC). These two wrestles have gone back and forth through the past couple years. Guilford has the last win over Bell from Olympic Trials earlier this month.
The next session for will begin at 3:30 CT on FloWrestling, with the finals set for 7:00 p.m. CT. You can follow along on the brackets on FloArena.
SENIOR NATIONALS
At Coralville, Iowa, April 30, 2021

Women's freestyle results from session one
Round Robin 1
50 kg
Natalie Reyna-Rodriguez (McK) VSU Hannah Michael (TCRTC) 10-0
Erin Golston IL (NYAC) VSU Chloe Krebsbach IA (GV WC), 11-0
53 kg
Alisha Howk (SKWC) VSU Arelys Valles (GVWC) 10-0
Alexandra Hedrick (TMWC) VSU Vanessa Ramirez (IN), 10-0
55 kg
Amy Fearnside (TMWC) VPO Areana Villaescusa (WCAP), 5-0
Jacarra Winchester (TMWC) VSU Ngao Shoua Whitethorn (Victory), 10-0
57 kg
Vayle Baker (TCRTC) VSU1 Tateum Park (TCRTC), 12-2
Lauren Mason (CA) VSU Sophia Smith (WI)), 10-0
59 kg
Lauren Louive OH (NYAC) VSU1 Xochitl Mota-Pettis TX (Rise RTC), 20-9
Maya Nelson CO (SKWC) VSU1 Megan Black (WCAP), 14-2
62 kg
Alexandria Liles (WCAP) VSU Sierra Brown Ton (TCRTC), 10-0
Gracie Figueroa (TMWC) VPO1 Briana Kellin FL (Life WC), 6-2
65 kg
Andrea Schlabach (GV WC) VPO1 Zoe Wight GA (Life WC), 6-3
68 kg
Rachel Watters (NYAC) VSU1 Anna Naylor (Life WC), 12-1
Solin Piearcy CA (Menlo WC) VPO1 Alyvia Fiske (TMWC), 7-2
72 kg
Alexandria Glaude (TMWC)VPO1 Skylar Grote (NYAC), 8-1
Round Robin 2
50 kg
Natalie Reyna-Rodriguez (McK) VFA Chloe Krebsbach (GV WC), 2:28
Erin Golston (NYAC) VSU Hannah Michael (TCRTC), 10-0
53 kg 53
Alisha Howk (SKWC) VSU Vanessa Ramirez (IN), 10-0
Alexandra Hedrick (TMWC)VSU Arelys Valles (GV WC), 10-0
55 kg
Areana Villaescusa (VFA) Samantha Klingel (WCAP), 5:37
Amy Fearnside (TMWC) VSU Ngao Shoua Whitethorn MN (Victory), 10-0
57 kg
Vayle Baker (TCRTC) VSU1 Estrella Dorado Marin (WCAP), 12-2
Sophia Smith (WI) VPO1 Tateum Park (TCRTC), 4-1
59 kg
Xochitl Mota-pettis (Rise RTC) VSU1 Megan Black Army (WCAP), 12-1
62 kg
Alexandria Liles CO (Army (WCAP)) VSU Briana Kellin FL (Life WC), 10-0 3:33
Gracie Figueroa (TMWC) VSU Sierra Brown Ton (TCRTC), 10-0
65 kg
Jennifer Page CO (TMWC) VSU Andrea Schlabach (GV WC), 10-0
Round Robin 3
55 kg
Samantha Klingel (WCAP) VPO1 Ngao Shoua Whitethorn (Victory), 4-2
Jacarra Winchester (TMWC) VSU Amy Fearnside (TMWC), 10-0
57 kg
Sophia Smith (WI) VPO Estrella Dorado Marin (WCAP), 8-0
Lauren Mason (CA) VSU Tateum Park (TCRCT), 10-0
76 kg Tournament Results
Finals pairing
Precious Bell (Titan Mercury Wrestling Club (TMWC)) vs. Dymond Guilford (Titan Mercury Wrestling Club (TMWC))
Semifinals
Precious Bell WI (Titan Mercury Wrestling Club (TMWC)) VFA Ashley Lekas TX (Texas Pride Wrestling Club), 10-2 1:30
Dymond Guilford CA (Titan Mercury Wrestling Club (TMWC)) VSU Marlynne Deede UT (Twin Cities Regional Training Center), 14-0 1:15
Quarterfinals
Marlynne Deede UT (Twin Cities Regional Training Center) VPO1 Emily Cue CO (Colorado), 8-2
Ashley Lekas TX (Texas Pride Wrestling Club) VSU1 Hunter Robinson TX (Grand View Wrestling Club), 12-2 5:48