News
USA Wrestling
College
USAW
Major college wrestling returns with NJCAA Nationals set for Wednesday and Thursday in Council Bluffs, Iowa
by Gary Abbott, USA Wrestling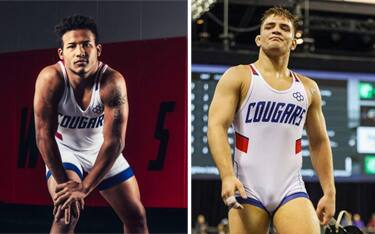 Images courtesy of Clackamas CC Wrestling Facebook Page
The crazy 2021 college wrestling season continues with the National Junior College Athletic Association (NJCAA) National Championships at the Mid-America Center in Council Bluffs, Iowa, Wednesday April 20 and Thursday, April 21.
The top wrestlers from the two-year colleges affiliated with the NJCAA will battle for national titles and All-American honors. The event will be broadcast by FloWrestling.
The 2020 NJCAA Nationals was held just prior to the pandemic shutdown. Clackamas is the defending national champion, with the top five from the 2020 NJCAA Nationals including runner-up Northeasterm Oklahoma, third-place Iowa Western, fourth-place Rochester and fifth-place Ellsworth.
The most recent NJCAA national ranking in late March had Clackamas at No. 1, followed by No. 2 Pratt, No. 3 Western Wyoming, No. 4 Northeastern Oklahoma and No. 5 Rochester.
The brackets for the 2021 NJCAA Nationals were released on April 16, with the following athletes holding No. 1 seeds: Michael Spangler of Pratt (125), Zeth Brower of Clackamas (133), Blake Gonzalez of NE Oklahoma (141), Jake Beeson of Pratt (149), Isaiah Crosby of Iowa Western (157), Christian Minto of North Iowa Area (165), Jose Rodriguez of Iowa Central (174), Deron Pulliam of Indian Hills (184), Tarik Sutkovic of Clackamas (197) and Dan Baker of NE Oklahoma (285).
There are three returning national champions, all with No. 1 seeds: Michael Spangler of Pratt (125), Blake Gonzalez of NE Oklahoma (141) and Jake Beeson of Pratt (149).
Clackamas has eight of its 10 wrestlers holding seeds in the top three of their weight class. At No. 1 are Brower and Sutkovic. No. 2 seeds from Clackamas are Cameron Enriquez (125), Marckis Branford (141) and Dax Bennett (174), Holding No. 3 seeds for the Cougars are Jake Richardson (165), Michael Gasper (184) and Kyle Richards (285).
NJCAA Nationals Brackets
Teams with 10 entries: Barton, Clackamas, Cloud, Cowley, Henry Ford, Indian Hills, Iowa Central, Iowa Lakes, Iowa Western, Labette, Muskegon, Neosho, NIAAC, Niagara, North Idaho, Northeastern Oklahoma, Pratt, RCTC, Southwestern Oregon, Triton, Western Wyoming
Additional information from Johnny Johnson on this tournament will be provided when received, as well as daily updates posted on TheMat.com.