News
USA Wrestling
College
USAW
Stanford president meets with 36 Sports Strong, which is encouraged that 11 sports including wrestling may get reinstated
by Gary Abbott, USA Wrestling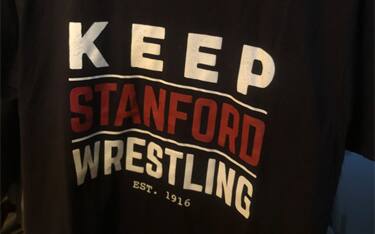 On Tuesday, Stanford president Marc Tessier Lavigne met with leaders of 36 Sports Strong, the Stanford alumni organization that is working to help reinstate 11 sports dropped this year by Stanford, including wrestling.
Among the leaders at the meeting was Robert Hatta, co-chair of #KeepStanfordWrestling, the group which has worked to bring back the historic wrestling program there.
When the meeting ended, the following statement was published by 36 Sports Strong:
"We took the first step in reinstating the 11 cut sports at Stanford today. We met with Stanford leaders and the Board of Trustees members for about an hour in a video conference, and we presented our vision for a new partnership between the school and 36 Sports Strong.

"President Marc Tessier-Lavigne said he will take the next few weeks to consider our plan to reinstate the sports. We were encouraged by the meeting, and look forward to continuing to work with the president and Board. We believe President Tessier-Lavigne and the Board's Athletics subcommittee are trying to lead an earnest effort to review the decision. We look forward to continuing the conversation about how this plan will work for Stanford students.

"We will continue to build support. Stanford has a real chance to lead, not just for our own school but for all of College Athletics."

- Jeremy Jacobs, 36 Sports Strong Spokesperson and Men's Volleyball Alum
Numerous media reports about the meeting were published, all which raised the possibility that the effort to retain these sports made some promising gains. Among those stories are:
Mercury News: Stanford president to consider alumni group's plan to reinstate 11 sports
SF Chronicle: Effort to save Stanford sports gains traction: 'Productive' meeting with president
Stanford Daily: University meets with 36 Sports Strong, both sides optimistic
Many of the media reports indicate that Stanford's administration will take a few weeks to evaluate the situation, based upon the meeting.
One note: If Stanford makes the right decision and reinstates wrestling, Stanford will need to find a new head coach. Pac-12 Coach of the Year Jason Borrelli was announced as the new head coach for American University, the EIWA program based in Washington, D.C.
More to come. Stay tuned.