News
USA Wrestling
International
College
USAW
Nathan Tomasello joins Oklahoma RTC as Resident Athlete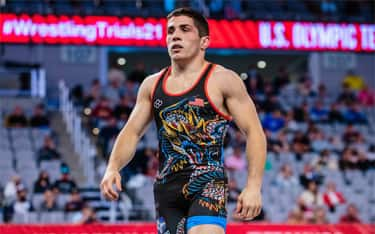 Nathan Tomasello competing at the U.S. Olympic Team Trials – Wrestling. Photo by Richard Immel.
NORMAN, Okla. – The Oklahoma Regional Training Center is adding another elite athlete to its ranks with past NCAA champion and current U.S. National Team member Nathan Tomasello making the full-time transition to Norman.
After spending the past year as an assistant coach at Duke University, Tomasello will reunite with his former college mentor Lou Rosselli, the current head man at Oklahoma, in addition to being trained under the watchful eye of Oklahoma RTC Head Coach Sam Hazewinkel.
"Rosselli was my lightweight coach at Ohio State and one of the major reasons why I was so successful in college," Tomasello said. "It was very tough to see him leave after the 2016 season and take the head coaching position at Oklahoma, but I knew he would change that program for the best because of his work ethic and mentality. I also had a gut feeling that our paths would cross again."
In the leadup to the U.S. Olympic Team Trials held in Fort Worth two weeks ago, Tomasello conducted his training camp in Norman with the assistance of the Oklahoma RTC staff. The Parma, Ohio, native went on to wrestle one of his best tournaments to date, placing third at 57 kg/125.5 lbs. in freestyle, and earning a selection to his second U.S. National Team on the Senior level.
"Rosselli provided a training opportunity at Oklahoma right after the NCAA Championships to go out there, truly prepare, and lock in with no distractions, for the greatest tournament of my career so far…as I finished training in Norman I knew I was ready to not only to compete, but win the Olympic Trials," Tomasello said.
Coach Rosselli expressed his excitement on the latest addition to the Oklahoma RTC roster by highlighting Tomasello's experience and commitment to the sport.
"I know what he stands for, and love his discipline and work ethic. He will be a great addition for us," Rosselli said.
During his exceptional NCAA career at Ohio State, Tomasello amassed a list of credentials few can match. His time as a Buckeye is highlighted by an individual NCAA championship at 125 pounds in 2015, where he also helped Ohio State claim its first and only team national title.
Tomasello was a four-time NCAA All-American with placements of first, third, third and third at the national tournament. In addition, he became just the 15th wrestler to collect four Big Ten titles when he did so as a senior in 2018.
"It's the dream to coach someone like Nate," Hazewinkel said. "His incredible work ethic is near legendary, his attitude and strength next to none; but it is his confidence I'm most excited about."
Tomasello holds two degrees from his time at Ohio State: A Bachelor of Science in Kinesiology and a Master of Science in Sports Management.
For more information about the Oklahoma RTC visit
Oklahoma RTC website