News
USA Wrestling
International
College
High School & Youth
Women
USAW
Memories of USA Wrestling pairing official and leader Marcia Gould of New York who recently passed away
by Various family and friends of Marcia Gould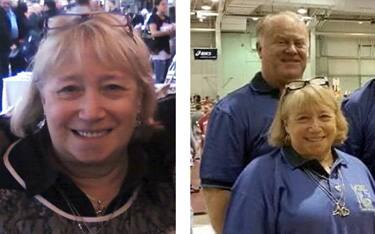 Images courtesy of the Gould family.Initial thoughts from Gary Abbott
Although word was quickly shared through social media over a week ago, USA Wrestling would like to recognize the many contributions that dedicated volunteer and wrestling enthusiast Marcia Gould of Merrick, N.Y. made to the organization and the sport for decades. She was more than a leader in our sport; she was a true friend to so many within the vast wrestling family.
Marcia, always alongside her beloved husband Ed, served the New York and national wrestling community in many capacities, always with an upbeat attitude and a smile on her face. She was a wrestling mom, not only to her own family but also to all of the kids who came through the ranks in Long Island wrestling, New York USA Wrestling and even the U.S. national team program. With Marcia, it was not about being in charge of things, nor being the center of attention. Marcia did everything she could do, or whatever was asked of her, to help the wrestlers in any way possible.
Marcia was a dear friend to my wife Pat and I, going far beyond our shared love of wrestling and our work side-by-side within USA Wrestling. She was family to us, somebody who would call at any time to talk about everything and nothing at all. While we already miss spending time with Marcia at wrestling events, over dinner back in New York or all over the country, or over the cell phone, we smile every time we think about her. That is what Marcia was all about, taking care of other people and giving them her love.
The Gould family had a small funeral service and burial for Marcia shortly after her death, but there is talk of getting her larger wrestling family together sometime soon to celebrate her life and share stories and memories together.
Marcia was mentioned to the crowd at the recent U.S. Olympic Team Trials, and there are plans to present the USWOA Lifetime Achievement Award she had won but never received to Ed when we all get together this summer in Fargo.
Rather than give more of my thoughts, it makes sense to share what others had to say about Marcia, including her wrestling friends and her children. We also add what Ed Gould wrote about his beloved wife. While Ed provided this as background information for a USA Wrestling story on Marcia, it was so well done that we present it with little or no editing.
From friends on Marcia's Facebook page
"You were never without a smile or your infectious laugh. Never without a loving word about OUR children, never without a loving word about your OWN children and grandchildren. When they say the wrestling community is a family, it is always through the actions of our tight community that proves the most loyal. We promise to help Ed however we can. You will forever be the Grandmother of Section VIII wrestling. We were all incredibly lucky to have known, loved you, and have been loved by you. Rest Easy Sweet Soul.
- Olivia Marine
"Heaven may have gained an angel today, but NY-USA Wrestling lost a great woman in Marcia Laskin Gould. Her smile was infectious. I am glad our paths crossed so many times. Love you Marcia RIP.
- Jason Goldman
"Mrs. Gould was the matriarch of the wrestling family not only all throughout Long Island, but throughout the state of New York. She was known for her great big personality and heart of gold. We could always expect to get a plate of her delicious cookies or souvenirs from national tournaments. She rooted on our kids like they were her own, on and off the mat. She would always check in on "her kids and coaches" to see how they were doing and always check on the wives as well. At times, there would be a gift or two for the little guys just to say hello or a craft she made for the wives just to say she loves you. Tournaments will never be the same without Mrs. Gould there to run the show. She will always and forever in our hearts be known as the matriarch of Section VIII and a mother to everyone who ever stepped foot on a Nassau County wrestling mat."
--Long Beach Gladiators
"I swear Marcia Laskin Gould was at every tournament I had been to, working tables and brackets better than anyone. It didn't matter where she was or what she was doing, she made it a point to stop and share a story, cheer on Matt or myself, or just catch me after a loss and remind me of a previous match of mine that I didn't remember myself. I am far from alone in this, but, from the LI wrestling family, thank you for the countless lives you have touched. New York wrestling has a void that can never be filled."
- Jimmy Mustakis, Jr.
Excerpts from the eulogies from her children
Meredith Gould
• My mom was one of the kindest, most generous (of both her love and her time) human beings that have ever graced this planet. From the moment my brother and I were small, her world revolved around us and our countless activities.
• I will miss her daily phone calls, her beautiful smile, her infectious laughter, her fantastic hugs and her absolute, unfaltering love.
• We should all live like my mom did, love hard, bring joy to others, smile more often and add a little sparkle to your day.
Brett Gould
• As I walked away from a sport that afforded me so many opportunities, she and her partner in crime, my dad, walked in. They truly were partners in everything they did and their love for one another was undeniable and each complimented each other.
• The outpouring of love and the stories I've heard from this community has been beyond words. Everyone says the same thing: huge smile, infectious laugh, and unconditional love for all the kids, as if they were her own. You were her family too, and I thank you for making her part of yours.
• When it comes down to it, she was the ultimate people person. She genuinely cared about people and would go out of her way to help them. She may have been small in stature, but her heart and smile were that of a giant.
MARCIA LASKIN GOULD

1943 – 2021

"A life devoted to Caring and Sharing"

by Ed Gould
She was always about giving to others and her life was of service to others, particularly kids.
Her legacy would not be complete without delving on what may have been her passion – kids and wrestling. She was an USWOA pairing official for 30+ years, getting here her start like so many others – coming down out of the stands and helping because help was needed to make the event go. She worked hard but never was looking for the spotlight. She did not want to be the General in charge but was content to be a Lieutenant and ensuring that things got done so the event was a success.
Her wrestling endeavors covered the entire spectrum from the local kids' tournament to almost the ultimate of wrestling. She worked local, state, regional, and national USA Wrestling events, including NYS Empire State Summer Games, 1998 US-USSR Goodwill Games, the 2003 World Freestyle Championships at Madison Square Garden (MSG), the 2011 International Police and Fireman Games in NYC, the 2016 NCAA DI championships at MSG and several "Grapple at the Garden" collegiate events. She was also part of the pairing crew for more than 20 NYAC Holiday Tournaments (aka Bill Farrell International now). She also found time to serve on both the NY-USA Wrestling Sectional and State boards of directors for many years, always dealing with the kids and coaches as Membership director.
Scholastically, she worked for 20+ years on High School events across Long Island and was part of the three-person crew that has run the Nassau County NYSPHSAA Sectional Wrestling Championships for over 20 years.
She became a surrogate mom to so many young wrestlers over the years. A story she always like to tell was about a very young Kyle Dake always coming to her at the Head Table of many tournaments in NYS and constantly asking when he would be called to the mat. He was one of her favorite little guys in those days.
She never had a cross word for anybody who came to see here at the table and over the years she developed a wonderful camaraderie with them. She gained some fame with the kids for always having homemade cookies when they visited her at the head table, whether it was local or Fargo or somewhere in between. She even sent cookies with a parent to one local kid's first-ever college match.
She genuinely cared for those she met and always greeted everyone with a smile and her infectious laugh from the littlest of wrestlers to our Olympians such as Kerry McCoy, Shawn Sheldon, and her big friend Rulon Gardner. She was very proud of her photo with Rulon from one of our Fargo trips from a few years ago.
She was an active PTA participant for over 20 years (honored with lifetime membership). She served as PTA president in three different school locally, going from elementary to Junior High and on to High School as our children moved through the system. She was also about school spirit and actively supported the local high school for many years as a member of the Sports Booster club.
She treasured her relationships nurtured during her own school years and was a charter member of its Alumni Association, serving on its Board of Directors up until the very end. It was all about doing things for the school and thus the kids. She branched from that and was an active member of every class reunion for her class from Calhoun High School for over 50 years.
In line with her support of her own school, she took an active part in assisting with my high school class reunions, doing whatever was needed to make sure things went smoothly and that everyone enjoyed themselves. She further branched out to my college class reunions and was the defacto administrative assistant to the Reunion chairman for almost 20 years. She did all these things because she enjoyed serving people. She was the ultimate people person.
In her spare time, she was a very accomplished at doing needle point. She was always making a pillow or something similar for someone's new baby, including many of the local coaches' kids as they grew up. I think she even made one of the USA Wrestling logo and gave it to Rich Bender and the national office.
Finally, I would be remiss if I did not speak of her ultimate loves of her life, our children Meredith and Brett along with their spouses, Chris and Lauren, and our three beautiful grandchildren – Marcus, Avery, and Emma. She loved them all unconditionally and there wasn't anything she wouldn't do for them. Marcia was the ultimate grandmother, carrying photos of the three of them wherever she traveled and always showing them to everyone whenever possible, lovingly telling everyone that they were her whole world. While we saw that she loved everyone with whom she came in contact with, they were her most precious possessions in this world..