News
USA Wrestling
International
College
High School & Youth
Women
USAW
USA Wrestling extends partnership with Rx Smart Gear, its official jump rope sponsor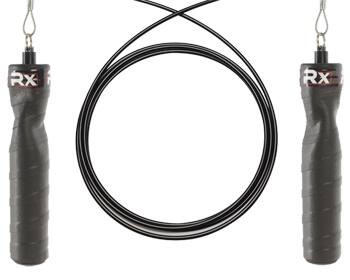 USA Wrestling, the national governing body for wrestling in the United States, is pleased to extend its partnership with Rx Smart Gear, which is USA Wrestling's official jump rope partner.


"USA Wrestling is proud to have RX Smart Gear as our jump rope sponsor. Not only does Rx Smart Gear provide the industry's best cable jump ropes, but they also have been very supportive of USA Wrestling's athletes at all levels. Jump ropes are crucial training devises in wrestling, and our partnership has helped our elite athletes better prepare for international competition. We look forward to continue working with RX Smart Gear as it advances wrestling performances across our nation."


"Rx Smart Gear couldn't be more proud to continue our partnership with USA Wrestling as we lead into this Olympic year. Our focus and priority has always been to assist in the fitness and development of our athletes to ensure continued success on the competition mat and more medals on the podium," said David Newman, CEO and Founder of RX Smart Gear.


Rx Smart Gear is a global leader in jump rope design, manufacturing and training methodology with 3 patented, award-winning jump ropes. Rx Smart Gear has developed to Olympic-family partnerships, serving as the Official Jump Rope of USA Wrestling, USA Boxing, USA Judo, USA Artistic Swimming and USA Functional Fitness, as well as many other respected sports and fitness organizations.


RXSG Fitness introduced the world's first custom-fit cable jump rope in 2009 that emphasized the ideal length and resistance to optimize each athlete's training.


The result has been the perfect jump rope to counter common performance miscues, which, in turn, enhanced the learning experience. The ergonomics promoted the right grip tension. The swivel connection allowed for better accuracy. The resistance levels helped develop timing. The custom sizes promoted proper form and technique. It was built durable to stand up to the rigors of intense workouts.


All of these factors are important for wrestling training. Jump ropes have been a favored training device in wrestling for many decades, not only improving an athlete's cardio-vascular conditioning, but also helping develop the movement and foot-speed needed for success in all aspects of the sport. Where you find wrestlers, you find jump ropes. Rx Smart Gear has become the favored jump rope of elite wrestlers everywhere.


To review the wide variety of Rx Smart Gear training products, please visit:
Rx Smart Gear website

About Rx Smart Gear

Rx Smart Gear began humbly in the back of a small garage in El Cajon, California. Over a decade later and RXSG has blossomed into the industry leader in jump rope design, engineering and manufacturing. Fitness is our passion. Innovation is our talent. Our products reflect or commitment to elevating fitness and helping people live healthier lives.