News
USA Wrestling
High School & Youth
USAW
NDHSAA makes girls wrestling a sanctioned sport in North Dakota, the 30th state with official girls championships
by Gary Abbott, USA Wrestling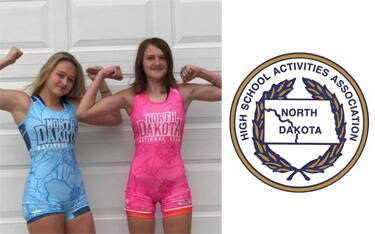 Photo courtesy of North Dakota Girls Wrestling Facebook page
The North Dakota High School Activities Association (NDHSAA), at its March 30th Board of Directors meeting, approved the sanctioning of girls wrestling.
The announcement was simple, and the lead story of the synopsis of its March 30 meeting, as posted on its website:
The Board of Directors voted to approve the sanctioning of girls wrestling as a NDHSAA-sponsored sport starting in the 2021-22 school year.
North Dakota becomes the 30th state to announce an official championships for girls wrestling.
The states with official girls wrestling are (alphabetically): Alaska, Arizona, Arkansas, California, Colorado, Connecticut, Florida, Georgia, Hawaii, Idaho, Illinois, Kansas, Maine, Maryland, Massachusetts, Missouri, Montana, Nebraska, Nevada, New Jersey, New Mexico, North Dakota, Oklahoma, Oregon, South Dakota, Tennessee, Texas, Utah, Washington, Wisconsin.
This year, North Dakota hosted a girls tournament alongside its official boys state championships, held in Fargo, N.D. on Feb. 20.
USA Wrestling has been a leader in the effort to secure official state championships for girls wrestling, led by its Girls High School Development Committee, co-chaired by Joan Fulp and Andrea Yamamoto.
The media in North Dakota reported the good news in recent days:
Fargo Forum: 'The future is bright': North Dakota High School Activities Association sanctions girls wrestling
Williston Herald: NDHSAA to recognize girls wrestling as sponsored sport in 2021-2022 school year