News
USA Wrestling
International
College
Women
High School & Youth
USAW
U.S. Olympic Team Trials Session III drama: National Team berths for grabs, retirements and spectacular wrestling
by Andy Elder, Special to TheMat.com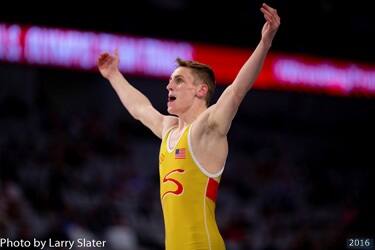 A Benji Peak celebration. Photo by Larry Slater
FORT WORTH, Texas — Saturday's Session 3 of the 2020 U.S. Olympic Team Trials – Wrestling at Dickies Arena might seem to the uninitiated like a perfunctory procedure to establish the top three places.
In reality, it's much, much more.
A third-place finish at the Trials is significant. It triggers funded access to the Olympic Training Center and, more importantly, access to reimbursed travel opportunities that far outweigh the stipend an athlete would receive. But, just like any tournament, the back side of the bracket is a grind.
Saturday had its share of forfeits, as injuries piled up and desire drained after the dream of a trip to the Tokyo Olympic Games had evaporated. On this day, though, there was plenty of high-level action, which elicited oohs and aahs from the limited crowd.
Of the many storylines that emerged, argubably none was more compelling than the journey of one Benji Peak (Sunkist Kids Wrestling Club). Seeded No. 11 out of 12 wrestlers at 67 kg Greco-Roman, Peak first piqued the interest of the crowd by rolling to successive 9-0, 8-0, 9-0 wins to earn a berth in the challenge tournament final.
While he couldn't quite complete that magical mystery tour, falling 7-3 to Ellis Coleman (Army World Class Athlete Program), he awaited the third-place finisher in the back side of the bracket. That turned out to be Xavier Johnson (All-Marine Wrestling Team). In a true second-place bout, since the two hadn't met previously in the Trials, Peak was high-flying again, running away with a 9-1 win.
While that win thrilled the crowd, it was a loss that may have provided the most poignant moment. Jonathan Anderson, Major Jonathan Anderson, of Army WCAP dropped a 3-1 decision in the 87 kg Greco-Roman wrestle-back semifinal. As PA announcer Jason Bryant read off the officer's professional and wrestling credentials, Anderson unlaced his shoes and placed them at the center of the mat, the international symbol of retirement from the support. He waved slowly to the crowd and, before leaving the mat, delivered one final salute to a standing ovation.
Another military man, Raymond Bunker of the All-Marine Wrestling Team, wrestled his final match at 67 kg Greco-Roman. He chose not to wrestle Saturday, choosing to announce his retirement via Zoom.
"I'm at peace with what I've accomplished in this sport in such a short period of time," Bunker said, who placed 12th at the 2019 World Championships, was a Final X Champ and a Dave Schultz Memorial International champion. "I'm extremely blessed and grateful for all the support I had with the Marine Corps and Team USA."
Bunker said that, at 27 years old, he will be transitioning full time into mixed martial arts.
Back on the mat, Nick Lee (Titan Mercury Wrestling Club/Nittany Lion Wrestling Club) earned a third-place finish at 65 kg men's freestyle, vanquishing a pair of National Team members — former teammate Zain Retherford (TMWC/NLWC) and then Yianni Diakomihalis (TMWC/Spartan Combat Regional Training Center — that were seeded Nos. 1 and 2, respectively.
Lee blitzed Nahshon Garrett (TMWC/Southeast Regional Training Center), 12-2, and then took on the Retherford, Diakomihalis gauntlet. He used a slick head trap for big points to take down Retherford, 10-4. Then, in a freewheeling, high-scoring finals match, he was too much for Diakomihalis to handle in a 16-8 win.
Women's Freestyle
Alyssa Lampe (Beaver Dam RTC/Sunkist Kids Wrestling Club) shrugged off a semifinal loss and came all the way back for third. Seeded second at 50 kg, she was nipped, 7-6, in the semifinals. On Saturday, she notched a 7-2 decision before locking up a cradle and pinning No. 1 seed Whitney Conder (Army WCAP) in 3:57 in the final.
Dominique Parrish (SKWC), the top seed at 53 kg, was pinned in the semifinals bout bounced back with a couple of strong wins and a forfeit to finish third.
Abigail Nette (SKWC), a two-time member of the U23 World Team, earned a spot on the National Team, by grinding through the wrestlebacks after a quarterfinal loss. She place third with an injury default win over Alli Ragan (SKWC).
Maya Nelson was the third-place finisher at 62 kg by virtue of her semifinal win over Jennifer Page (TMWC), who won the backside of the bracket.
At 68 kg, top-seeded Forrest Molinari (SKWC) bounce back from her challenge tournament upset loss with a 5-0 win in the true second match to secure third.
And, at 76 kg, Victoria Francis (TMWC) bounced back from her challenge finals upset loss with a pin in the true second bout to secure third.
Greco-Roman
Leslie Fuenffinger (Army WCAP) turned away a challenge from Sam Jones (New York Athletic Club/Brunson UVRTC) in the true second bout, Fuenffinger, the top seed, scored a fall in 4:30 to secure third.
RaVaughn Perkins (NYAC) was upset in the quarterfinals, but took a long road back to third place at 77 kg. He won four bouts on the back side of the bracket to earn his National Team spot.
Patrick Martinez (NYAC) earned a fourth spot on the National Team, squeaking past Spencer Woods (Army WCAP) 2-0 in the true second bout at 87 kg.
Lucas Sheridan, the second seed at 97 kg was a semifinal upset victim, but powered back for a third-place finish with a trio of dominating wins, 9-1, a fall in 2:11 and 9-0 in the true second bout.
Jacob Mitchell (Army WCAP) gave up just a point in two matches as he won twice Saturday to earn third place at 130 kg.
Men's Freestyle
Former Ohio State national champion and four-time All-American Nathan Tomasello was seeded seventh at 60 kg but wrestled back for a third-place finish to earn a first berth on the National Team.
Jason Nolf (TMWC/NLWC), the three-time champion and four-time All-American from Penn State, was thumped, 11-0, by Kyle Dake in the 74 kg challenge tournament. Saturday, though, he was back to his old self, rolling to a 10-0 win over Evan Wick (TMWC) in the true second match.
At 86 kg, second-seeded Zahid Valencia (SKWC) roared back from his semifinal loss with 10-0 and 11-1 wins to secure third.
Kyven Gadson nailed down a spot on the National Team with his third-place finish at 97 kg. He pinned Mike Macchiavello (TMWC/Wolfpack Wrestling Club) in the true second bout.
Mason Parris (Cliff Keen Athletics), a 2019 Junior World Champion, earned a spot on the National Team with a third-place finish at 125 kg.
U.S. OLYMPIC TEAM TRIALS - WRESTLING
at Fort Worth Texas, April 3, 2021

Greco-Roman Third Place Matches
60 KG
Sam Jones (NYAC - Brunson UVRTC) dec. Max Nowry (ARMY WCAP) 6-3
67 KG
Xavier Johnson (All-Marine Wrestling Team) tech. fall Nolan Baker (New York Athletic Club) 8-0
77 KG
RaVaughn Perkins (New York Athletic Club) dec. Patrick Smith (Minnesota Storm) 4-0
87 KG
Spencer Woods (ARMY WCAP) inj. dft. Barrett Stanghill (Minnesota Storm) 3:00
97 KG
Lucas Sheridan (ARMY WCAP) pin Daniel Miller (All-Marine Wrestling Team) 2:11
130 KG
Jacob Mitchell (ARMY WCAP) dec. Donny Longendyke (Minnesota Storm), 3-1
Greco-Roman True Second Place Matches (for No. 3 spot on National Team)
60 KG
Leslie Fuenffinger (ARMY WCAP) pin Sam Jones (NYAC - Brunson UVRTC) 4:30
67 KG
Benjamin Peak (Sunkist Kids Wrestling Club) tech. fall Xavier Johnson (All-Marine Wrestling Team) 9-1
87 KG
Patrick Martinez (New York Athletic Club) dec. Spencer Woods (ARMY (WCAP)) 2-0
97 KG
Lucas Sheridan (ARMY (WCAP)) tech. fall Nicholas Boykin (Sunkist Kids Wrestling Club) 9-0
Men's Freestyle Third Place Matches
57 KG
Nathan Tomasello (TMWC) dec. Zane Richards (TMWC/ Illinois RTC) 12-6
65 KG
Nick Lee (TMWC/ NLWC) dec. Yianni Diakomihalis (TMWC/ Spartan Combat) 16-8
74 KG
Evan Wick (TMWC) dec. Logan Massa (Cliff Keen Wrestling Club) 13-9
86 KG
Zahid Valencia (Sunkist Kids Wrestling Club) tech. fall Pat Downey (Sanford MMA) 11-1
97 KG
Kyven Gadson (Sunkist Kids Wrestling Club) dec. Ty Walz (TMWC/ SERTC) 6-0
125 KG
Mason Parris (Cliff Keen Wrestling Club) dec. Anthony Nelson (Gopher Wrestling Club) 6-3
Men's Freestyle True Second Place Matches (for No. 3 spot on National Team)
74 KG
Jason Nolf (TMWC/ NLWC) won by tech fall over Evan Wick (TMWC) 10-0
97 KG
Kyven Gadson (Sunkist Kids Wrestling Club) pin Michael Macchiavello (TMWC/ Wolfpack WC) 0:37
Women's Freestyle
Third Place Matches
50 KG
Alyssa Lampe (Beaver Dam RTC/Sunkist) pin Whitney Conder (ARMY WCAP) 3:58
53 KG
Dominique Parrish (Sunkist Kids Wrestling Club) dec. Alexandra Hedrick (TMWC) 9-4
57 KG
Abigail Nette (Sunkist Kids Wrestling Club) dec. Cameron Guerin (TMWC/ BEARCAT WC) 3-1
62 KG
Jennifer Page (TMWC/ NLWC) dec. Emma Bruntil (TMWC/ BEARCAT WC) 4-1
68 KG
Alexandria Glaude (TMWC/ BEARCAT WC) dec. Alara Boyd (McKendree Bearcat Wrestling Club) 2-2
76 KG
Dymond Guilford (TMWC/ USOPTC) dec. Yelena Makoyed (Cardinal Wrestling Club) 9-6
Women's Freestyle True Second Place Matches (for No. 3 spot on National Team)
50 KG
Alyssa Lampe (Beaver Dam RTC/Sunkist) dec. Amy Fearnside (TMWC/ USOPTC) 6-5
53 KG
Dominique Parrish (Sunkist Kids Wrestling Club) forfeit over Katherine Shai (TMWC/ NCWC)
57 KG
Abigail Nette (Sunkist Kids Wrestling Club) inj. dft. Alli Ragan (Sunkist Kids Wrestling Club)
62 KG
Maya Nelson (Sunkist Kids Wrestling Club) no contest over Jennifer Page (TMWC/ NLWC)
KG
Forrest Molinari (Sunkist Kids Wrestling Club) dec. Alexandria Glaude (TMWC/ BEARCAT WC) 5-0
76 KG
Victoria Francis (TMWC) pin Dymond Guilford (TMWC/ USOPTC) 4:30