Legendary U.S. Greco-Roman Coach and Leader Joe DeMeo, 79, Passed Away
by Gary Abbott, USA Wrestling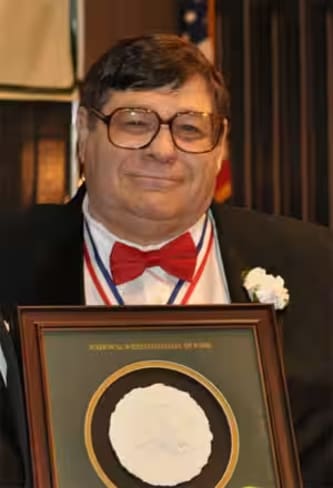 Photo of Joe DeMeo with his national champion ATWA club from four decades ago, as well as his photo from his Hall of Fame induction courtesy of Joe DeMeo's Facebook page.
USA Wrestling is saddened to receive news that longtime Greco-Roman coach and leader Joe DeMeo of Niskayuna, N.Y. has passed away at age 79.
DeMeo dedicated his life to the sport of wrestling, impacting athletes at the youth, high school, college and Olympic level. His enduring legacy is not only the great champions that he has mentored, but also the thousands of lives he has impacted as a coach and leader.
Among the athletes who have competed in the Olympics and were tutored by DeMeo are Shawn Sheldon, Andy Seras, Ike Anderson, Frank Famiano, Chris Catalfo, Dave Schultz, Jeff Blatnick and others. Both Schultz and Blatnick were 1984 Olympic champions, with Schultz winning in freestyle and Blatnick winning in Greco-Roman.
He also coached one of the greatest women wrestlers of all time, two-time World champion and nine-time World medalist Kristie Davis, who, like Schultz and Blatnick, are Distinguished Members of the National Wrestling Hall of Fame.
"He is arguably one of the most consequential figures in U.S. Greco-Roman history. He not only made a lifelong commitment to Greco-Roman athletes, but also a lifelong commitment to making the sport of wrestling better. He never hesitated to question things if he felt they were not right, nor did he ever hesitate to support those things which were good for the sport. We will all miss him," said Rich Bender, USA Wrestling Executive Director.
Two-time Olympian and award-winning Greco-Roman Coach Shawn Sheldon, one of the athletes coached by DeMeo, posted this on Facebook: "Joe was my coach from 1980 until I retired in 2001. He was a great coach and I would not have accomplished what I did in wrestling without him in my corner. He has touched many people lives and was very important in mine. Joe made people stand up and recognize in the wrestling community that there was something special happening in Albany, N.Y. with ATWA. As a coach now, I am trying to follow his footsteps, by helping Joe Warren win his World Championship title and other wrestlers in reaching their potential and achieve their highest goal. He will be missed dearly."
"I am so sorry to hear of Joe DeMeo's passing today. Joe is truly a legend in the sport of Greco Roman wrestling. He was a true pioneer for the sport in the United States. Joe breathed, drank, sweat, and bled Greco when it was not so popular. When you think of the pioneers of Greco-Roman, I think of Dean Rockwell, Alan Rice... and Joe DeMeo! Joe impacted many champions' lives, such as Jeff Blatnick, Shawn Sheldon, Andy Seras, Ike Anderson, Chris Catalfo, Frank Famiano and myself to name a few. Joe made a difference in this sport and in this life! He will be missed," said 1984 Olympic champion Steve Fraser, past USA Wrestling National Greco-Roman coach and current Chief of Donor and Alumni Relations.
USA Wrestling has not yet received information on memorial services for Joe DeMeo, but will announce the details when they become available.
DeMeo has been one of the most successful and respected coaches in Greco-Roman for more than 45 years, coaching numerous athletes who have made U.S. World and Olympic teams. In addition, a number of DeMeo's students have gone on to become tremendous coaches within USA Wrestling.
DeMeo served as head or assistant coach on numerous U.S. World Teams. He was head coach of the 1994 and 1998 and 2001 U.S. World Teams, as well as the 1999 Pan American Games team. He has also served on four U.S. Olympic coaching staffs. DeMeo has been head coach of U.S. teams at the World Cup, the Pan American Games, the Pan American Championships, the Espoir World Championships and Junior World Championships. He coached dozens of other U.S. teams in major international competition.
DeMeo developed one of the greatest Greco-Roman wrestling clubs in history, the Adirondack ThreeStyle Wrestling Association (ATWA) based in the Albany, N.Y. area. He has also been a club coach for the New York Athletic Club. He coached on the national level since 1971, developing Olympians, World Team members and national champions on the Senior level, as well as World Team members and national champions on all of the age-group levels. He also coached many years with Team New York at USA Wrestling's Junior and Cadet Nationals.
He served as head coach at the State University of New York at Albany for 18 years. DeMeo was also a head coach at Stanford Univ., and served an assistant coaching stint at Michigan State. He competed in college for Cornell Univ., and was also a successful freestyle and Greco-Roman wrestler on the Senior level.
He was inducted into the Alan & Gloria Rice Greco-Roman Hall of Champions is located in the NWHOF Dan Gable Museum in 2016. He was also elected to the Upstate New York Chapter of the National Wrestling Hall of Fame. Among the other Wrestling Halls of Fame that he has been inducted include Cornell University, University at Albany and New York State College Halls of Fame. DeMeo has won numerous USA Wrestling coaching awards, most recently named the USA Wrestling Developmental Coach of the Year in 2005.
DeMeo was a leader within USA Wrestling, serving as a member of the Board of Directors for many years, as well as on a number of standing committees.