Greg Strobel Leadership Academy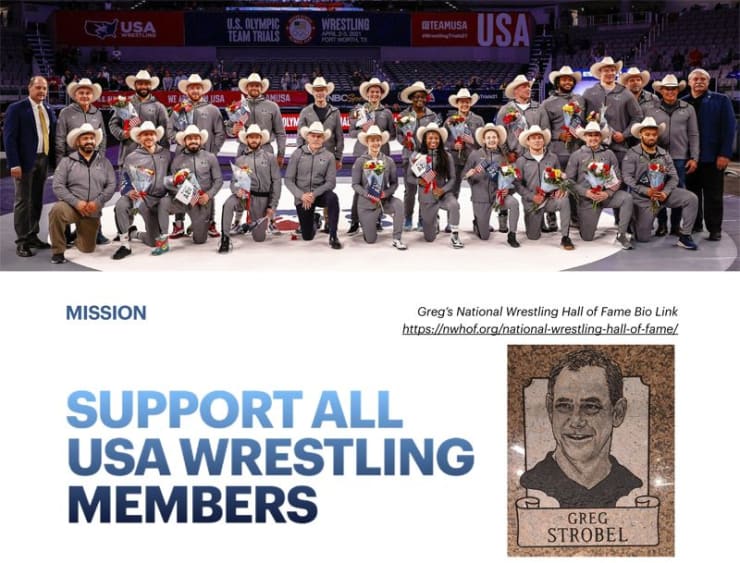 Olympic dreams are realized over a lifetime of managing and developing values of Discipline, Accountability, Family, and A Lifetime of Good Habits.

After Greg's passing, his family reached out to USA Wrestling Executive Director, Rich Bender. The goal was simple, keep Greg Strobel's values alive in the hearts and minds of the USA Wrestling Community.

Since that day, the Greg Strobel Leadership Academy (GSLA) has worked with National Team Coaches and Athletes to determine "gaps" in athlete support with a focus on areas not traditionally covered by coaches and training staff.
USA Wrestling's mission is to help our athletes reach their full human and athletic potential. This means training in areas that are not just "on the mats."
Without taking time away from our national team coaches and key training schedules, GSLA makes additional resources and training opportunities available so that athletes can fill in performance gaps by reducing the "noise" that can cause stress and distractions.
According to psychology research at the University of Texas at Austin, "High levels of the stress hormone cortisol play a critical role in blocking testosterone's influence on competition and domination."
The Greg Strobel Leadership Academy is a training and development program focused on supporting all of our USA Wrestling Athletes by learning, discussing, and sharing experiences around the core values of family, accountability, discipline, and creating a lifetime of good habits. Funds raised for this program will directly support the development of curriculum, a guest lecture series, and other program expenses. Similar programs are in development for our USA Wrestling young adult and 12U age groups.
Greg Strobel was an outstanding athlete, coach, mentor and ambassador to the sport of wrestling. The effect he had on the sport of wrestling is just as important as the impact he had on peoples' lives off the mat. His passion for the sport superseded wins, records, or awards as his focus lied in the preservation and continued development of wrestling, its athletes, and those that love the sport.
Every year Greg challenged himself to make his college wrestling weight to demonstrate the importance of Discipline, Accountability and A Lifetime of Good Habits, while also enriching the lives of others by fostering positive relationships, making connections, and creating a Family atmosphere within the wrestling communities he served. He loved this sport. More so, he loved the people who shared in his adoration of what the principles of wrestling teaches others.
To honor his commitment of creating and teaching others a Lifetime of Good Habits, the Greg Strobel 'Make A Weight' 30-day Challenge has been named in his honor. Funds raised go directly to the Greg Strobel Leadership Academy, which has been created to continue Greg's legacy of teaching others and unleashing full human potential in all areas of life for current and future National Team athletes.
The 30-Day Challenge runs annually from mid-February to mid-March and donations are accepted year-round. Get involved or donate today!
Current Senior Team Target Areas and
Resources
Our support is directly linked to areas that senior national team staff and athletes have currently identified as "stressors" in their lives:


• Finances, Time Management and Decision Making (banking, budgets, savings, taxes, small business operations/support, etc.)

• Counseling and Emotional Support (stress, anxiety and emotional support for athletes, their families, and their support systems, etc.)

• Career and Leadership (helping athletes prepare pathways for careers in/outside of coaching via mentorship and communication support, etc.)
First Annual Greg Strobel Leadership Academy Athlete Advisory Council's Award


High School Athlete Leadership Development
Course
• 7 Week Online Course

• 14 Athletes of All Backgrounds and ability levels

• 6 USA Wrestling Certified Coaches as Team Leads with special guests of USA Wrestling Staff, Coaches, and Senior Team Athletes
We've created a safe environment where mindfulness, positive relationships, and leadership principles are discussed. We introduce up-and-coming young leaders into larger group settings to stimulate challenging thoughts and perspectives together.
Youth Long-Term Athlete Development Model
(ADM)
The ADM utilizes long-term athlete development principles as its framework.
USA Wrestling's ADM is an athlete-centered, coach-enhanced, administrator-supported framework that aims to help all individuals realize their full human and athletic potential while utilizing sport as a path toward an active and healthy lifestyle. These principles are founded on sports science and physical education best practices.
The Youth ADM focuses on coaching concepts working with athletes ages 12 and Under. Key goals for this age group are recruitment and retention of athletes in a safe and fun environment.
The need for the ADM is greater today than perhaps any time. The United States is confronted with the public health crisis of a sedentary lifestyle, physical inactivity, and poor fitness along with many issues in today's hyper-competitive youth sports culture that does not allow for a positive and enjoyable youth sport experience for many.
Both the U.S. Report Card on Physical Activity and Aspen Institute's Project Play Report Card on Youth Sports have issued concern and solutions. USA Wrestling and the USOPC believe that the ADM is one of those solutions.
"Greg was so much to so many including myself. His legacy will go on forever through the countless lives he touched. The GSLA is such an incredible way to honor his legacy and extend his influence to a new group of individual." - Kerry McCoy, Olympian.