News
USA Wrestling
College
USAW
Central Oklahoma seeks first NCAA Div. II title since 2007, with Lander, St. Cloud State and others in hunt
by Johnnie Johnson, Special to TheMat.com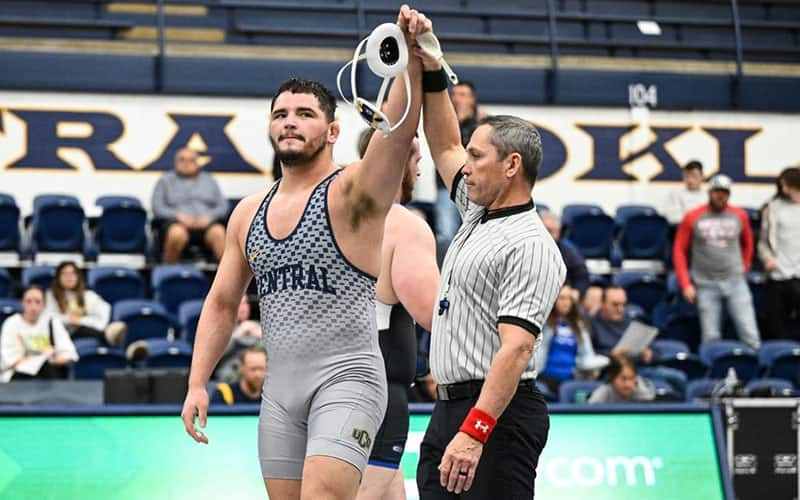 Heavyweight Shawn Streck (Central Oklahoma) is seeded No. 1 at 285 pounds. Photo courtesy of Central Oklahoma Athletics.
The University of
Central Oklahoma
has a long and storied wrestling program, having claimed 15 national championships -- eight in NAIA (1979, '81, '82, '84, '85, '86, '87 and '89) and seven since joining NCAA Division II in 1990 (1992, '93, '94, '95, '02, '03 and '07). UCO has also had nine national runner-up finishes in four different divisions – AAU (1935), NCAA Division I (1936), NAIA (1974 and '88) and NCAA Division II (1990, '91, '96, '00 and '22). Central boasts 38 top-four national tournament finishes in its 69-year history, including 34 in the last 50 years. The Bronchos were runner-up to Nebraska-Kearney in last year's national tournament, and have not won a national title since 2007.
A long season comes to its conclusion this weekend at the 2023 NCAA Division II Wrestling Championships in Cedar Rapids, Iowa, and Central Oklahoma will be one of the leading contenders for the team title.
The top-ranked Bronchos earned 10 individual qualifiers, nine of whom are seeded in the top eight at their weight. UCO is the only team with a full 10-man contingent, though No. 2
Lander
is right behind with nine.
No. 6
West Liberty
and No. 9
Pittsburgh-Johnstown
both have eight qualifiers. No. 3 (tie)
St. Cloud State
-- which has won five of the last seven titles -- and defending champion and No. 7
Nebraska-Kearney
qualified six apiece. Other top contenders are expected to be No. 3 (tie)
Wisconsin-Parkside
(five qualifiers), No. 5
Adams State
(five), No. 8
Gannon
(seven) and No. 10
Indianapolis
(seven).
There are 18 individuals at each of the 10 weights for a total of 180 qualifiers. In the last NWCA D-2 Coaches Poll, Central Oklahoma was ranked No. 1 with 104 points and 10 ranked wrestlers. Lander earned 84 points and had seven ranked wrestlers. St. Cloud State and Wisconsin-Parkside were tied for third with 67 points. The Huskies had six ranked wrestlers while the UW-Parkside Rangers had five.
Eight of those ranked No. 1 in the last ranking found themselves as No. 1 seeds in D2, with two-time defending national champion
Cole Laya
of West Liberty retaking the #1 spot at 125, and defending national champion
Dalton Abney
of Central Oklahoma retaking the #1 spot at 197 heading into Nationals.
The top-ranked Bronchos feature a pair of No. 1 seeds in Abney and
Shawn Streck
at 285. Other top ranked wrestlers include
Quetrevion Campbell (1
33) from Chadron State,
Zeth Brower of Lander (141), Jacob Ealy of Pitt-Johnstown (149),
Adams State's
Noah Hermosillo
(157),
Shane Gantz of Wisconsin-Parkside (165), Abner Romero of St. Cloud State (174)
and Nebraska-Kearney's
Billy Higgins
(184).
UCO finished 12-1 in duals this season, losing only to St. Cloud State (19-16) in the NWCA Division II National Duals finals. UCO rolled to their third consecutive Super Regional IV championship Feb. 26 at Hamilton Field House in Edmond, racking up 169.5 points to finish 38.5 ahead of runner-up Indianapolis. The Bronchos had seven individual champions, two runners-up and one third-place finisher in that dominating performance, going 32-3 with 18 bonus-point wins in the tournament. UCO's 10 qualifiers enter the final weekend with a combined 221-52 record, including 109 bonus wins.
A bit about the UCO qualifiers:
• 125-pounder, Studd Morris, Jr. making his national tournament debut and is seeded sixth with 32-5 record that includes 16 bonus wins (10 majors, five falls, one tech)
• Dylan Lucas (133), So., also making his national tournament debut and is seeded eighth with 18-5 record that includes 15 bonus wins (six majors, five falls, four techs). Lucas, a Juco national runner-up at 149 in 2017 for Northeastern Oklahoma A&M, then was out of wrestling until coming to UCO this season.
• 141 Nate Keim, Sr., is seeded sixth with 22-6 record that includes nine bonus wins (four falls, four majors, one tech)
• Brik Filippo, Sr., seeded eighth at 149 with 23-9 record that includes 14 bonus wins (six techs, four majors, four falls). He earned a third trip to national tournament.
• Gabe Johnson, RS Fr. – Seeded third at 157 with 30-5 record that includes 11 bonus wins (five techs, four majors, two falls)
• 133-pounder Ty Lucas, Sr., is seeded seventh with 17-10 record that includes four bonus wins (two techs, two majors), and is a Four-time national qualifier and two-time All-American.
• Anthony DesVigne, Jr., also making his first national tournament appearance at 165 and is seeded fifth with 28-6 record that includes 13 bonus wins (five techs, five majors, three falls)
• Senior Alex Kauffman (184) was a national qualifier last year at 174. He was a two-time NJCAA All-American for Northeast Oklahoma A&M, then spent two years at Oklahoma State.
• 197-pound Dalton Abney, Jr. – A defending national champion seeded first with 19-2 record that includes nine bonus wins (four falls, four techs, one major). Abney is a three -time All-American making fourth national tournament appearance Earned All-American honors from NWCA in 2020 after national tournament was canceled by COVID, then was runner-up in 2021 before winning title last year to cap 26-0 season, and has 70-6 career record with 36 bonus wins.
• Shawn Streck, Jr., a 285-pounder is seeded first with 22-0 record that includes 15 bonus wins (nine falls, six majors, one tech) Division I national qualifier at Purdue in 2018, then was out of wrestling until coming to UCO last year. He has 34-2 career record with 24 bonus wins.
"We accomplished our main goal at the regional in qualifying all 10 of our guys, but that doesn't mean anything once the tournament starts," head coach Todd Steidley said prior to nationals. "There's a lot of parity in Division II with a of bunch of great teams and every weight is loaded. We just need to worry about ourselves and be ready to wrestle every time we step on the mat."
"Take each match as it comes, not look ahead and be ready to respond if something doesn't go our way. It's going to be a big challenge, but our guys are looking forward to it. This is what we've worked and prepared for since September. Now it's time to let loose and have some fun," said Steidley.
Lander University had seven wrestlers place first at the Super Region II Championships. James Joplin (125), Elijah Lusk (133), Zeth Brower (141), David Hunsberger (165), Logan Hall (184), Anthony Yacovetti (197) and Juan Edmond-Holmes (285) all won their respective weight classes. Also making their way to the National Championships this year are Jack Tangen and Gage Bernall who finished second and third at 149 and 157 respectively The Bearcats were ranked No. 2 behind Central Oklahoma for the second straight poll.
Joplin, Lusk, Brower, Hunsberger, Hall, Yacovetti and Edmond-Holmes were all ranked in the top eight with Brower ranked first at 141, Joplin ranked third at 125 and Lusk, Hunsberger and Hall ranked fourth at 133, 165 and 184. Lander has seen wrestlers make the National Championships for three straight seasons. Last season saw four wrestlers advance to St. Louis where Zeth Brower became Lander wrestling's first All-American and National Champion.
Four of the six St. Cloud State national qualifiers are seeded entering the 2023 NCAA Championships. The third ranked Huskies Abner Romero earned the top seed at 174 pounds, Nick Novak will enter as the No. 2 seed at 157 while both 149-pounder Joey Bianchini and 197-pounder Dominic Murphy picked up No. 4 seeds. Caleb Meekins will begin his tournament at 133 with a pigtail match. At 165, Anthony Herrera will match up with fourth-seeded David Hunsberger of Lander, the Super Region II Champion..
UW-Parkside has 5 D-2 qualifiers and are tied for third with SCSU in the team rankings. The Rangers' Shane Gantz remains the top-ranked wrestler in the 165-pound class with a 32-0 record on the season. Gantz will look to make an impact at the national championship where he finished runner-up in the 2022 tournament. Redshirt sophomore Cayden Henschel moves up in the rankings to No.2 in the 141-pound class. Henschel has a 26-3 record on the season and will head to his first ever NCAA National Championships. Freshman Shane Corrigan moves back inside the top-five as he earned the No.4 ranking in the 125-pound class. Corrigan, a true freshman from De Pere, Wis. has earned a 30-6 record including a nine-match winning streak heading into the NCAA. Redshirt sophomore Reece Worachek moves back into the top-five after being named the No.5 wrestler at 184-pounds. Worachek will make his second consecutive national championship appearance after finishing eighth in the 2022 tournament. Redshirt sophomore Jalen Spuhler remains ranked No.6 in the rankings following a second place finish at the NCAA Super Regional.
Moving up from the eight spot to No. 5 in the nation is Adams State with five qualifiers. Of those five Grizzly wrestlers, four were regional champions. Qualifying at 125 pounds was No. 3-ranked Brendon Garcia, at 149 pounds was No. 3-ranked Josiah Rider, at 157 pounds was undefeated and No. 1 ranked Noah Hermosillo, at 165 was Aaden Valdez and at 184 was Hunter Tobiasson.
The sixth ranked West Liberty University wrestling team is set to have eight wrestlers competing in the NCAA DII National Championships. The Hilltoppers are coming off their third straight NCAA Super Region 3 team title behind eight national qualifiers (top-3 finishers) and two first place finishers (Cole Laya – 125 and Jacob Simpson – 149). All four returners from last year's national championship lineup are back in the field this season (Cole Laya – 125, Chase Morgan – 174, Ty McGeary – 184, Francesco Borsellino – 285), they will be joined by first year Hilltoppers Vincent Scollo (133) and Jamar Williams (157), as well as senior Jacob Simpson (149) and junior Alec Cook (165) making their first appearances at nationals.
West Liberty battled to a third-place team finish last year in St. Louis, the best finish in WLU's NCAA Division II era. Five Hilltoppers placed in 2022, two of which are back competing this year. Laya placed first at 125 for the second consecutive season and McGeary came in third at 174 (he will compete at 184 this year). Cole Laya will be the No. 1 seed in the 125-lbs. bracket looking to make it three straight national titles. Laya is coming off his fourth career and third consecutive super region championship. Vincent Scollo is the seven seed at 133 and placed second at the super regionals. This will be Scollo's second straight national tournament after going 1-2 in 2022. Jamar Williams, a previous national qualifier in 2021, has a 17-1 record in his first season on the hilltop and is the No. 7 seed the 157.
Chase Morgan is up a weight class to 174 and will be in his third appearance at the national tournament after qualifying the past two seasons at 165. Morgan comes in with a 15-11 overall record and will take on No. 2 seed Max Bruss of Mary, in the first round. Ty McGeary pinned his first three opponents at the Super Region 3 Championships to claim a national tournament bid, then dropped his first match of the season (3-1) to the No. 4 ranked wrestler in his class. McGeary, with a 24-1 record this season, will be the No. 3 seed in the 184 bracket. Last season, McGeary went on to finish third at the NCAA National Championships competing at 174. Francesco Borsellino rounds out the lineup ranked fifth in the national rankings with a 21-5 overall record. Borsellino finished seventh in 2021 then dropped both bouts last season in St. Louis.
UNK is defending national champions and has placed in the top eight for 20 straight seasons, The team comes into the NCAA meet ranked seventh. Nebraska Kearney wrestling team has three high seeds among six qualifiers. Redshirt junior Billy Higgins is the top-seed at 184 pounds, redshirt senior Lee Herrington is second at 285 lbs. with redshirt senior Austin Eldredge third at 174 lbs. Also headed to Iowa are redshirt junior Nick James (141 lbs.), senior John Burger (149 lbs.) and redshirt freshman Kaden Hart (165 lbs.) Higgins (24-2) also lost only two matches all season, both coming in Las Vegas to wrestlers from Michigan and Ohio State. He's on a 15-match win streak and is 19-0 vs. D2 competition. Next, Herrington (24-4) is 18-1 vs. D2 competition with the only setback coming to top-ranked and top-seed Shawn Streck of Central Oklahoma, 7-3. Finally, Eldredge (24-4) is among D2 tech fall leaders with 12 and like Higgins, Herrington and James, is trying to repeat as an All-American (top eight finish).
Gannon University has seven national qualifiers and are ranked No. 8 in the latest NWCA Coaches Poll. Nick Young, Dom Means, Alex Farenchak and Joel Leise are all former All-Americans in their final seasons who have finished from second place to seventh in past NCAA tournaments. Young (26-5) is seeded No. 3 at 149 pounds, Means (25-7) is No. 8 at 157, Farenchak (11-0) is No. 2 at 165, and Leise (11-2) is No. 7 at 197. If they have a big weekend, Gannon could record a lofty finish as a team. Together, the Golden Knights' veteran foursome has a 73-14 record this season, and each has the potential to make a run at an elusive goal – a national title. They will be joined by redshirt senior Jose Diaz (125), redshirt sophomore Jimmy Ryan (141), and redshirt freshman Cole Casilio (174), each of whom is making a first appearance in the national meet.
"We have a veteran group returning to the NCAA Tournament on a mission," said Don Henry, Gannon's 39th-year head coach.
Coach Pat Pecora doesn't like to look at rankings. After the release of the NCAA Division II Wrestling Championships brackets, it's easy to see why. Pitt-Johnstown's Jacob Ealy is the top seed at 149 pounds, and Nate Smith (157) and Brock Biddle (184) are sixth in their respective brackets. The five other Mountain Cats headed to Cedar Rapids didn't get many breaks. At 125, freshman Trevon Gray (22-4), who won a Super Region I title, will face second-seeded Brendan Garcia of Adams State. Heavyweight Isaiah Vance, who is 20-4 and ranked sixth nationally by The Open Mat, gets third-seeded Jared Campbell. Caleb Morris, a two-time national qualifier who is 19-5 this season, is matched up with fourth-ranked Christian Small of King.
"They diss us. I don't know what it is," said Pecora, who is in his 47th season as head coach of the Mountain Cats. "Actually, I do. They get these individual rankings at the beginning of the year, but they don't change unless there are head-to-head meetings."
Under the current system, rankings from the National Wrestling Coaches Association are used to determine the top eight seeds. The remainder of each 18-man bracket is filled by a random draw. Ealy, a junior with a 26-0 record, is in the best position to become the 15th Pitt-Johnstown wrestler to win an NCAA championship. Ealy already has wins over No. 2 Josiah Rider of Adams State and No. 3 Nick Young of Gannon this season. Smith is a returning All-American with a 20-4 record, while Biddle is a three-time All-American who is 22-6 this season.
The University of Indianapolis, ranked No. 10, qualified seven of their ten wrestlers advancing to the national tournament. Jack Eiteljorge (165) became just the second Greyhound in program history to win three regional titles. Breyden Bailey (133), Ray Rioux (141), Logan Bailey (157), Owen Butler (174), Derek Blubaugh (197) and Cale Gray (285) will also be heading to Cedar Rapids. The seven qualifiers, matches the mark for this program. The Hounds finished second at the regional as a team, scoring 131 points, finishing as runner-up to the champions Central Oklahoma.
The 2023 NCAA Division II National Championships will be held at the Alliant Powerhouse in Cedar Rapids, Iowa, March 10-11. Preliminary- and first-round action begins at 10 a.m. at the Alliant Energy Powerhouse, with the quarterfinals and two rounds of consolations at 5 p.m. The tournament resumes Saturday at 10 a.m. with the semifinals and conclusion of all consolation matches, then concludes with the championship finals at 7 p.m.
NCAA Div. II brackets