News
USA Wrestling
College
USAW
Big 12 Preview: Missouri looks to keep conference title streak alive, but OSU, ISU aim to start their own
by Adam Engel, Special to TheMat.com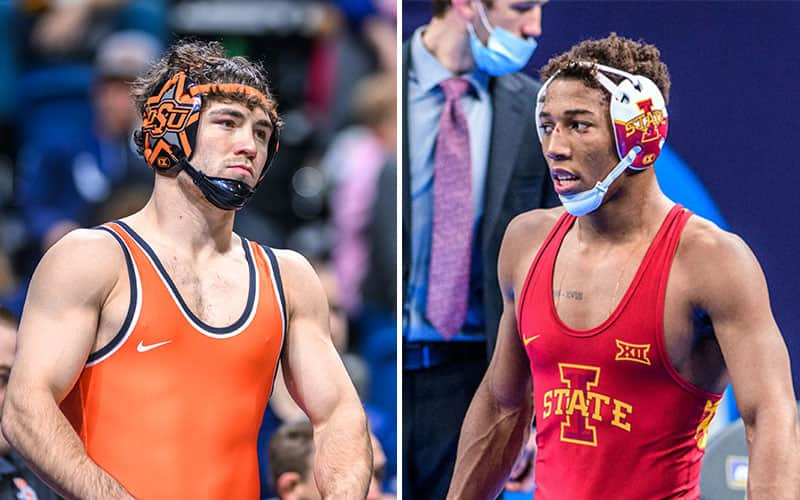 Daton Fix (Oklahoma State) and David Carr (Iowa State) competition portraits by Tony Rotundo, Wrestlers Are Warriors.
A battle for Big 12 Conference supremacy continues and it appears similar to last year's edition.
Missouri
enters the Big 12 Championships this weekend at the BOK Center in Tulsa as the favorite, based on projected points via seeding. Missouri earned 10 seeds while Oklahoma State and West Virginia earned nine.
The Tigers seek its second straight Big 12 title and its 11th consecutive conference title.
Oklahoma State
looks to regain its top spot, and
Iowa State
comes off one of its best seasons in years.
The tournament can be viewed on ESPN+ with Sunday night's finals on ESPNU.
You can watch each mat using this link. https://www.espn.com/watch/collections/22508/live-upcoming
Here is a weight-by-weight breakdown of the tournament.
125 pounds (six automatic qualifying bids) -
West Virginia boasts its lone No. 1 seed with Killian Cardinale, a two-time All-American and defending Big 12 champion. Cardinale remains the favorite but look for several challengers including U20 World champion Jore Volk of Wyoming and Missouri's Noah Surtin.
Volk went 5-2 in Big 12 duals with wins over Surtin, Northern Colorado's Stevo Poulin, South Dakota State's Tanner Jordan and others.
Look out for Oklahoma's Joey Prata, a seventh-year with more than 100 career matches. California Baptist's Elijah Griffin, a Tulsa native, could be the school's first Big 12 placer. He majored Volk, 10-1, in late January.
133 pounds (six automatic qualifying bids)
- Oklahoma State's Daton Fix remains undefeated against Big 12 opponents (47-0). He seeks his fourth Big 12 title. Northern Iowa's Kyle Biscolgia, a No. 2 seed, lost to Fix in 2022's final, 6-2.
North Dakota State's McGwire Midkiff and Northern Colorado's Jace Koelzer could push for an NCAA bid.
Air Force's Cody Phippen dropped from 141 this season and didn't lose in a Big 12 dual. He would qualify for his first NCAA Championships if he wrestles to his seed.
141 pounds (seven automatic qualifying bids)
- Old teammates could meet in the finals.
Northern Colorado's Andrew Alirez, nationally ranked at No. 1, won last year's tournament and blazed through the regular season at 20-0. He posted an 80% bonus point rate.
If everything goes chalk, he will meet Oklahoma's Mosha Schwartz, a former Northern Colorado Bear. It would be the pair's first meeting. Schwartz was a two-time NCAA qualifier at 133 pounds.
Don't count out the depth in this weight with multiple returners such as Missouri's Allan Hart who finished runner-up in 2022. South Dakota State's Clay Carlson earned All-American honors in 2021.
149 pounds (seven automatic qualifying bids)
- Several competitors will contend in this loaded class.
Missouri's Brock Mauller, a 2021 All-American, earned the top seed with an undefeated Big 12 record and wins over the No. 2-No. 6 seeds. He finished the dual season with a pin over Iowa State's Paniro Johnson, the No. 3 seed.
Northern Iowa's Colin Realbuto is the only returning NCAA qualifier at this weight. He finished third and the others either graduated, redshirted or moved up a weight.
Johnson's resume includes wins over Wisconsin's Austin Gomez, Iowa's Max Murin, Penn State's Shayne Van Ness and others.
157 pounds (seven automatic qualifying bids)
- North Dakota State's Jared Franek, nationally No. 2, will lead this weight as the top seed. He only lost to No. 1 Peyton Robb on Nebraska in his season opener. Franek beat four of those seeded at the Big 12 Championships and finished runner-up in 2022.
Oklahoma State's Kaden Gfeller could collide with Franek in the final. It would be the pair's first meeting. Gfeller seeks his third Big 12 title and first at 157. He graduated in 2022 and quit his full-time job to return for his final year of eligibility.
Brackets could be busted with the depth at this weight. This group returns four 149-pound NCAA qualifiers from 2022 — Franek, Wyoming's Jacob Wright, Missouri's Jarrett Jacques and Northern Iowa's Derek Holschlag.
165 pounds (eight automatic qualifying bids)
- National storylines in this weight dominate the tournament. National No. 1 vs No. 2. Iowa's David Carr vs Missouri's Keegan O'Toole, defending national champion.
Carr beat O'Toole, 7-2, in February but both said they expect a rematch in Tulsa. Carr, who moved to 165 this season, won a 157-pound national championship in 2021 and finished third in 2022. He seeks his fourth Big 12 title while O'Toole looks for his second Big 12 title. Both are also Junior World champions.
Expect craziness at this weight with eight automatic qualifications.
This weight features six combined All-American honors. West Virginia's Peyton Hall found the podium at the 2022 NCAA Championships and looks to build off a 22-3 regular season. NDSU's Michael Caliendo, a redshirt freshman, emerged as a force. He beat Stanford's Shane Griffith, a national champion, in a dual but lost to him at the Southern Scuffle.
174 pounds (six automatic qualifying bids)
- A rematch of last year's final could occur with the finalists as No. 1 and No. 2 seeds. Missouri's Peyton Mocco, last year's runner-up earned the top seed while Oklahoma State's Dustin Plott received the No. 2. Plott, a 2022 All-American, beat Mocco, 4-3, in the final but lost 4-3 in this season's dual.
Others could emerge or break through. Utah Valley's Demetrius Romero, a 2021 All-American, is an eighth year with more than 150 career matches. SDSU's Cade DeVos beat Plott in a February dual.
184 pounds (four automatic qualifying bids)
- Competition could be stiff in this weight with the lowest number of automatic qualifying bids. Northern Iowa's Parker Keckeisen remains the clear favorite with an 18-1 regular season and two third-place finishes at the NCAA Championship. Keckeisen, known for his strong gas tank and flexible scrambles, seeks his third Big 12 championship.
Several All-Americans are seeded behind Keckeisen. No. 2 Marcus Coleman of Iowa State finished seventh at the NCAA Championships in 2022. No. 3 Travis Wittlake of Oklahoma State, a two-time All-American, wrestled at 165 before this season.
197 pounds (six automatic qualifying bids)
- The Big 12 flexes its depth here with three All-Americans competing for a title. SDSU's Tanner Sloan enters as the No. 1 seed and finished with 20-1 mark. He beat five of the seeds in the regular season. He didn't meet Iowa State's Yonger Bastida and West Virginia's Austin Cooley.
Bastida earned All-American honors in 2022 and Missouri's Zach Elam earned two All-American honors.
Heavyweight (eight automatic qualifying bids)
- A national leader looks to repeat.
Air Force's Wyatt Hendrickson, a 2022 Big 12 champion, leads Division I with 14 falls. He rolls into Tulsa at 20-1 with his only loss against national No. 1 Mason Parris of Michigan at the Cliff Keen Invitational.
Hendrickson only wrestled three seeded Big 12 competitors this season. Look out for many challengers such as Missouri's Zach Elam, Iowa State's Sam Schuyler and others.
Hendrickson moves like a lightweight with speedy footwork and agility not seen often at this weight.
Pre-seeds

125 pounds
No. 1 Killian Cardinale (West Virginia)
No. 2 Jore Volk (Wyoming)
No. 3 Noah Surtin (Missouri)
No. 4 Stevo Poulin (Northern Colorado)
No. 5 Kase Mauger (Utah Valley)
No. 6 Tanner Jordan (South Dakota State)
No. 7 Joey Prata (Oklahoma)
No. 8 Elijah Griffin (California Baptist)
133 pounds
No. 1 Daton Fix (Oklahoma State)
No. 2 Kyle Biscoglia (Northern Iowa)
No. 3 Zach Redding (Iowa State)
No. 4 Cody Phippen (Air Force)
No. 5 Connor Brown (Missouri)
No. 6 Hunter Leake (California Baptist)
No. 7 McGwire Midkiff (North Dakota State)
No. 8 Jace Koelzer (Northern Colorado)
141 pounds
No. 1 Andrew Alirez (Northern Colorado)
No. 2 Mosha Schwartz (Oklahoma)
No. 3 Cael Happel (Northern Iowa)
No. 4 Carter Young (Oklahoma State)
No. 5 Clay Carlson (South Dakota State)
No. 6 Allan Hart (Missouri)
No. 7 Dylan Droegemueller (North Dakota State)
No. 8 Jordan Titus (West Virginia)
149 pounds
No. 1 Brock Mauller (Missouri)
No. 2 Colin Realbuto (Northern Iowa)
No. 3 Paniro Johnson (Iowa State)
No. 4 Kellyn March (North Dakota State)
No. 5 Victor Voinovich (Oklahoma State)
No. 6 Mitch Moore (Oklahoma)
No. 7 Chris Sandoval (Northern Colorado)
No. 8 Sam Hillegas (West Virginia)
157 pounds
No. 1 Jared Franek (North Dakota State)
No. 2 Kaden Gfeller (Oklahoma State)
No. 3 Jarrett Jacques (Missouri)
No. 4 Cael Swensen (South Dakota State)
No. 5 Derek Holschlag (Northern Iowa)
No. 6 Jacob Wright (Wyoming)
No. 7 Jason Kraisser (Iowa State)
No. 8 Alex Hornfeck (West Virginia)
165 pounds
No. 1 David Carr (Iowa State)
No. 2 Keegan O'Toole (Missouri)
No. 3 Michael Caliendo (North Dakota State)
No. 4 Peyton Hall (West Virginia)
No. 5 Gerrit Nijenhuis (Oklahoma)
No. 6 Wyatt Sheets (Oklahoma State)
No. 7 Tanner Cook (South Dakota State)
No. 8 Baylor Fernandes (Northern Colorado)
174 pounds
No. 1 Peyton Mocco (Missouri)
No. 2 Dustin Plott (Oklahoma State)
No. 3 Sam Wolf (Air Force)
No. 4 Demetrius Romero (Utah Valley)
No. 5 Tate Picklo (Oklahoma)
No. 6 Cade DeVos (South Dakota State)
No. 7 Lance Runyon (Northern Iowa)
No. 8 Scott Joll (West Virginia)
184 pounds
No. 1 Parker Keckeisen (Northern Iowa)
No. 2 Marcus Coleman (Iowa State)
No. 3 Travis Wittlake (Oklahoma State)
No. 4 Colton Hawks (Missouri)
No. 5 DJ Parker (North Dakota State)
No. 6 Keegan Moore (Oklahoma)
No. 7 Cade King (South Dakota State)
No. 8 Anthony Carman (West Virginia)
197 pounds
No. 1 Tanner Sloan (South Dakota State)
No. 2 Rocky Elam (Missouri)
No. 3 Yonger Bastida (Iowa State)
No. 4 Luke Surber (Oklahoma State)
No. 5 Owen Pentz (North Dakota State)
No. 6 Evan Bockman (Utah Valley)
No. 7 Calvin Sund (Air Force)
No. 8 Austin Cooley (West Virginia)
Heavyweight
No. 1 Wyatt Hendrickson (Air Force)
No. 2 Sam Schuyler (Iowa State)
No. 3 Zach Elam (Missouri)
No. 4 A.J. Nevills (South Dakota State)
No. 5 Michael Wolfgram (West Virginia)
No. 6 Josh Heindselman (Oklahoma)
No. 7 Tyrell Gordon (Northern Iowa)
No. 8 Konner Doucet (Oklahoma State)
Big 12 Wrestling Championships
At Tulsa, Okla., March 4-5
Saturday, March 4
10 a.m. (CT) Session I (Preliminary matches)
12:30 p.m. (CT) Session I (Quarterfinals)
5 p.m. (CT) Session II (First round consolations)
7:30 p.m. (CT) Session II (Second round consolations)
8:30 p.m. (CT) Session II (Semifinals)
Sunday, March 5
12 p.m. (CT) Session III (Consolation semifinals and 7th place matches)
1:30 p.m. (CT) Session III (3rd and 5th place matches)
8 p.m. (CT) Session IV (Championship matches)