Five finals pins, three overtime bouts highlight 16U Folkstyle Nationals finals; Phetxoumphone named OW
by Richard Immel, USA Wrestling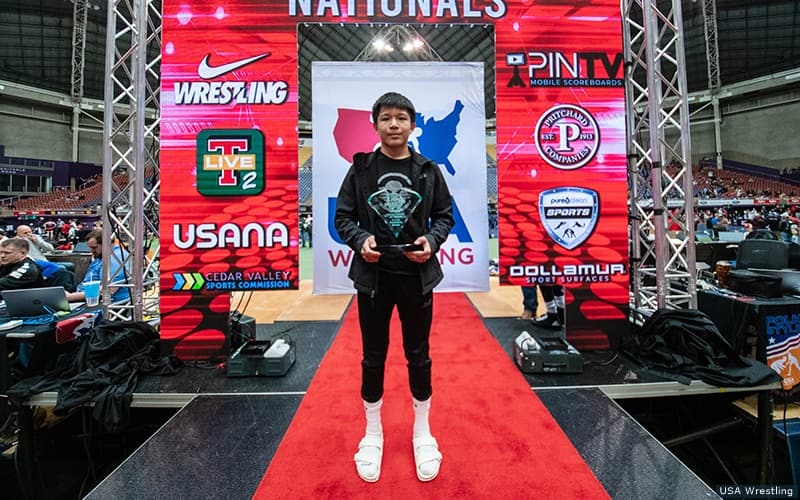 Photo: 16U 113-pound champion and Outstanding Wrestler recipient Linden Phetxoumphone of Iowa. (Richard Immel/USA Wrestling)
🎥:
2023 USA Wrestling Folkstyle Nationals champion interviews
CEDAR FALLS, Iowa – A high-flying set of 16U finals has concluded at the UNI Dome with five athletes posting pins to win top prize at USA Wrestling Folkstyle Nationals, plus three bouts needing extra time to decide a victor.
Iowa's Linden Phetxoumphone was named Outstanding Wrestler in the 16U division after claiming the 113-pound title with a 4-2 sudden victory win over Tyler Turzinski of Minnesota.
Also winning the coveted USA Wrestling stop sign in overtime frames were 138-pound champion Tyler Traves of Virginia and 182-pound champion Max Matthias of Wisconsin. Traves rode out Illinois' Donavon Allen in the 30-second ultimate tie breaker. Matthias scrambled his way to a takedown and back points in sudden victory against Missouri's Brice Henry.
Kellen Downing of Montana, Bradley Rodriguez-Little of Minnesota, Broedy Collins Hendricks of Iowa, Dreshaun Ross of Iowa and Garett Kawczynski of Wisconsin all impressively pinned their finals opponents on Saturday morning.
Every match from the USA Wrestling Folkstyle Nationals can be viewed on-demand on
FloWrestling.com
. Complete brackets and match-by-match results are available on
Trackwrestling.com
.
2023 USA Wrestling Folkstyle Nationals
March 31 – April 2, UNI Dome, Cedar Falls, Iowa
16U Final Results
88 pounds
1st – Kellen Downing (MT) fall Landon Thoennes (MN), 1:01
3rd – Onofre Gonzales (CO) dec. Kaiden Belinsky (IA), 4-1
5th – Zander Manz (IA) dec. Trexden Olsen (UT), 3-1
7th – Sonny Hicks (OK), bye
94 pounds
1st – Kaison Schreier (MO) maj. dec. Cason Craft (OK), 12-2
3rd – Layne Martin (MI) fall William Du Chemin (WI), 1:23
5th – Peyton Van Hoven (VA) fall Oscar Gauna (KS), 3:21
7th – Trace Rial (IA) maj. dec. Micah Woods (NV), 9-0
100 pounds
1st – Caleb Noble (IL) maj. dec. Saxton Scott (ID), 14-5
3rd – Camden Rugg (WI) dec. Aiden Hahn (MO), 5-0
5th – Steven Vaughn (MI) maj. dec. Ethan Sharp (UT), 11-1
7th – Jackson Soney (IL) dec. Westin Ingham (WI), 3-0
106 pounds
1st – Alex Rozas (LA) dec. Henry Aslikyan (CA), 3-0
3rd – Zaiyahn Ornelas (NE) fall Brett Swenson (MN), 3:23
5th – Benjamin Walsh (IA) forfeit Jonathan Marquez (IL)
7th – Jackson Olson (IL) fall Patrick Provost (MO), 1:46
113 pounds
1st – Linden Phetxoumphone (IA) dec. Tyler Turzinski (MN), 4-2 SV-1
3rd – Boden Banta (ID) dec. Carter Wallis (MO), 2-1
5th – Demetrios Carrera (IL) dec. Jeremiah Gonzalez (ID), 3-2 TB-1
7th – Tohmi Carney (OK) dec. Christopher Grossman (MT), 8-4
120 pounds
1st – Isaiah Jones (OK) dec. Austin Collins (CO), 10-4
3rd – Braylon Reynolds (IN) dec. Legend Ellis (OK), 2-0
5th – Jake Kos (MN) dec. Nathan Gugelman II (ID), 2-0
7th – Toby Shipman (OK) maj. dec. Joey Enzminger (ND), 11-0
126 pounds
1st – Christian Jelle (MN) maj. dec. Kameron Luif (IL), 11-3
3rd – Presley Johnson (MO) dec. Julio Aguirre (KS), 4-3
5th – Logan Shaver (ID) fall Carter Siebel (IA), 2:33
7th – Dylan Colleran (IA) fall Caiden Selof (IL), 1:38
132 pounds
1st – Dean Anderson (AZ) dec. Drake Morrison (ID), 4-3
3rd – Davis Parrow (MN) dec. Jase Jaspers (IA), 8-2
5th – Hunter Stevens (WI) dec. Maximus Dhabolt (IA), 9-6
7th – Noah Johnson (MO) fall Deegan Birkaker (MN), 4:27
138 pounds
1st – Tyler Traves (VA) dec. Donavon Allen (IL), 5-4 UTB
3rd – Sullivan Ramos (WI) dec. Lorenzo Gallegos (NM), 5-2
5th – Connor Peterson (MN) fall Jacob Bell (CA), 0:23
7th – Julius Pacheco (MI) dec. Joaquin Moralez (AR), 3-0
145 pounds
1st – Brody Sendele (IL) maj. dec. Tyler Harrill (NE), 8-0
3rd – Nolan Fellers (IA) dec. Auston Eudaly (CO), 7-2
5th – Colby Gray (MO) dec. Carlos Valdez (ID), 7-1
7th – Jacob Baughcum (GA) dec. Boden White (IA), 6-4
152 pounds
1st – Bradley Rodriguez-Little (MN) fall Royce Lopez (IL), 4:43
3rd – Kale Baumann (MT) dec. Brandon Dean (NJ), 6-0
5th – Rocker Aguilar (ND) dec. Damion Hamilton (ID), 3-2
7th – Findley Smout (TN) dec. Jacob Hiland (IA), 4-3
160 pounds
1st – Kyler Knaack (IA) dec. Aaron Stewart (IL), 2-1
3rd – Eli Leonard (WI) fall Jackson Barron (MN), 6:00
5th – Luke Hayden (MO) fall Elijah Schunke (SD), 0:35
7th – Ritchie Bruno (CO) dec. Alexander Wahl (MT), 8-5
170 pounds
1st – Broedy Collins Hendricks (IA) fall Eli Larson (IL), 3:57
3rd – Luke Hoag (MN) maj. dec. Braeden Simoneaux (LA), 10-2
5th – Quinten Attebury (MO) maj. dec. Jacob Henderson (MN), 8-0
7th – Niko DeZiel (WI) dec. Oliver McPeek (IL), 8-3
182 pounds
1st – Max Matthias (WI) dec. Brice Henry (MO), 9-5 SV-1
3rd – Joseph Muhlstein (MN) dec. William Ward (ND), 8-5
5th – Evan McGuire (MN) maj. dec. Noah Mathis (KS), 13-5
7th – Owen Burling (WI) dec. Isaac Ward (MO), 4-3
195 pounds
1st – Dreshaun Ross (IA) fall Deangelo Sardina (WI), 1:25
3rd – Deacon Moran (MO) maj. dec. Jesse Schneck (SD), 13-4
5th – Theodore Pax Jr. (MN) med. for. Brody Sardina (WI)
7th – Layne O`Neil (MI) fall Cristian Velasquez (TN), 2:39
220 pounds
1st – Garett Kawczynski (WI) fall Hayden Smith (IN), 1:12
3rd – Zander Glazebrook (IA) dec. Nehemiah Lendobeja (WI), 3-1
5th – Hyrum Heindel (ID) fall Solly Jonas (ND), 0:27
7th – Jay Krueger (WI) fall Cesar Palacios (ID), 1:37
285 pounds
1st – Milan Colvin (KS) dec. Luke Fierke (IA), 8-4
3rd – Jonathan Davis (TN) dec. Griffin Morris (MO), 3-1
5th – Dominic Infelise (IL) fall Rony Enamorado (TN), 3:56
7th – Preston DeClark (MI) fall Colton Johnson (MN), 0:16