News
USA Wrestling
International
USAW
Burroughs wins historic sixth World title, Taylor beats Yazdani for second World gold, Retherford adds silver at World Championships
by Gary Abbott, USA Wrestling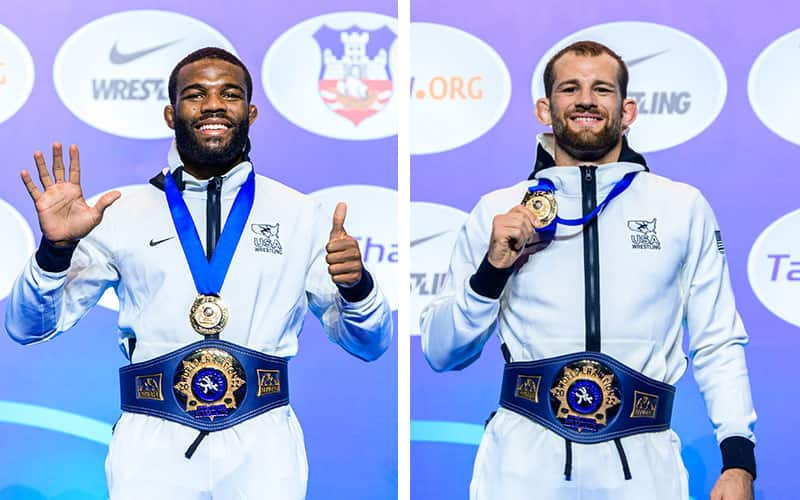 World champions Jordan Burroughs and David Taylor. Photos by Tony Rotundo, Wrestlers Are Warriors
BELGRADE, Serbia – On the first night of finals in men's freestyle at the World Championships in Stark Arena, U.S. wrestling legend
Jordan Burroughs
established a new standard of excellence for American wrestlers.
Burroughs set the U.S. record for World and Olympic gold medals with seven, including six World gold medals and a 2012 Olympic gold medal. He moved ahead of John Smith, who won two Olympic golds and four World titles, and Adeline Gray, who won six World gold medals.
Add in three World bronze medals, and Burroughs has now claimed 10 World and Olympic medals during his amazing career. He is now tied with Gray for the most World titles with six.
In a rematch of the 2021 World Championship finals, Burroughs defeated Mohammad Nokhodilarimi of Iran, 4-2. Nokhodilarimi led 1-0 at the break, after Burroughs was put on the shot clock and did not score. Burroughs tied it up with a deep shot that forced a step out, making it 1-1. The key move was a takedown by Burroughs for a 3-1 lead. Nokhodilarimi managed to get a step out with about one second left for the final score of 4-2.
After hugging his coaches, Burroughs ran around the arena with the American flag, and raised six fingers to the cheers of the crowd.
His World titles were in 2011, 2013, 2015, 2017, 2021 and 2022. A native of Sicklerville, N.J., Burroughs was a two-time NCAA champion and a Hodge Trophy winner for Nebraska.
2020 Olympic champion
David Taylor
won his rivalry match in the 86 kg finals over 2016 Olympic champion Hassan Yazdani Charati of Iran by a convincing 7-1 margin, claiming his second World title. In their fifth meeting at the international level, Taylor now has a 4-1 record against Yazdani, losing only in the 2021 World Championship finals.
Yazdani led 1-0 after Taylor was placed on the shot clock and did not score in the required 30 seconds. Taylor scored a low single leg takedown to lead 2-1 at the break. The second period belonged to Taylor, who scored two more takedowns and forced a step out, and kept Yazdani from completing any of his offensive attacks.
Taylor now has three golds, 2018 and 2022 World titles and a 2020 Olympic title, plus his 2021 World silver medal. A native of St. Paris, Ohio, Taylor won two NCAA titles for Penn State, and claimed two Hodge Trophies.
Zain Retherford
claimed the silver medal at 70 kg, after losing to 2022 Asian champion Taishi Narikuni of Japan. 10-0 in the finals. Narikuni scored the first takedown to lead 2-0, then secured an ankle lace, with which he was able to turn Retherford four times to secure a first-period technical fall.
Retherford was dominant on the way to the finals with two technical falls and two shutout wins. He outscored his first four opponents, 32-0.
Retherford, competing in his third Senior World Championships, claimed his first Senior World medal. A native of Benton, Pa., Retherford won three NCAA titles for Penn State.
Hayden Zillmer
, who had a 2-1 record at 125 kg on Thursday but was not eligible for repechage, placed seventh and scored eight team points for the USA.
After the four weight classes in Group 1 were completed, the United States is in first in the team race with 78 points, ahead of second place Iran with 55 points. Georgia is in third place with 38 points.
The USA has clinched at least 60 more points from Group 2, in which all three U.S. wrestlers punched their ticket into the Saturday finals:
Thomas Gilman
(57 kg),
Kyle Dake
(74 kg) and
J'den Cox
(92 kg). Iran only advanced one wrestler from Group 2 into the gold-medal finals on Saturday.
The United States has won three Seniorcmen's freestyle World team titles (1993, 1995 and 2017).
The final three U.S. wrestlers begin their competition on Saturday, Seth Gross at 61 kg, Yianni Diakomihalis at 65 kg and 2016 Olympic champion and two-time World champion Kyle Snyder at 97 kg, with preliminaries at 10:30 a.m. and semifinals at 5:00 p.m. local time Group 2 finals will begin at 6:00 p.m. Belgrade is six hours ahead of U.S. Eastern time. All of the action is live on
FloWrestling
.
WORLD WRESTLING CHAMPIONSHIPS
At Belgrade, Serbia, September 16

Men's freestyle Group 1 results
70 kg
Gold - Taishi Narikuni (Japan)
Silver - Zain Retherford (USA)
Bronze - Ernazar Akmataliev (Kyrgyzstan)'
Bronze - Zurabi Iakobishvili (Georgia)
5th - Naveen (India)
5th - Arman Andreasyan (Armenia)
7th - Ramazan Ramazanov (Bulgaria)
8th - Servet Coskun (Turkey)
9th - Gianluca Talamo (Italy)
10th - Joshua Finesilver (Israel)
Gold - Narikuni tech. fall Retherford, 10-0
Bronze – Akmataliev dec. Naveen, 4-1
Bronze - Iakobishvili dec. Andreasyan, 5-5
79 kg
Gold - Jordan Burroughs (USA)
Silver - Mohammad Nokhodilarimi (Iran)
Bronze - Arsalan Budazhapov (Kyrgyzstan)
Bronze - Vasyl Mykhailov (Ukraine)
5th - Ali Pasha Umarpashaev (Bulgaria)
5th - Bekzod Abdurakhmonov (Uzbekistan)
7th - Yudai Takahashi (Japan)
8th - Georgios Kougioumtsidis (Greece)
9th - Dulguun Altanzul (Mongolia)
10th - Arman Avagyan (Armenia)
Gold - Burroughs dec. Nokhodilarimi (Iran), 4-2
Bronze - Budazhapov dec. Umarpashaev, 5-1
Bronze - Mykhailov dec. Abdurakhmonov, 5-3
86 kg
Gold – David Taylor (USA)
Silver - Hassan Yazdani Charati (Iran)
Bronze - Boris Makoev (Slovakia)
Bronze - Azamat Dauletbekov (Kazakhstan)
5th - Sebastian Jezierzanski (Poland)
5th - Ethan Ramos (Puerto Rico)
7th - Tarzan Maisuradze (Georgia)
8th - Myles Amine (San Marino)
9th - Akhmed Magamaev (Bulgaria)
10th - Taimuraz Friev Naskidaeva (Spain)
Gold – Taylor dec. Yazdani Charati, 7-1
Bronze - Makoev dec. Jezierzanski, 3-1
Bronze - Dauletbekov tech. fall Ramos, 10-0
125 kg
Gold - Taha Akgul (Turkey)
Silver - Lkhagvagerel Munkhtur (Mongolia)
Bronze - Amir Hossein Abbas Zare (Iran)
Bronze - Geno Petriashvili (Georgia)
5th - Amarveer Dhesi (Canada)
5th - Oleg Bolton (Kazakhstan)
7th - Hayden Zillmer (USA)
8th - Oleksandr Khotsianivsky (Ukraine)
9th - Daniel Ligeti (Hungary)
10th - Dinesh (India)
Gold - Akgul dec. Munkhtur, 6-2
Bronze - Zare dec. Dhesi, 8-0
Bronze - Petriashvili dec. Bolton, 11-4
U.S. men's freestyle Group 1 results
70 kg: Zain Retherford (State College, Pa./Nittany Lion WC/Titan Mercury WC) - SILVER MEDAL
WIN Kevin Henkel (Germany), 10-0
WIN Marc Dietsche (Switzerland), fall 1:11
WIN Arman Andreasyan (Armenia), 5-0
WIN Zurabi Iakobishvili (Georgia), 7-0
LOSS Taishi Narikuni (Japan), 10-0
79 kg: Jordan Burroughs (Philadelphia, Pa./Pennsylvania RTC/Sunkist Kids) – GOLD MEDAL
WIN Sahergeldi Saparmyradov (Turkmenistan), 12-1
WIN Dejan Mitrov (North Macedonia), 12-1
WIN Arsalan Budazhapov (Kyrgyzstan), 10-0
WIN Ali Umarpashaev (Bulgaria), 9-2
WIN Mohammad Nokhodilarimi (Iran), 4-2
86 kg: David Taylor (State College, Pa./Nittany Lion WC/Titan Mercury WC) – GOLD MEDAL
WIN Aron Caneva (Italy), 10-0
WIN Ethan Ramos (Puerto Rico), 11-0
WIN Azamat Dauletbekov (Kazakhstan), 12-0
WIN Hassan Yazdani Charati (Iran), 7-1
125 kg: Hayden Zillmer (Minneapolis, Minn./Gopher WC RTC) – SEVENTH PLACE
WIN Zyyamuhammet Saparov (Turkmenistan), 15-4
WIN Robert Baran (Poland), 3-2
LOSS Geno Petriashvili (Georgia), 9-4
Team Standings after four weight classes
1 United States, 78
2 Iran, 55
3 Georgia, 38
4 Japan, 33
5 Turkey, 31