News
USA Wrestling
International
College
High School & Youth
Elite Athlete Program
USAW
Quintanilla becomes Elite Athlete Program (EAP) freestyle wrestler at U.S. Olympic & Paralympic Training Center
by Gary Abbott, USA Wrestling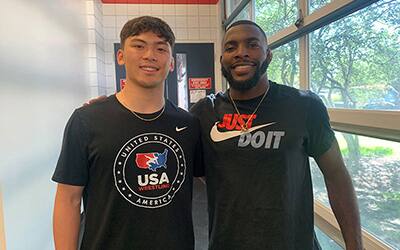 EAP athlete Q'veli Quintanilla and National Freestyle Developmental Coach James Green at the U.S. Olympic & Paralympic Training Center.
High School senior Q'veli Quintanilla of Spokane, Washington has joined USA Wrestling's Elite Athlete Program (EAP) and has moved to Colorado Springs, Colo.
EAP is a progressive developmental movement based at the U.S. Olympic Training Center in Colorado Springs, Colo., aimed at molding young wrestlers into World and Olympic Champions. EAP athletes train with our country's top-ranked Senior-level athletes and receive direct instruction from the National Team coaches on a daily basis.
It is the belief of USA Wrestling that the athletes training in this environment will be more comfortable and successful at World and Olympic competitions. Among the stars who have trained with USA Wrestling while in high school have included Olympic champion Henry Cejudo, Olympic and two-time World champion Kyle Snyder and Junior World champion and NCAA champion Aaron Brooks, among many others.
Quintanilla has been extremely successful at USA Wrestling age-group national events in recent years, including:
• Third in the 2022 Junior Nationals in Greco-Roman and eighth in freestyle
• 2021 Junior Nationals Greco-Roman champion
• Eighth in the 2021 U17 Nationals in Greco-Roman
• Fifth in 2021 Boys National High School Recruiting Showcase
• Second in 2019 U15 Nationals in Greco-Roman and seventh in freestyle
• Fourth in 2019 16U Folkstyle Nationals
Quintanilla is a two-time Washington state high school champion and attended University High School. After his junior season, he was ranked No. 11 at 138 pounds in FloWrestling's national high school rankings.
The program has included athletes training in all three international disciplines: men's freestyle, Greco-Roman and women's freestyle. Quintanilla is now working with new USA Wrestling National Freestyle Developmental Coach James Green, a two-time World medalist who oversees the EAP in men's freestyle.
"He took it upon himself to reach out to me. That is what it is about when it first starts, your accountability and your willingness to go above and beyond and try to be the best version of yourself that you can be. I had an email from him about coming to our Senior camp here and see what it was about. When he was at camp, I saw how he was as an athlete, always asking questions, always trying to get better. He worked hard in the room as a younger athlete with our Senior athletes and college guys. I went out to Fargo, and although he didn't win, he battled through an injury and was able to double All-American. He is willing to keep climbing the mountain to be the best," said Green.
Quintanilla is already experiencing what this the EAP is all about, and how it can impact his life.
"I came before Fargo for a training camp, just to see how it was, and I fell in love with it. The coaches were really awesome. They just kept telling me the right things. They can help me make that big jump I want to get to. My friends, family and coaches supported me in this decision and we made it work," said Quintanilla. "It is a great environment. Everyone who comes here is on a mission and they all want the same outcome. You come in here and you work hard."
The EAP was postponed during the COVID-19 pandemic but is making a comeback for young athletes in the international wrestling disciplines.
"They get to spend time around the Senior athletes, to learn what it is like to be a young professional athlete on and off the mat. We are trying to help get them to the next level, and use the resources that we have here to our best ability. We have sports science, nutrition, strength training. It is a different experience. You get that early college experience. You have your own room. You take classes. You get that feel of waking up, working out, then handle your school studies, then get right back into the wrestling room," said Green
Check out these interviews with Q'veli Quintanilla and Coach James Green