News
International
College
USAW
Hidlay, Cardenas reach finals at U23 World Championships in men's freestyle, Nagao and Cassioppi pulled into repechage
by Gary Abbott, USA Wrestling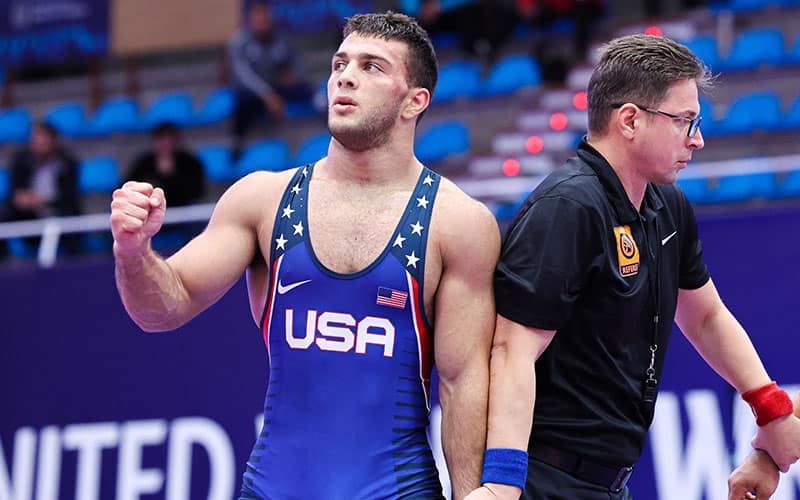 Jacob Cardenas (USA) celebrates a win at the 2022 U23 World Championships. Photo by Kostadin Andonov, United World Wrestling
PONTEVEDRA, Spain – Two more U.S. wrestlers have powered into the gold-medal finals at the 2022 U23 World Championships, as
Trent Hidlay
(86 kg) and
Jacob Cardenas
(92 kg) won their semifinal bouts on Saturday night.
Hidlay defeated Ivan Ichizli of Moldova, who was eighth in the 2021 U23 World Championships, by technical fall, 11-1. Hidlay came out strong, getting a hip toss takedown, then adding a pair of trapped arm gut wrenches to lead 6-0. Both wrestlers earmed step outs and the score was 7-1 at the break. In the second period, Hidlay added a throwby takedown and a low single takedown to secure the technical fall.
Hidlay will wrestle 2019 Asian U20 champion Tatsuya Shirai of Japan in the finals. Hidlay was a 2019 U20 World bronze medalist, and is a three-time All-American for NC State
Cardenas stopped 2022 Senior World bronze medalist Miriani Maisuradze of Georgia in the semifinals, 8-0. Cardenas won every exchange in the match, displaying power and poise in his first international competition. Cardenas scored two step outs in the first period to lead 2-0. He was dominant in the second period, scoring three takedowns and not allowing Maisuradze to get anything.
Cardenas will face 2021 and 2022 U20 World champion Amirhossein Firouzpourbandpei of Iran in the finals. Cardenas is an NCAA qualifier for Cornell.
Two U.S. wrestlers were pulled into repechage after the opponent who beat them won their semifinal bout,
Aaron Nagao
(61 kg) and 2021 U23 World champion
Tony Cassioppi
(125 kg).
Nagao was beaten in his first match by 2022 Asian U23 champion Taiyrbek Zhumashbek Uulu of Kyrgyzstan, 9-0. Zhumashbek won his semifinal bout over Emrah Ormanoglu of Turkey, 5-0. Nagao competes for the University of Minnesota.
Nagao will face 2019 Pan American U20 silver medalist Elkin Espana Santa of Colombia in his repechage match. If he beats Espana, he will face Ramaz Turmanidze of Georgia in a bronze-medal bout on Sunday night.
Cassioppi was defeated 16-4 by 2022 U23 European champion Solomon Manashvili of Georgia. Manashvili was dominant in his semifinals, getting a 10-0 technical fall over Yurii Idzinskyi of Ukraine. Cassioppi is a two-time All-American for Iowa.
Cassioppi will face Kai Shutto of Japan in his repechage match. Shutto was ninth in the 2018 Asian U17 Championships. If he wins, he will battle Yurii Idzinskyi of Ukraine in a bronze-medal bout on Sunday night.
Eliminated from the competition was 2019 U20 World champion
David Carr
at 74 kg. Carr was edged in the quarterfinals by 2021 U23 World bronze medalist Temuri Beruashvili of Georgia, 4-3. Beruashvili did not wrestle in the semifinals, taking an injury default against Mohammadsadegh Firouzpourbandpei of Iran. To get into repechage, the opponent who beat you must reach the finals.
The Group Two repechage round will be held on Sunday afternoon at 4:00 p.m., followed by the gold-medal finals at 6:00 p.m. Please note that this is a different time for repechage than other days.
Follow the action at FloWrestling.
U23 WORLD CHAMPIONSHIPS

At Pontevedra, Spain


Group 2 men's freestyle finals pairings
61 kg - Armen Harutyunyan (Armenia) vs. Taiyrbek Zhumashbek (Kyrgyzstan)
74 kg - Mohammadsadegh Firouzpourbandpei (Iran) vs. Khadzhimurad Gadzhiyev (Azerbaijan)
86 kg - Trent Hidlay (USA) vs. Tatsuya Shirai (Japan)
92 kg - Jacob Cardenas (Cornell) vs. Amirhossein Firouzpourbandpei (Iran)
130 kg - Solomon Manashvili (Georgia) vs. Amir Reza Masoumi Valadi (Iran)
Group 2 men's freestyle semifinal results
61 kg
Armen Harutyunyan (Armenia) dec. Ramaz Turmanidze (Georgia), 13-4
Taiyrbek Zhumashbek (Kyrgyzstan) dec. Emrah Ormanoglu (Turkey), 5-0
74 kg
Mohammadsadegh Firouzpourbandpei (Iran) forfeit Temuri Beruashvili (Georgia)
Khadzhimurad Gadzhiyev (Azerbaijan) dec. Vasile Diacon (Moldova), 4-3
86 kg
Trent Hidlay (USA) tech fall Ivan Ichizli (Moldova), 11-1
Tatsuya Shirai (Japan) dec. Evsem Shvelidze (Georgia), 4-3
92 kg
Jacob Cardenas (Cornell) dec. Miriani Maisuradze (Georgia), 8-0
Amirhossein Firouzpourbandpei (Iran) tech fall Feyzulla Akurk (Turkey), 17-6
130 kg
Solomon Manashvili (Georgia) tech fall Yurii Idzinskyi (Ukraine), 10-0
Amir Reza Masoumi Valadi (Iran) dec. Alisher Yergali (Kazakhstan), 8-3
U.S. Group Two U23 Men's Freestyle results
61 kg: Aaron Nagao, La Habra, Calif. (Gopher WC RTC), in repechage
LOSS Taiyrbek Zhumashbek (Kyrgyzstan), 9-0
Repechage – Elkin Espana Santa (Colombia)
74 kg: David Carr, Canton, Ohio (Cyclone RTC/TMWC), eliminated
WIN Sonny James Santiago (Puerto Rico), tech fall 12-2
LOSS Temuri Beruashvili (Georgia), 4-3
86 kg: Trent Hidlay, Lewiston, Pa. (Wolfpack WC/TMWC), in semifinals
WIN Sajjad Gholami (Iran), 15-6
WIN Nurtilek Karypbaev (Kyrgyzstan), 6-0
WIN Maksat Satbaldy (Kazakhstan), 6-0
Semifinals - Ivan Ichizli (Moldova)
92 kg: Jacob Cardenas, Kearny, N.J. (Spartan Combat RTC/TMWC) in semifinals
WIN Denys Sahaliuk (Ukraine), 4-0
WIN Baisal Kubatov (Kyrgyzstan), 7-2
Semifinals – Vs. Miriani Maisuradze (Georgia)
125 kg: Anthony Cassioppi, Roscoe, Ill. (Hawkeye WC/TMWC), in repechage
WIN Lior Altshuler (Israel), tech fall 10-0
LOSS Solomon Manashvili (Georgia), tech fall, 16-4
Repechage – Kai Shutto (Japan)