News
USA Wrestling
International
College
USAW
U.S. men's freestyle team receives draws for U23 World Championships in Spain
by Gary Abbott, USA Wrestling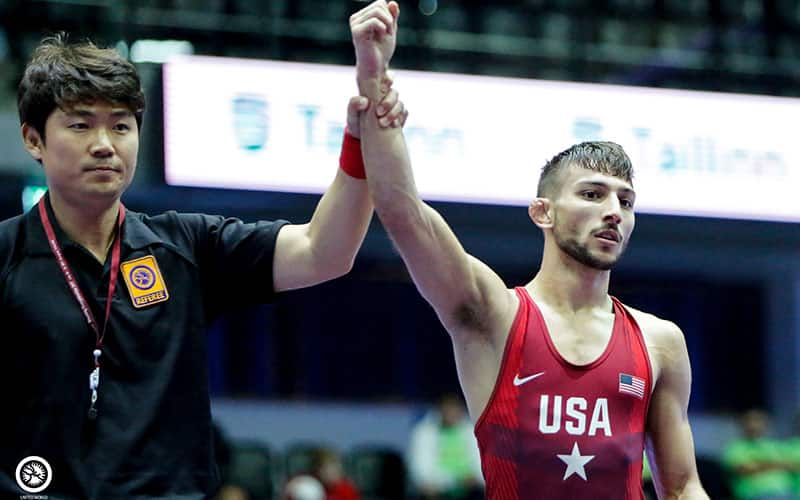 Vitali Arujau (USA) with arm raised in victory, Photo by Martin Gabor, United World Wrestling.
PONTEVEDRA, Spain - The U.S. men's freestyle team received its draws for the U23 World Championships, which starts for them on Friday morning.
Returning U23 World champion
Anthony Cassioppi
opens at 125 kg against Lior Altshuler, who was fifth at the 2022 U23 European Championships. Cassioppi, a two-time All-American for Iowa, will attempt to become the first two-time U23 World gold medalist from the USA.
Four athletes who have earned a spot on the Senior Men's Freestyle National Team received their draws:
Vitali Arujau
at 57 kg,
David Carr
at 74 kg,
Carter Starocci
at 79 kg and
Trent Hidlay
at 86 kg.
Arujau will face 2022 Asian U23 silver medalist Bekzat Almaz Uulu of Kyrgyzstan in his opening bout. Arujau was a 2019 U20 World silver medalist. He is a two-time Div. I All-American for Cornell.
Carr, a 2019 U20 World champion, will face the winner of Diego Sandoval Zarco of Mexico and Sonny James Santiago of Puerto Rico in his opening bout. Carr won an NCAA title for Iowa State in 2021.
Starocci, a two-time NCAA champion for Penn State, opens against Oktay Hasan of Bulgaria, who was fifth in the 2022 U23 European Championships.
Hidlay, a 2019 U20 World bronze medalist, will face 2021 U23 World silver medalist Sajjad Gholami of Iran. Hidlay was a 2021 NCAA runner-up for NC State, and is a three-time All-American.
2019 U20 World Team members
Yahya Thomas
at 70 kg and
Tanner Sloan
at 97 kg, are also competing.
Thomas has drawn 2022 Pan American Senior champion Emmanuel Olapade of Canada. Thomas was third in the 2021 NCAA Championships for Northwestern.
Sloan, a three-time NCAA qualifier for South Dakota State, has 2022 U20 European champion Mucahit Celik of Turkey in his first match.
Competing in their first age-group World Championships event for Team USA are
Cole Matthews
(65 kg),
Jacob Cardenas
(92 kg) and
Aaron Nagao
(61 kg).
Cole Matthews, who was fifth in the 2022 NCAA Championships for Pitt, faces the winner of 2022 European U23 silver medalist Ayub Musaev of Belgium and Gia Ugrelidze of Georgia.
Jacob Cardenas, a 2022 NCAA qualifier for Cornell, will wrestle 2022 European U20 bronze medalist Denys Sahaliuk of Ukraine.
Aaron Nagao, who competes at the University of Minnesota, has drawn 2022 Asian U23 champion Taiyrbek Zhumashbek of Kyrgyzstan.
Competing in Group One, which starts on Friday, are Arujau, Matthews, Thomas, Starocci and Sloan. The medal matches for these weight classes are on Saturday.
Group Two, which begins on Saturday, features Nagao, Carr, Hidlay, Cardenas and Cassioppi. The medal matches for this group are set for Sunday.
Fans can enjoy all of the competition live on
FloWrestling
. Pontevedra is six hours ahead of U.S. Eastern Time
U.S. U23 Men's Freestyle first round draws
57 kg: Vitali Arujau, Syosset, N.Y. (Spartan Combat RTC/TMWC)
Vs. Bekzat Almaz Uulu (Kyrgyzstan), 2nd 2022 U23 Asians, 3rd 2017 U17 Asians
61 kg: Aaron Nagao, La Habra, Calif. (Gopher WC RTC)
Vs. Taiyrbek Zhumashbek (Kyrgyzstan), 2022 U23 Asian champion, 3rd 2019 U20 Asians
65 kg: Cole Matthews, Greenville, Pa. (Pittsburgh WC)
Vs winner of Ayub Musaev (Belgium) and Gia Ugrelidze (Georgia)
Musaev –2nd 2022 U20 Europeans, 3rd 2022 U23 Europeans, 3rd 2021 U20 Europeans
Ugrelidze – 9th 2022 U23 Europeans
70 kg: Yahya Thomas, Chicago, Ill. (Wildcat WC/TMWC)
Vs. Emmanuel Olapade (Canada), 2022 Pan American Senior champion, 2nd 2022 Canada Cup,
74 kg: David Carr, Canton, Ohio (Cyclone RTC/TMWC)
Vs. winner of Diego Sandoval Zarco (Mexico) and Sonny James Santiago (Puerto Rico)
Sandoval –5th 2022 Pan American Championships, 2nd 2021 Junior Pan American Games
Santiago – No international achievements
79 kg: Carter Starocci, Erie, Pa. (Nittany Lion WC/TMWC)
Vs. Oktay Hasan (Bulgaria), 5th 2022 U23 Europeans, 7th in 2019 U20 World Championships
86 kg: Trent Hidlay, Lewiston, Pa. (Wolfpack WC/TMWC)
Vs. Sajjad Gholami (Iran), 2nd 2021 U23 World Championships, 2018 20U Asian champion, 2nd 2016 U17 World Championships
92 kg: Jacob Cardenas, Kearny, N.J. (Spartan Combat RTC/TMWC)
Vs. Denys Sahaliuk (Ukraine), 3rd 2022 U20 Europeans, 9th 2021 U23 Worlds, 9th 2019 Senior Worlds
97 kg: Tanner Sloan, Alburnett, Iowa (Jackrabbit WC)
Vs. Mucahit Celik (Turkey), 2022 U20 European champion
125 kg: Anthony Cassioppi, Roscoe, Ill. (Hawkeye WC/TMWC)
Vs. Lior Altshuler (Israel), 5th 2022 U23 Europeans
U23 WORLD CHAMPIONSHIPS SCHEDULE

Men's Freestyle Competition
Friday, October 21
10:30 a.m. – Qualification rounds (MFS 57, 65, 70, 79, 97 kg)
4:45 p.m. – Semifinals (MFS 57, 65, 70, 79, 97 kg)
Saturday, October 22
10:30 a.m. – Qualification rounds (MFS 61, 74, 86, 92, 125 kg)
10:30 a.m. – Repechage (MFS 57, 65, 70, 79, 97 kg)
4:45 p.m. – Semifinals (MFS 61, 74, 86, 92, 125 kg)
6 p.m. – Finals (MFS 57, 65, 70, 79, 97 kg)
Sunday, October 23
4:00 p.m. – Repechage (MFS 61, 74, 86, 92, 125 kg)
6 p.m. – Finals (MFS 61, 74, 86, 92, 125 kg)
*All times listed reference Pontevedra local time, six hours ahead of U.S. Eastern Time