Starocci, Carr, Cassioppi, Arujau lead strong men's freestyle team at U23 World Championships in Spain
by Gary Abbott, USA Wrestling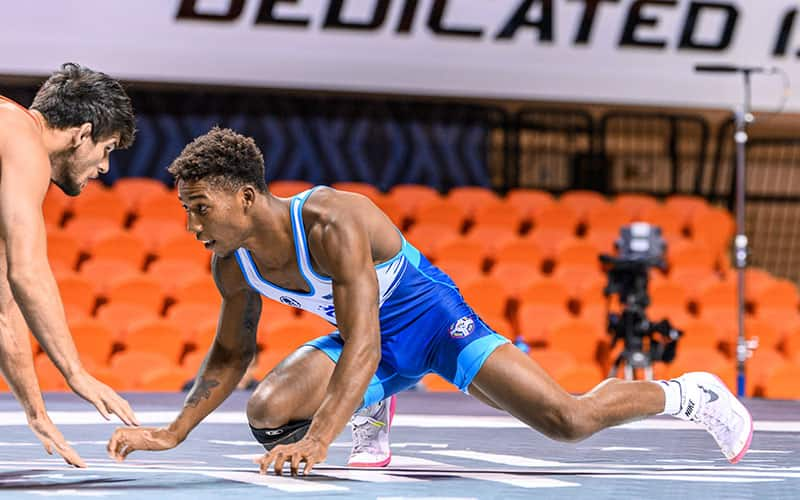 2019 U20 World champion David Carr will compete in men's freestyle at the U23 World Championships. Photo by Tony Rotundo, Wrestlers Are Warriors.
USA Wrestling is bringing a strong team in men's freestyle to the U23 World Championships in Pontevedra, Spain, led by a pair of NCAA champions and a returning U23 World champion. The men's freestyle competition will complete the tournament from October 21-23.
The returning U23 World champion on the roster is
Anthony Cassioppi
at 125 kg, the University of Iowa star who became just the third U.S. men's freestyle wrestler to capture a U23 World title last year in Belgrade, Serbia. He joined
Richie Lewis
(70 kg, 2017) and
Bo Nickal
(92 kg, 2019). The other U.S. athlete to win a U23 World title was women's freestyle star
Emily Shilson
, who won last year as well. He will attempt to become the first two-time U23 World gold medalist from the USA.
Cassioppi, who is a two-time NCAA Div. I All-American for Hawkeyes, was a two-time USA Wrestling Junior Triple Crown winner as an Illinois high school star.
There are four members of this squad who have earned a spot on the Senior Men's Freestyle National Team, two of which are also past NCAA Div. I individual champions. The national team consists of wrestlers who are in the top three of their weight class on the Senior level. All four of these stars have also been All-Americans at the U.S. Senior Nationals.
Carter Starocci,
the two-time NCAA champion for Penn State, has made the last two U.S. Senior National Teams. He will compete in Pontevedra at 79 kg. Starocci first showed his skills in the Olympic styles when he won the 2017 16U Nationals in Fargo in both styles.
David Carr
, who won an NCAA title for Iowa State in 2021, will compete at 74 kg, where he is currently No. 3 on Senior National scene. He was also third at the 2022 NCAA Championships. Carr won a U20 World gold medal in 2019 and a U17 World bronze medalist in 2016. Carr's father Nate was a 1988 Olympic bronze medalist and has helped coach David throughout his career.
Competing at 57 kg is
Vitaly Arujau
, who has been No. 2 on the Senior National Team for the last two seasons. Arujau won the 2020 U.S. Senior Nationals and added a Senior Pan American title in 2021. He is a two-time Div. I All-American for Cornell. Arujau also has strong bloodlines, as his father Vougar was a World champion and Olympic medalist for the Soviet Union.
The other past Senior National Team member competing on this U23 World Team is
Trent Hidlay
at 86 kg. Hidlay placed second in the 2021 U.S. Senior Nationals. He won a bronze medal at the 2019 U20 World Championships. Hidlay was a 2021 NCAA runner-up for NC State, and is a three-time All-American.
The team has six wrestlers who have competed at an age-group World Championships in the past. Joining Cassioppi, Carr, Arujau and Hidlay in this group are
Yahya Thomas
at 70 kg and
Tanner Sloan
at 97 kg. Both were members of the 2019 U20 World Team.
Thomas was third in the 2021 NCAA Championships for Northwestern. He was also fourth in the 2020 U.S. Senior Nationals.
Sloan is a three-time NCAA qualifier for South Dakota State. He also added a 2020 U20 Nationals title in freestyle.
The other three team members are tough college stars who will be wrestling in their first age-group World Championships event for Team USA.
Cole Matthews
, who was fifth in the 2022 NCAA Championships for Pitt, will compete at 65 kg. Matthews enters the 2022-23 college season ranked No. 1 in the nation in a variety of polls. Matthews won the 2022 U23 Nationals to punch his ticket to Pontevedra.
Jacob Cardenas
, the 92 kg champion at the 2022 U23 Nationals, was a 2022 NCAA qualifier for Cornell.
Aaron Nagao
, who competes at the University of Minnesota, made the team after winning the 2022 U23 Nationals.
College wrestling fans should know the wrestlers on this team well, as they all have college eligibility left. They will first compete for Team USA, then head back to their campuses for the 2022-23 collegiate competition season.
This strong team is not only seeking to bring home a number of medals from Pontevedra, but is also taking aim at winning a men's freestyle U23 World Team Trophy for the first time. UWW gives a trophy to the top three nations as each World Championships. The highest U.S. men's freestyle team placement was fourth at the 2017 U23 World Championships. The USA has won nine individual medals in men's freestyle in the first four U23 World events, with the most being three medals in both 2017 and 2018.
U.S. U23 Men's Freestyle roster
57 kg: Vitali Arujau, Syosset, N.Y. (Spartan Combat RTC/TMWC)
61 kg: Aaron Nagao, La Habra, Calif. (Gopher WC RTC)
65 kg: Cole Matthews, Greenville, Pa. (Pittsburgh WC)
70 kg: Yahya Thomas, Chicago, Ill. (Wildcat WC/TMWC)
74 kg: David Carr, Canton, Ohio (Cyclone RTC/TMWC)
79 kg: Carter Starocci, Erie, Pa. (Nittany Lion WC/TMWC)
86 kg: Trent Hidlay, Lewiston, Pa. (Wolfpack WC/TMWC)
92 kg: Jacob Cardenas, Kearny, N.J. (Spartan Combat RTC/TMWC)
97 kg: Tanner Sloan, Alburnett, Iowa (Jackrabbit WC)
125 kg: Anthony Cassioppi, Roscoe, Ill. (Hawkeye WC/TMWC)
Athlete College affiliation
Cornell 2 (Arujau, Cardenas), Iowa (Cassioppi), Iowa State (Carr), Minnesota (Nagao), North Carolina State (Hidlay), Northwestern (Thomas), Penn State (Starocci), Pittsburgh (Matthews), South Dakota State (Sloan)
U23 WORLD CHAMPIONSHIPS

Men's freestyle competition
Friday, October 21
10:30 a.m. – Qualification rounds (MFS 57, 65, 70, 79, 97 kg)
4:45 p.m. – Semifinals (MFS 57, 65, 70, 79, 97 kg)
Saturday, October 22
10:30 a.m. – Qualification rounds (MFS 61, 74, 86, 92, 125 kg)
10:30 a.m. – Repechage (MFS 57, 65, 70, 79, 97 kg)
4:45 p.m. – Semifinals (MFS 61, 74, 86, 92, 125 kg)
6 p.m. – Finals (MFS 57, 65, 70, 79, 97 kg)
Sunday, October 23
4:00 p.m. – Repechage (MFS 61, 74, 86, 92, 125 kg)
6 p.m. – Finals (MFS 61, 74, 86, 92, 125 kg)
*All times listed reference Pontevedra local time, six hours ahead of U.S. Eastern Time