No. 14 Lehigh splits at home, beating Oklahoma, 24-17, and falling to No. 11 Oklahoma State, 25-6
by Steve Lomangino, Lehigh Athletics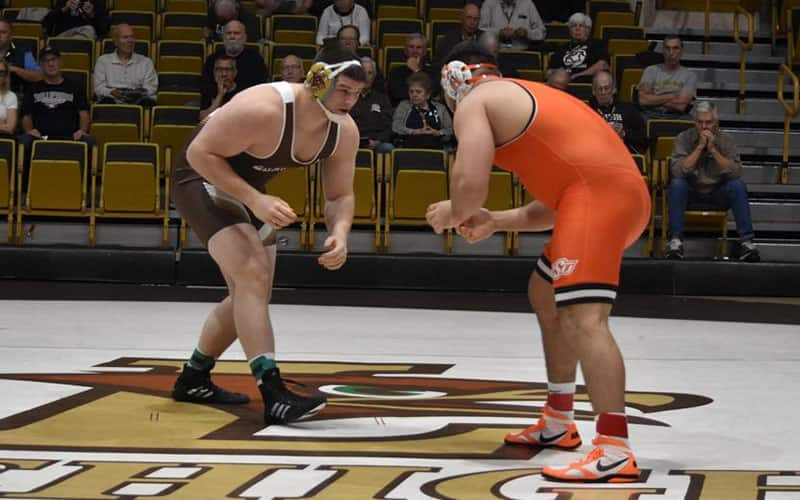 Action image courtesy of Lehigh Athletics.
BETHLEHEM, Pa. – Deferred first-year heavyweight Nathan Taylor delivered a second period pin against 17th-ranked Josh Heindselman to secure a 24-17 victory for No. 14 Lehigh against Oklahoma Saturday at the Journeymen WrangleMania at Liberty High School's Memorial Gymnasium. The Mountain Hawks trailed 17-9 after seven bouts but Taylor's fall capped a run of three straight bonus point wins to give Lehigh the come-from-behind victory.
Graduate student Tate Samuelson (184) and sophomore Michael Beard (197) won by major decision and technical fall, respectively, to put Lehigh up 18-17 heading into the final bout. The win over the Sooners provided a bounce back for the Mountain Hawks, who fell to No. 11 Oklahoma State 25-6 earlier Saturday inside Leeman-Turner Arena at Grace Hall.
Saturday's split leaves Lehigh at 3-1 in duals after two weekends of competition.
Things started well against the Sooners as Lehigh took a 6-0 lead after two bouts. After pushing seventh-ranked Trevor Mastrogiovanni of Oklahoma State to overtime earlier in the day, first-year Carter Bailey came through with a ranked win, knocking off Joey Prata 5-4 at 125. Bailey scored a first period reversal and was tough on top, earning a stalling point and riding time to go along with a third period escape.
Sophomore Connor McGonagle followed with a 4-0 win over Wyatt Henson at 133 to put Lehigh up 6-0.
Oklahoma (1-1) came back with back-to-back falls to take an 11-6 lead. Sophomore Malyke Hines led Mosha Schwartz 4-2 in the second period when he was reversed to his back. The Sooners were deducted a team point following the win. Mitch Moore then followed with a first-period pin against sophomore Manzona Bryant IV to extend the Sooners' lead.
Senior Josh Humphreys defeated Jacob Butler to bring Lehigh within 11-9, but a pair of overtime victories staked the Sooners to a 17-9 lead. At 165 Gerrit Nijenhuis scored a takedown in sudden victory to top Brian Meyer 3-1 and then at 174, Darrien Roberts was a 2-1 tiebreaker winner over Jake Logan.
Samuelson started the comeback with an 8-0 major decision over Grayden Penner and Beard put Lehigh in front with a dominant 16-1, second period technical fall over Seth Seago.
Trailing 1-0 in the second period, Taylor scored a takedown on Heindselman and took him to his back for the match-winning fall.
Earlier Saturday, Lehigh couldn't get past Oklahoma State (1-0) as the Cowboys won two matches in sudden victory and three others by just one or two points. Lehigh's wins came from Beard, who opened the dual with a 10-7 decision over Luke Surber, and Humphreys, who led early and then had to hold off Kaden Gfeller 7-6 at 157. The Cowboys won eight of 10 bouts with the only bonus points of the dual coming from second ranked Daton Fix against McGonagle at 133.
Taylor's fall against Oklahoma provided a solid bounce back from a 2-1 loss to Konner Doucet earlier in the day.
The Mountain Hawks will take to the road for the first time next weekend as they travel to No. 18 Pittsburgh. The match is set for a 7 p.m. start on Saturday from Fitzgerald Field House, with streaming coverage on ACC Network Extra.
The 2022-23 Lehigh wrestling season is presented by the Historic Hotel Bethlehem.
No. 11 Oklahoma State 25, No. 14 Lehigh 6
197 – Michael Beard (Lehigh) dec. Luke Surber (OSU) 10-7
285 – Konner Doucet (OSU) dec. Nathan Taylor (Lehigh) 2-1
125 – Trevor Mastrogiovanni (OSU) dec. Carter Bailey (Lehigh) 4-2, sv
133 – Daton Fix (OSU) major dec. Connor McGonagle (Lehigh) 15-5
141 – Carter Young (OSU) dec. Malyke Hines (Lehigh) 10-6
149 – Victor Voinovich (OSU) dec. Manzona Bryant IV (Lehigh) 15-13, sv
157 – Josh Humpohreys (Lehigh) dec. Kaden Gfeller (OSU) 7-6
165 – Wyatt Sheets (OSU) dec. Brian Meyer (Lehigh) 5-0
174 – Dustin Plott (OSU) dec. Jake Logan (Lehigh) 5-4
184 – Travis Wittlake (OSU) dec. Tate Samuelson (Lehigh) 4-2
Attendance – 1,594
No. 14 Lehigh 24, Oklahoma 17*
125 – Carter Bailey (Lehigh) dec. Joey Prata (OU) 5-4
133 – Connor McGonagle (Lehigh) dec. Wyatt Henson (OU) 5-0
141 – Mosha Schwartz (OU) Fall Malyke Hines (Lehigh) 3:36
149 – Mitch Moore (OU) Fall Manzona Bryant IV (Lehigh) 1:45
157 – Josh Humphreys (Lehigh) dec. Jacob Butler (OU) 6-4
165 – Gerrit Nijenhuis (OU) dec. Brian Meyer (Lehigh) 3-1, sv
174 – Darrien Roberts (OU) dec. Jake Logan (Lehigh) 2-1, tb
184 – Tate Samuelson (Lehigh) major dec. Grayden Penner (OU) 8-0
197 – Michael Beard (Lehigh) tech fall Seth Seago (OU) 16-1, 3:38
285 – Nathan Taylor (Lehigh) Fall Josh Heindselman (OU) 4:18
* - Oklahoma was deducted a team point at 141