News
USA Wrestling
International
College
High School & Youth
Women
USAW
Hall of Fame biography: Sara McMann, Distinguished Member
by Gary Abbott, USA Wrestling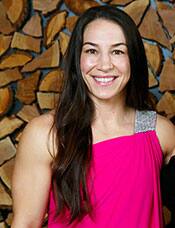 Sara McMann, Distinguished Member

Sara McMann was a member of the first United States Olympic women's wrestling team in 2004 and the first American woman to reach the Olympic finals, defeating a world champion and a world bronze medalist enroute to a silver medal at the Athens games.
Sara competed in seven world championships, earning a silver medal in 2003 and bronze medals in 2005 and 2007. She won Pan American Games titles in 2003 and 2007 and was the Klippan Lady Open champion in 2003. She was a six-time U.S. Nationals champion, capturing titles in 2000, 2001, 2002, 2003, 2006 and 2007.
After competing on the boys wrestling team at McDowell High School in Marion, North Carolina, she competed at the University of Minnesota, Morris, the first varsity program for women's wrestling. While at UMM, she competed in the 1999 and 2000 Junior World Championships, placing in the top six both times, and competed in her first Senior World Championships, placing ninth in 2000.
Sara transferred to Lock Haven University, competed on the men's varsity team and was inducted into the Lock Haven Athletics Hall of Fame in 2017.
She transitioned into a fighting career in 2010 and has become one of the top-ranked mixed martial arts fighters in the UFC.
For an outstanding, pioneering wrestling career that includes an Olympic Silver Medal, six U.S. Nationals titles and two Pan American Games gold medals, Sara McMann is honored as a Distinguished Member of the National Wrestling Hall of Fame.