News
USA Wrestling
International
College
High School & Youth
Women
USAW
In the House (Saturday): Tons of Olympians, World Team members, national champions and college coaches in Fargo
by Gary Abbott, USA Wrestling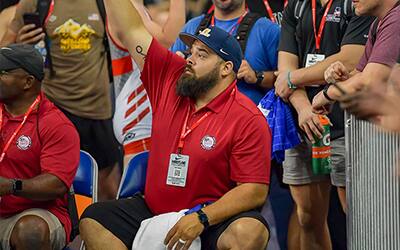 Olympian Robby Smith coaching for Team California. Photo by Ryan Cummings, MatFocus.com
Every year, USA Wrestling Communications staff and other friends on media row put together the In the House feature, basically reporting on all of the well-known folks in wrestling who congregate in the FargoDome for the largest wrestling tournament on earth. Over the next seven days, we will track people who were great as athletes, such as Olympians, World Team members, NCAA champions and women's college national champions.
We also work to identify as many of the college wrestling coaches as we can, who come here to scout out the nation's best high school athletes. Many college coaches also volunteer as coaches for state association teams, passing on their knowledge to the next generation.
This morning, which launched the start of the 16U Nationals for both men and women, is usually a great day for spotting "In-The-House" people. However, with the massive size of the tournament this year, there are more athletes and coaches than ever, making people watching a little more difficult.
Special kudos to USA Wrestling intern Adam Engel for his hard work going around the FargoDome on a mission to find more stars.
The biggest star in the FargoDome today was 2016 Olympic champion and five-time World freestyle champion Jordan Burroughs, who is a member of USA Wrestling's Board of Directors. Burroughs checks a lot of boxes, including his two NCAA titles for Nebraska.
2012 Olympic freestyle bronze medalist Tervel Dlagnev was also here, with a Team Nebraska shirt on him. Dlagnev won a pair of World bronze medals. He was an NCAA Div. II champion, and is currently an assistant coach at Nebraska.
Other Olympians that were in the house were freestyle Olympians Steve Mocco and Ben Askren. Mocco is the state chairperson for Florida, and Askren is coaching with Team Wisconsin, where he is one of the nation's top club coaches. Both were two-time NCAA champions as well, Askren at Missouri, with Mocco competing or Iowa and Oklahoma State.
Add in Greco-Roman Olympian Robby Smith, a coach with Team California, who also coaches at CYC, the club in Concord where he learned his craft as a youth. Haley Augello, a women's freestyle Olympian, was also here coaching Team Illinois. Augello was a WCWA college national champion. We even saw an Olympian for Bulgaria, Georgi Ivanov, who was a Div. II national champion for UNO and is active with USA Wrestling Nebraska.
World bronze medalist Becka Leathers is also here. She is an employee and coach for Beat the Street New York. She will also be on the list of past WCWA women's college champions, as she won hers at Oklahoma City.
Freestyle World Team members on the floor today included Zach Rey, Danny Felix and Obe Blanc. Rey will be on our list of NCAA champions and assistant coaches, as well. Blanc is an assistant coach for host North Dakota State. The husband and wife team of Joe and Deanna Betterman, both World Team members, are with Team Colorado. Joe was a Greco-Roman World Team member, while Deanna was a Women's freestyle World Team member.
We also track NCAA champions and women's college national champions. In addition to the NCAA Div. I crowns won by Burroughs, Mocco, Askren, Rey, we ran into Jared Lawrence of Minnesota and Max Askren of Missouri. Lawrence is with the Minnesota Storm, and is a top club coach with Pinnacle. Askren is with Team Wisconsin, and coaches Askren Wrestling Academy.
We saw some WCWA women's college national champions in the house, Becka Leathers of Oklahoma City and Cody Pfau of Oklahoma City, as well as Jessika Rottier of the University of the Cumberlands. Pfau is coaching Team Colorado. Rottier is an assistant coach at Gannon. We also saw an NAIA national champion in McKayla Campbell of Campbellsville.
No tournament attracts more college coaches than Fargo, on both the men's and women's side. In the course of this week, there will be literally hundreds of coaches, many who we may not be able to track or list.
Of course, head coach Roger Kish of host North Dakota State is here, as he and the university are big supporters of the Junior and 16U Nationals. We saw another Div. I coach this session with Luke Smith of Cal-State Bakersfield. There will be many more.
What is cool is that college coaches from all divisions show up here, Div. II, Div. III, NAIA and NJCAA. You want to recruit wrestlers to college? Come to the largest and most prestigious high school wrestling tournament on the planet.
Here are some of the other division college coaches we have seen: Jason Reitmeier of Augustana, Blake Roulo of Averett, Brandon Bradley of Nebraska Wesleyan and Ryan Riggs, Mount Union
College women's head coaches we saw today included Shannyn Gillespie of Lakeland and Connor Lapresi of Ferrum.
There is also a boatload of assistant coaches here as well. When I went to pick somebody up at the airport last night, walking together off the plane were assistant coaches Drew Headlee of Pitt and Zach Rey of Lehigh.
Add these assistant coaches to the list from this morning: Austin Marsden of North Dakota State, Adam Hall of NC State, Joe Nord of Columbia, Eric Morrill of Bucknell, Colin Heffernan of Central Michigan, Matt Stencel of Central Michigan and Chad Walsh of Davidson.
On the women's side, assistant coaches Gary Mayabb of Iowa and Jessika Rottier of Gannon were in sight.
There are also RTC coaches that are part of the week. Jeff Buxton of the Scarlet Knight WC, who could also be on the list of legends, was here with Team New Jersey.
I am adding a new category, wrestling legend, to the list. First up is Ron Mirikitani, a longtime coach at Meremac CC in St. Louis as well as a Board member of USA Wrestling for many years. He is helping Team Missouri. Next is a man who needs no introduction, Hall of Fame referee and leader Rick Tucci (enough said).
We will check in tomorrow with more star sightings in Fargo.
IN THE HOUSE – So far this week in Fargo… (as of July 16)
Olympic champions
- Jordan Burroughs
World champions
– Jordan Burroughs
Olympic medalists
– Jordan Burroughs, Tervel Dlagnev
World medalists:
Becka Leathers, Tervel Dlagnev, Jordan Burroughs,
Olympians:
Jordan Burroughs, Robby Smith, Steve Mocco, Ben Askren, Tervel Dlagnev, Haley Augello, Georgi Ivanov
World Team members:
Zach Rey, Joe Betterman, Deanna Betterman, Danny Felix, Robby Smith, Obe Blanc
NCAA Div. I champions:
Zach Rey (Lehigh), Jared Lawrence (Minnesota), Ben Askren (Missouri, Max Askren (Missouri), Steve Mocco (Iowa/Oklahoma State), Jordan Burroughs (Nebraska)
NCAA Div. II champions:
Tervel Dlagnev (UN-Kearney), Georgi Ivanov (UN-Omaha)
WCWA women's champions:
Cody Pfau (Oklahoma City), Jessica Rottier (Campbellsville, Becka Leathers (Oklahoma City)
NAIA women's champion:
McKayla Campbell (Campbellsville)
Head Men's College Coaches -
Roger Kish of North Dakota State, Luke Smith of Cal-State Bakersfield, Jason Reitmeier of Augustana, Blake Roulo of Averett, Brandon Bradley of Nebraska Wesleyan, Ryan Riggs of Mount Union
Head Women's College Coaches
- Shannyn Gillespie of Lakeland, Connor Lapresi of Ferrum
Assistant College Men's Coaches:
Austin Marsden of North Dakota State, Adam Hall of NC State, Zach Rey of Lehigh, Drew Headlee of Pitt, Joe Nord of Columbia, Eric Morrill of Bucknell, Colin Heffernan of Central Michigan, Matt Stencel of Central Michigan, Chad Walsh of Davidson
Assistant College Women's Coaches:
Gary Mayabb of Iowa, Jessika Rottier of Gannon
RTC Coaches:
Jeff Buxton of Scarlet Knight WC
Legends:
Ron Mirikitani, Rick Tucci