ICYMI: Wayland Baptist women claim Sooner Athletic Conference title with four champions
by Gary Abbott, USA Wrestling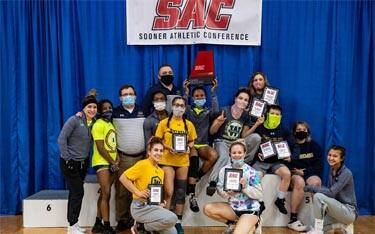 OKLAHOMA CITY, Okla. – Wayland Baptist's women wrestlers claimed four individual champions and three runners-up to take the team title at the second annual Sooner Athletic Conference Championships (SAC) on Feb. 21.
Individual SAC champions for the Pioneers were Nina Pham (101), Asia Ray (109), Desiree Zavala (136) and Olivia Ricci (170). Pham and Zavala, who are currently No. 1 in the NAIA individual rankings, scored bonus point wins in all of their matches.
Ray, a 2017 Junior World bronze medalist, won two national titles in 2019, the WCWA Nationals and the first NAIA National Invitational. She won two bouts by pin and two bouts by technical fall.
Pham was named Outstanding Wrestler of the tournament. WBU's Emily Alderman, who was fourth at 130, was named Newcomer of the Year. Wayland Baptist head coach Kiiler Stephens was named Coach of the Year.
Wayland Baptist, No. 3 in the most recent NAIA team rankings, scored 144.5 points, followed by No. 9 Oklahoma City with 116.5 points. Lyon College, ranked No. 15 in the NAIA was third with 97.5 points, while No. 14 Texas Wesleyan was fourth with 70 points.
Host OCU had three individual champions, Sydney Freund (143), Cierra Foster (155) and Nkechinyere Nwankwo (191). Foster and Nwankwo were No. 1 in the most recent NAIA individual rankings.
Texas Wesleyan was led by SAC champions Camille Fournier (116) and Mea Mohler (130). Lyon also had an individual champion, Jasmine Hernandez (123).
Editor's Note:
The Sooner Athletic Conference women's wrestling championships was held on Feb. 21. A mistake in scheduling this story was the reason it is published late. For this, we apologize.
Sooner Athletic Conference
At Oklahoma City, Okla.
101
1st Place - Nina Pham of Wayland Baptist University
2nd Place - Madison Brown of Texas Wesleyan University
3rd Place - Caryssa Aguirre of Wayland Baptist University
4th Place - Kassidy Ramirez of Lyon College
5th Place - Marissa Gregoire of Oklahoma City University
Nina Pham (Wayland Baptist University) won by tech fall over Kassidy Ramirez (Lyon College) (TF 10-0)
Madison Brown (Texas Wesleyan University) won by fall over Caryssa Aguirre (Wayland Baptist University) (Fall 2:33)
Madison Brown (Texas Wesleyan University) won by tech fall over Marissa Gregoire (Oklahoma City University) (TF 12-2)
Caryssa Aguirre (Wayland Baptist University) won by fall over Kassidy Ramirez (Lyon College) (Fall 4:29)
Caryssa Aguirre (Wayland Baptist University) won by injury default over Marissa Gregoire (Oklahoma City University) (Inj. 2:27)
Nina Pham (Wayland Baptist University) won by fall over Madison Brown (Texas Wesleyan University) (Fall 1:06)
Nina Pham (Wayland Baptist University) won by injury default over Marissa Gregoire (Oklahoma City University) (Inj. 0:00)
Madison Brown (Texas Wesleyan University) won by decision over Kassidy Ramirez (Lyon College) (Dec 7-4)
Kassidy Ramirez (Lyon College) won by injury default over Marissa Gregoire (Oklahoma City University) (Inj. 0:00)
Nina Pham (Wayland Baptist University) won by tech fall over Caryssa Aguirre (Wayland Baptist University) (TF 10-0)
109
1st Place - Asia Ray of Wayland Baptist University
2nd Place - Mia Arceneaux of Wayland Baptist University
3rd Place - Jessienna Burkett-Erice of Lyon College
4th Place - Laura Lincoln of Lyon College
5th Place - Michaela Childs of Oklahoma City University
Jessienna Burkett-Erice (Lyon College) won by fall over Michaela Childs (Oklahoma City University) (Fall 1:19)
Mia Arceneaux (Wayland Baptist University) won by fall over Laura Lincoln (Lyon College) (Fall 2:39)
Asia Ray (Wayland Baptist University) won by tech fall over Mia Arceneaux (Wayland Baptist University) (TF 10-0)
Jessienna Burkett-Erice (Lyon College) won by tech fall over Laura Lincoln (Lyon College) (TF 10-0)
Asia Ray (Wayland Baptist University) won by fall over Laura Lincoln (Lyon College) (Fall 1:21)
Mia Arceneaux (Wayland Baptist University) won by tech fall over Michaela Childs (Oklahoma City University) (TF 10-0)
Asia Ray (Wayland Baptist University) won by tech fall over Michaela Childs (Oklahoma City University) (TF 10-0)
Mia Arceneaux (Wayland Baptist University) won by decision over Jessienna Burkett-Erice (Lyon College) (Dec 6-2)
Asia Ray (Wayland Baptist University) won by fall over Jessienna Burkett-Erice (Lyon College) (Fall 3:00)
Laura Lincoln (Lyon College) won by fall over Michaela Childs (Oklahoma City University) (Fall 4:02)
116
1st Place - Camille Fournier of Texas Wesleyan University
2nd Place - Raven Guidry of Oklahoma City University
3rd Place - Emma De Brum of Lyon College
4th Place - Brooklyn Hermal of Oklahoma City University
5th Place - Alexis Saldivar of Texas Wesleyan University
6th Place - Mariah Spix of Lyon College
Camille Fournier (Texas Wesleyan University) won by tech fall over Brooklyn Hermal (Oklahoma City University) (TF 11-0)
Emma De Brum (Lyon College) won by injury default over Mariah Spix (Lyon College) (Inj. 1:57)
Raven Guidry (Oklahoma City University) won by fall over Alexis Saldivar (Texas Wesleyan University) (Fall 2:46)
Camille Fournier (Texas Wesleyan University) won by fall over Raven Guidry (Oklahoma City University) (Fall 0:43)
Emma De Brum (Lyon College) won by tech fall over Alexis Saldivar (Texas Wesleyan University) (TF 10-0)
Brooklyn Hermal (Oklahoma City University) won by injury default over Mariah Spix (Lyon College) (Inj. 0:00)
Camille Fournier (Texas Wesleyan University) won by forfeit over Alexis Saldivar (Texas Wesleyan University) (FF)
Emma De Brum (Lyon College) won by decision over Brooklyn Hermal (Oklahoma City University) (Dec 12-3)
Raven Guidry (Oklahoma City University) won by injury default over Mariah Spix (Lyon College) (Inj. 0:00)
Camille Fournier (Texas Wesleyan University) won by injury default over Mariah Spix (Lyon College) (Inj. 0:00)
Raven Guidry (Oklahoma City University) won by fall over Emma De Brum (Lyon College) (Fall 0:44)
Brooklyn Hermal (Oklahoma City University) won by fall over Alexis Saldivar (Texas Wesleyan University) (Fall 4:32)
Camille Fournier (Texas Wesleyan University) won by fall over Emma De Brum (Lyon College) (Fall 2:41)
Alexis Saldivar (Texas Wesleyan University) won by injury default over Mariah Spix (Lyon College) (Inj. 0:00)
Raven Guidry (Oklahoma City University) won by decision over Brooklyn Hermal (Oklahoma City University) (Dec 8-1)
123
1st Place - Jasmine Hernandez of Lyon College
2nd Place - Ashley Whetzal of Lyon College
3rd Place - Jasmin Davis of Wayland Baptist University
4th Place - Rebekah Cordova of Wayland Baptist University
5th Place - Clarissa Archuleta of Texas Wesleyan University
Jasmine Hernandez (Lyon College) won by fall over Jasmin Davis (Wayland Baptist University) (Fall 2:12)
Rebekah Cordova (Wayland Baptist University) won by decision over Clarissa Archuleta (Texas Wesleyan University) (Dec 5-4)
Ashley Whetzal (Lyon College) won by tech fall over Rebekah Cordova (Wayland Baptist University) (TF 17-7)
Jasmin Davis (Wayland Baptist University) won by decision over Clarissa Archuleta (Texas Wesleyan University) (Dec 3-0)
Ashley Whetzal (Lyon College) won by tech fall over Clarissa Archuleta (Texas Wesleyan University) (TF 10-0)
Jasmine Hernandez (Lyon College) won by tech fall over Rebekah Cordova (Wayland Baptist University) (TF 11-0)
Jasmine Hernandez (Lyon College) won by tech fall over Ashley Whetzal (Lyon College) (TF 10-0)
Jasmin Davis (Wayland Baptist University) won by tech fall over Rebekah Cordova (Wayland Baptist University) (TF 10-0)
Ashley Whetzal (Lyon College) won by fall over Jasmin Davis (Wayland Baptist University) (Fall 2:27)
Jasmine Hernandez (Lyon College) won by tech fall over Clarissa Archuleta (Texas Wesleyan University) (TF 10-0)
130
1st Place - Mea Mohler of Texas Wesleyan University
2nd Place - De`Anna Prince of Wayland Baptist University
3rd Place - Sophia Smith of Oklahoma City University
4th Place - Emily Alderman of Wayland Baptist University
Sophia Smith (Oklahoma City University) won by decision over Emily Alderman (Wayland Baptist University) (Dec 4-0)
Mea Mohler (Texas Wesleyan University) won by decision over De`Anna Prince (Wayland Baptist University) (Dec 8-6)
De`Anna Prince (Wayland Baptist University) won by tech fall over Emily Alderman (Wayland Baptist University) (TF 12-0)
Mea Mohler (Texas Wesleyan University) won by decision over Sophia Smith (Oklahoma City University) (Dec 5-2)
Emily Alderman (Wayland Baptist University) won by decision over Mea Mohler (Texas Wesleyan University) (Dec 6-4)
De`Anna Prince (Wayland Baptist University) won by fall over Sophia Smith (Oklahoma City University) (Fall 1:33)
136
1st Place - Desiree Zavala of Wayland Baptist University
2nd Place - Mattison Parker of Oklahoma City University
3rd Place - Rebekah Garcia of Lyon College
Mattison Parker (Oklahoma City University) won by tech fall over Rebekah Garcia (Lyon College) (TF 10-0)
Desiree Zavala (Wayland Baptist University) won by tech fall over Mattison Parker (Oklahoma City University) (TF 10-0)
Desiree Zavala (Wayland Baptist University) won by fall over Rebekah Garcia (Lyon College) (Fall 0:29)
143
1st Place - Sydney Freund of Oklahoma City University
2nd Place - Jordan Suarez of Wayland Baptist University
3rd Place - Maryellen Lafferty of Texas Wesleyan University
4th Place - Irene Sanchez Figuera of Oklahoma City University
Sydney Freund (Oklahoma City University) won by decision over Jordan Suarez (Wayland Baptist University) (Dec 10-9)
Maryellen Lafferty (Texas Wesleyan University) won by fall over Irene Sanchez Figuera (Oklahoma City University) (Fall 2:44)
Jordan Suarez (Wayland Baptist University) won by tech fall over Irene Sanchez Figuera (Oklahoma City University) (TF 10-0)
Sydney Freund (Oklahoma City University) won by fall over Maryellen Lafferty (Texas Wesleyan University) (Fall 4:28)
Jordan Suarez (Wayland Baptist University) won by fall over Maryellen Lafferty (Texas Wesleyan University) (Fall 2:31)
Sydney Freund (Oklahoma City University) won by tech fall over Irene Sanchez Figuera (Oklahoma City University) (TF 10-0)
155
1st Place - Cierra Foster of Oklahoma City University
170
1st Place - Olivia Ricci of Wayland Baptist University
191
1st Place - Nkechinyere Nwankwo of Oklahoma City University
2nd Place - Kelani Corbett of Lyon College
3rd Place - Victoria Hinojo of Oklahoma City University
4th Place - Katarina Pena of Wayland Baptist University
Nkechinyere Nwankwo (Oklahoma City University) won by tech fall over Katarina Pena (Wayland Baptist University) (TF 10-0)
Kelani Corbett (Lyon College) won by tech fall over Victoria Hinojo (Oklahoma City University) (TF 14-4)
Nkechinyere Nwankwo (Oklahoma City University) won by decision over Kelani Corbett (Lyon College) (Dec 4-0)
Victoria Hinojo (Oklahoma City University) won by tech fall over Katarina Pena (Wayland Baptist University) (TF 10-0)
Nkechinyere Nwankwo (Oklahoma City University) won by tech fall over Victoria Hinojo (Oklahoma City University) (TF 11-0)
Kelani Corbett (Lyon College) won by tech fall over Katarina Pena (Wayland Baptist University) (TF 10-0)
Team Scores
1. Wayland Baptist University, 144.5
2. Oklahoma City University, 116.5
3. Lyon College, 97.5
4. Texas Wesleyan University, 70.0